ECB Left With No Choice But Action After Draghi's Priming
All economists in survey predict more stimulus on Dec. 3

With deposit-rate cut priced in, ECB may need to over-deliver
Mario Draghi has no room to back down.
Economists surveyed by Bloomberg unanimously predict the European Central Bank will boost stimulus again this week, less than halfway through a 1.1 trillion-euro ($1.2 trillion) bond-buying program, and most foresee multiple measures. The institution's president must now find a way to meet expectations or risk an investor backlash that could stymie the euro-area recovery.
Draghi has been priming markets for action since October, saying the ECB will do what it must to raise inflation as quickly as possible, and investors are betting that the probability of a deposit-rate cut is 100 percent. Now, even with some officials voicing misgivings, his Governing Council may find that only a rate reduction combined with increased bond purchases and possibly as-yet unannounced tools will prove convincing enough.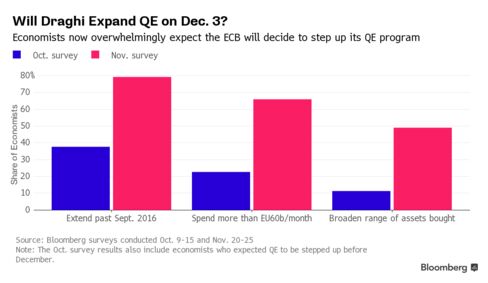 "The ECB has prepared the markets for a package of measures and cannot afford to under-deliver or financial conditions will re-tighten," said Ken Wattret, chief euro-area market economist at BNP Paribas SA in London. New ECB macroeconomic projections to be announced by Draghi "will make a persuasive case for more easing," he said.
The euro slid to its lowest level since April and is down 3.8 percent in November, heading for its biggest monthly decline since March. It was 0.1 percent lower at $1.0584 at 14:23 Frankfurt time.
The 25-member Governing Council will gather in Frankfurt from Dec. 2. Its decision on interest rates will be announced at 1:45 pm. on Dec. 3, and Draghi will hold a press conference 45 minutes later where he may announce any further measures.
More than three-quarters of respondents in the Bloomberg survey said the ECB will cut its deposit rate from the current minus 0.2 percent. A separate survey shows the median forecast is for a reduction to minus 0.3 percent, with the lowest estimate at minus 0.45 percent. The benchmark main refinancing rate of 0.05 percent will probably be left unchanged, the surveys show.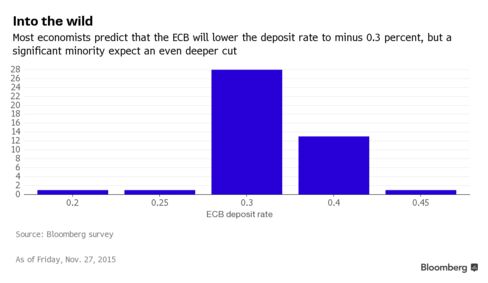 Investors have priced in a 100 percent probability of a 10-basis-point cut in the deposit rate and a 90 percent chance of 15 basis points, according to Bloomberg calculations based on ECB-dated Eonia futures.
Economists see the Governing Council then turning its attention to the quantitative-easing program, which currently buys around 60 billion euros a month of government and agency debt, covered bonds and asset-backed securities.
Almost 80 percent of respondents said the central bank will prolong the program beyond the initial end-date of September 2016. Two-thirds see an increase in the level of monthly purchases. Just under half predict the ECB will broaden the range of assets it buys.
Credibility Risk
"Expectations for further stimulus have been soaring since the last meeting of the Governing Council, so it will be challenging to meet them," said Christopher Matthies, an economist at Sparkasse Suedholstein in Neumuenster, Germany. "Draghi will be very aware of this and look not to disappoint these expectations as doing so would endanger the success of the stimulus itself."
Draghi's concern, echoed by Executive Board member Peter Praet, is that inflation has been far below the goal of just under 2 percent for so long that the public may lose confidence in the ECB's competence to meet its mandate of price stability. Praet, the institution's chief economist, said this month that while inflation should accelerate at the start of next year as an oil-price slump drops out of the calculation, the pick-up may only be temporary.
In Germany, the inflation rate rose to 0.3 percent in November from a year ago, the fastest pace since May. Data on Wednesday will probably show that euro-area prices probably increased 0.2 percentage point in the month, according to a Bloomberg survey of economists.
On the ECB's revised macroeconomic projections, more than 80 percent of economists said the 2016 inflation outlook would be cut from the current 1.1 percent. More than 70 percent said the 2017 outlook will be reduced from 1.7 percent.
Even so, Draghi is likely to face dissent in the Governing Council as incoming data indicates a euro-area economy that is showing resilience against terrorism and slowing emerging markets. Respondents in the survey were split over whether the ECB will downgrade its 2016 forecast for gross domestic product and most saw no cut for 2017.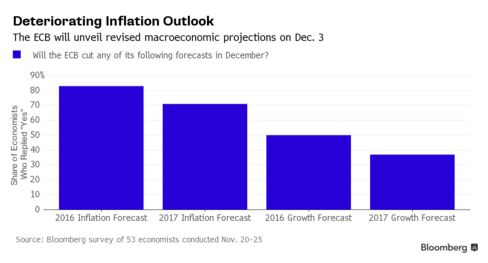 Germany's Jens Weidmann and Sabine Lautenschlaeger, Estonia's Ardo Hansson, Slovenia's Bostjan Jazbec and Latvia's Ilmars Rimsevics have all said since the last meeting that they don't see a need for more stimulus. A euro-area economic confidence index published last week matched the strongest level in more than four years and a gauge of factory and services activity rose to a 4 1/2-year high.
"I very much doubt that more monetary stimulus is necessary," said Holger Sandte, chief European analyst at Nordea Markets in Copenhagen. "But the doves will get their way."
Before it's here, it's on the Bloomberg Terminal.
LEARN MORE