A Timeline: The Chinese Yuan's Journey to Global Reserve Status
The yuan's ascent to the IMF's reserve-currency basket comes more than 22 years after the Communist Party set a long-term goal of full convertibility and follows months of concentrated efforts from China.
QuickTake The People's Currency
Officially referred to as the renminbi, or the "people's currency," the yuan will become part of the Special Drawing Rights effective Oct. 1, 2016, the International Monetary Fund said in a statement Monday. While the approval was expected after IMF Managing Director Christine Lagarde said Nov. 13 that her staff recommended inclusion, the reserve-currency status is an acknowledgment of the progress China has made integrating into a global economic system dominated for decades by the U.S., Europe and Japan.
Here's a look at key events over the years:
2015
Nov. 30: The IMF's executive board, which represents the fund's 188 member nations, decides the yuan meets the standard of being "freely usable" and will join the dollar, euro, pound and yen in the Special Drawing Rights basket.
Nov 13: IMF staff recommend the yuan be added to the Special Drawing Rights, alongside the U.S. dollar, euro, pound and yen.
Oct. 20: PBOC sells 5 billion yuan of one-year bonds in London, the central bank's first-ever overseas debt issuance. The offering helps burnish the U.K. capital's increasing status as Europe's yuan trading hub.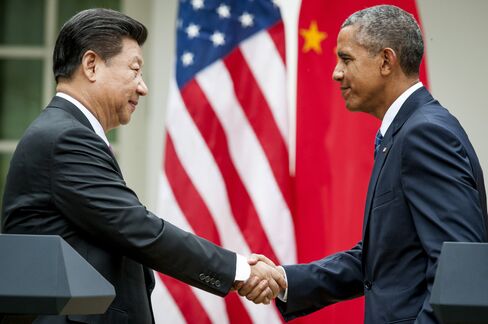 Sept. 25: After a meeting between presidents Barack Obama and Xi Jinping, the two sides issue a statement saying the U.S. supports the inclusion of the yuan, "provided the currency meets the IMF's existing criteria in its SDR review."
Sept. 10: PBOC says it will allow foreign central banks, sovereign wealth funds to enter onshore currency market.
Aug. 11: China slashes the yuan's fixing by a record 1.9 percent, sparking the biggest selloff since 1994. A new method to determine the PBOC's daily reference rate is introduced, with market makers who submit contributing prices being told to consider the previous day's close, foreign-exchange demand and supply, as well as changes in major exchange rates.
Aug. 4: The IMF says more work is needed before the yuan can be granted Special Drawing Rights status. Staff propose that implementation of any changes to the basket be delayed until the end of September 2016.
July 14: China makes it easier for overseas central banks, international financial organizations and sovereign wealth funds to trade interbank bonds without pre-approval.
2014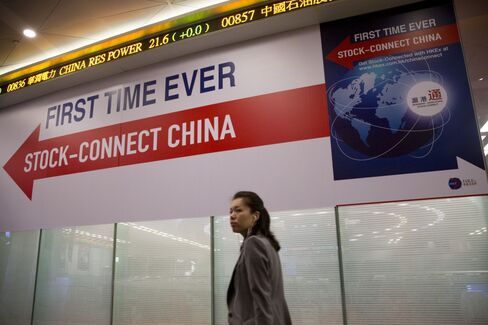 Nov. 17: A trading link between the Hong Kong and Shanghai stock exchanges begins, allowing 23.5 billion yuan ($3.7 billion) of daily cross-border transactions. Hong Kong also removes a yuan conversion limit on its residents.
Sept. 30: Direct trading between the yuan and the euro begins in China's interbank foreign-exchange market.
June 19: Direct trading starts between the yuan and the pound.
March 17: China expands the yuan's trading band to 2 percent from 1 percent.
2013
July 12: China increases Qualified Foreign Institutional Investor program quotas to $150 billion from $80 billion and expands Renminbi QFII beyond Hong Kong to include cities such as Singapore and London.
2012
April 14: China widens the yuan's trading band to 1 percent from 0.5 percent in the first such move since 2007.
2011
Dec. 16: Starts trial for the Renminbi QFII program, allowing some fund-management and securities firms to invest their yuan onshore.
2010
Aug. 17: China announces a pilot program to let overseas financial institutions invest yuan in the interbank bond market. It starts with foreign central banks, clearing banks for cross-border yuan settlement in Hong Kong and Macau, and other international lenders involved in trade settlement.
June 19: China's central bank pledges to "increase the renminbi's exchange-rate flexibility" without indicating a timeframe. It rules out a one-time revaluation.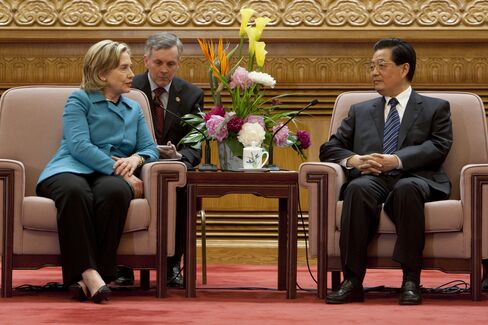 May 25: Then-President Hu Jintao, speaking at the U.S.-China Strategic & Economic Dialogue in Beijing, pledges to "steadily advance" toward yuan reform. U.S. Treasury Secretary Timothy F. Geithner says he is "as confident as I've ever been" that Chinese leaders have a growing incentive to let the yuan gain.
2007
May 18: The central bank widens the yuan's trading band, allowing the currency to move as much as 0.5 percent on either side of a daily reference rate against the dollar, up from the previous 0.3 percent.
2005
July 21: China ends the yuan's decade-old peg to the dollar and says it will let the renminbi fluctuate against a basket of currencies. It allows the yuan to strengthen 2.1 percent to 8.11 a dollar immediately, from about 8.3.
Feb. 3: U.S. Senators Charles Schumer and Lindsey Graham call for legislation to impose a 27.5 percent tariff on Chinese imports unless the nation eases controls on the yuan.
2004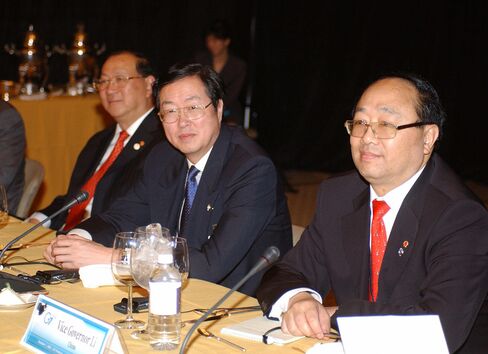 Oct. 1: PBOC Governor Zhou Xiaochuan and Finance Minister Jin Renqing meet finance ministers from the Group of Seven industrialized nations in Washington. This is the first time China, now the world's seventh-largest economy, has been formally invited to take part in a G7 meeting.
2003
May: The George W. Bush administration calls on China to revalue or float the yuan. U.S. manufacturers say the currency is as much as 40 percent undervalued.
2002
Nov. 7: China's stock market regulator issues rules allowing foreign investment in the country's yuan-denominated A-shares under QFII.
March 28: Then-PBOC Governor Dai Xianglong says China is considering an IMF proposal to link the yuan to a basket of currencies rather than just the U.S. dollar.
1997-1999
The U.S., Japan and other countries urge China not to devalue the yuan during the Asian financial crisis, fearing it could trigger a chain reaction.
1996
December: China allows foreign banks in Shanghai's Pudong district to execute renminbi transactions; allows the yuan to be freely convertible, but only under the current account.
1995
Dec. 29: The yuan ends the year at 8.317 to the dollar, strengthening from 8.70 two years earlier. It is then little changed until 2005.
1994
April 18: China Foreign Exchange Trading System is set up in Shanghai to allow trading and settlement of the yuan against the dollar, yen and Hong Kong dollar. Trading is allowed for current-account purposes only.
Jan. 1: China unifies the official and market rates at 8.70 yuan a dollar under a "floating exchange-rate system." This effectively devalues the yuan's official rate by 40 percent. Foreign Exchange Certificates are phased out.
1993
November: Communist Party Central Committee issues a document setting a long-term objective of a floating exchange-rate regime and full convertibility of the yuan.
1990
Nov. 17: The official exchange rate is adjusted to 5.22 yuan a dollar.
1985
Jan. 1: China's dual exchange rates are unified at 2.8 yuan a dollar.
1981
January: China sets a settlement price for the yuan for foreign-trade purposes at 2.8 yuan to the dollar to encourage exports. For non-trade purposes, the official exchange rate is 1.5 yuan.
1980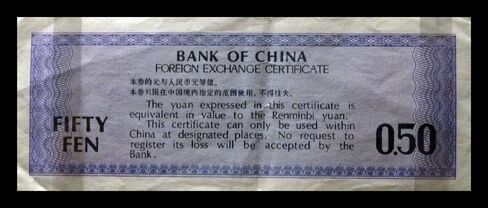 April 1: Foreign Exchange Certificates are issued as a currency for use only by foreigners. The official exchange rate is one FEC for one yuan.
1979
March: The State Administration of Foreign Exchange is established to oversee currency-control measures. Bank of China is the appointed foreign-exchange bank.
1978
December: China launches its reform and opening policy under Deng Xiaoping.
1948
Dec. 1: The first renminbi notes are issued by the Communist Party before it takes power on the mainland on Oct. 1, 1949. The People's Bank of China is formed.
— With assistance by Wenwen Zhang, Belinda Cao, and Karen Yeung
Before it's here, it's on the Bloomberg Terminal.
LEARN MORE