Beijing Raises Pollution Alert to the Second-Highest Level
City moves smog alert to orange for first time in 13 months

China says it achieved five-year pollutant-reduction target
Air pollution reached "hazardous" levels in Beijing on Sunday, prompting the city to upgrade to the second-highest alert for the first time in 13 months on the same day that the Chinese government said it has met pollution-reduction targets for the year.
Beijing's municipal government lifted the air-pollution alert to orange at 10 a.m. on Sunday, according to the Beijing Municipal Environmental Monitoring Center. The concentration of PM2.5, the particulates that pose the greatest risk to human health, as of 9:34 p.m. Saturday was 300 micrograms per cubic meter -- which is about 12 times higher than World Health Organization-recommended limits.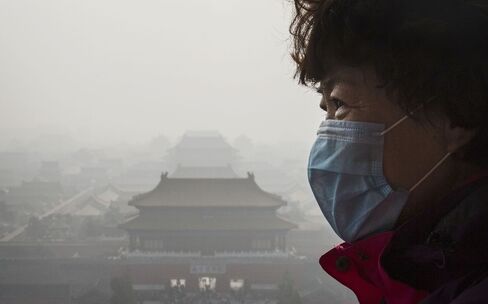 The air quality worsened Sunday and the center upgraded the alert without providing an updated pollution reading.
The Chinese government on Sunday said it had achieved its targets for reducing major pollutants outlined in its five-year plan ending 2015 ahead of schedule, according to Xinhua news agency. Still, some major pollutants need to be cut by 30 percent to 50 percent to substantially improve environment quality, Xinhua cited Chen Jining, the environment minister, as saying.
The current "severe pollution" in Beijing won't clear up for another two days, according to the environment bureau. The city will ask some factories to suspend or limit production while the orange alert is active, it said.
The Beijing smog alert underlines China's challenges as it joins other countries to try to reduce greenhouse gases. President Xi Jinping has traveled to Paris for United Nations-sponsored talks with more than 140 world leaders including U.S. President Barack Obama aimed at cutting emissions.
The two weeks of United Nations-sponsored talks have already gathered pledges to reduce emissions from 177 of the 195 countries involved.
(Updates with United Nations climate talks in last two paragraphs.)
— With assistance by Emma Dong
Before it's here, it's on the Bloomberg Terminal.
LEARN MORE