The Turkish Wild Card in Syria That Russia and U.S. Both Need
Erdogan's strategy for war increasingly at odds with allies

Washington urges calm as Ankara and Moscow escalate rhetoric
Turkey just reinforced its role as a wild card in the Syrian civil war, and one that both sides of the conflict ultimately have to deal with.
After becoming the first NATO country in more than half a century to shoot down a Russian warplane, it sent the alliance scrambling to deescalate tension with Moscow as President Recep Tayyip Erdogan vowed to continue to protect his country's airspace. It was a reminder of how Turkish priorities for Syria, its southern neighbor, remain out of step as its unflinching opposition to Kurdish separatists and Syrian President Bashar al-Assad overshadows the fight against Islamic State.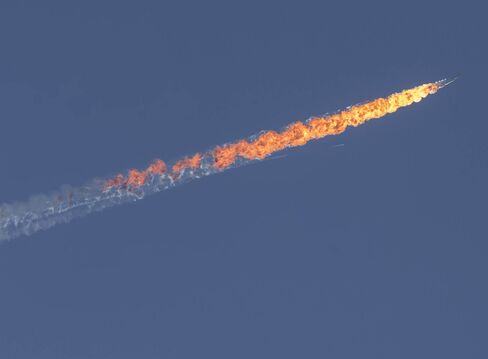 "The U.S. and EU will react with a mix of public support for Turkey, but in private they will have deep misgivings over the drastic nature of Erdogan's action," Naz Masraff, the director for Europe at political risk consultants Eurasia Group, said by e-mail on Wednesday. "Erdogan's move will probably be viewed within NATO as a miscalculation."
The largest NATO military after the U.S., Turkey says it wants to get rid of Assad and Islamic State, but opposes backing Syrian Kurds to help do so. The European Union meanwhile is pledging to share the financial burden of some 2.2 million Syrian refugees in Turkey while Erdogan is pushing to create a no-fly zone across the border where migrants fleeing the war can be settled.
Diverging Plans
Turkey, the historical bridge between Europe and the Middle East, shares the longest border with Syria. It's key to resolving the conflict and also German Chancellor Angela Merkel's effort to stem the flow of migrants into the EU. Yet events haven't gone to plan for the government in Ankara.
Russia took the U.S. by surprise in late September when it started bombing Syrian targets, ostensibly to attack terrorist groups though also to support its ally Assad. Turkey slammed the involvement and warned Russia about encroachments on its airspace, while NATO said it had no intention of coordinating its own air campaign against Islamic State, also known as ISIS.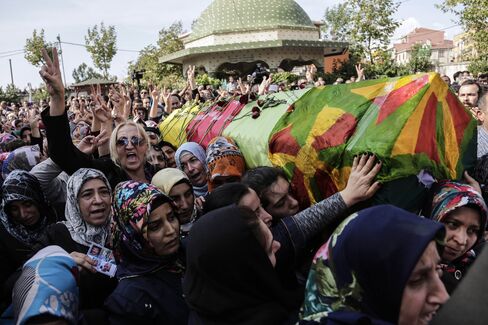 Islamic State suicide bombers killed more than 100 people in Ankara on Oct. 10 as Turkey focused its military effort on suppressing Kurdish separatist group PKK. It's still Turkey's "number one priority," according to Sami Nader, director of the Levant Institute for Strategic Affairs in Beirut.
"If Turkey has to choose between containing ISIS and containing the PKK, it will chose to contain the PKK because it's a direct threat to its national security," said Nader.
Putin and Erdogan
This week's engagement of Turkish F-16s to intercept the Russian SU-24 came a little more than a week since Erdogan hosted a Group of 20 summit dominated by talks over the Syrian war and Islamic State in the wake of the Paris terror attacks. After meeting his Turkish counterpart, Russian President Vladimir Putin called him a "straight-forward, open person" though also a "hard negotiator" who wants a political solution to Syria.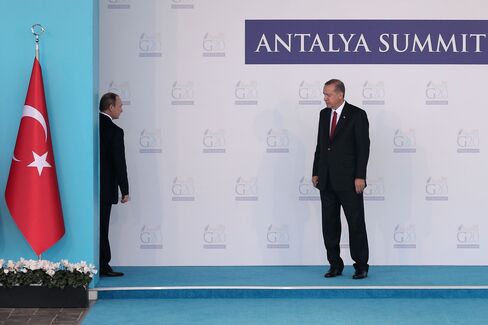 The two countries are now posturing. The Turkish air force stepped up patrols of the border, while Russian Foreign Minister Sergei Lavrov said he suspects the shooting down of the fighter jet was planned.
It will be Turkey that ultimately determines how Syria emerges from war down the line, according to Kamran Bokhari, a lecturer of national security at the University of Ottawa, said from Toronto.
"Turkey is the main player in the future of Syria," said Bokhari. "The U.S. is relying on Turkey to manage Syria in the long haul. Though Turkey is very skeptical of playing this lead role, realities will force Turkey to play a much larger role as time goes by."
Before it's here, it's on the Bloomberg Terminal.
LEARN MORE