Why China's Steel Mills Won't Cut Back Production
Extend and pretend, commodities style.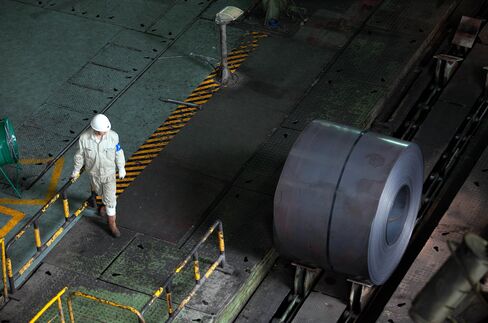 Macquarie's commodities analysts have been to China and they've come back ... gloomy.
The bank has previously highlighted the steel industry as a poster child for commodities woes, with particular emphasis on overcapacity in China. In the face of slumping metals prices, the pressure is on miners and producers to cut supply. Unfortunately for global commodities prices, a chunk of the world's metals producers seem reluctant to do so—even in the face of losses.
The Macquarie chart below shows steel mill profitability in the red.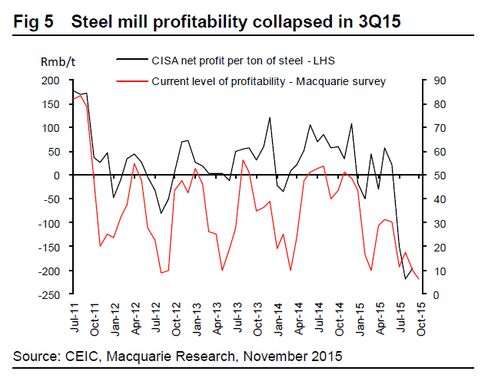 Why would Chinese steel mills maintain production in the face of low or nonexistent profitability?
Macquarie has a few thoughts.
For a start, analysts led by Colin Hamilton point out that steel mills have been pulling some levers to offset losses. Those levers include encouraging traders to prepay for purchases and, putting it diplomatically, attempted "VAT evasion among small and private mills." Such measures have mitigated the effect of lower steel prices, Macquarie says.
Other dynamics are at play, too.
"Our speakers generally thought any capacity closure is extremely difficult and that few closures are actually urgent at the moment for a number of reasons. One of them is that we have constantly heard that local governments simply wouldn't allow steel mills to be closed down for the sake of local employment and fiscal income. ... It was also emphasized that mills are concerned about losing market shares and having to spend fresh capital to resume operation if they stop producing now. It's therefore a prisoner's dilemma that has prevented some capacity from being shut down. It can actually be argued that banks are also part of this game–as mentioned by a steel trader, banks have been pushing mills to stay in the market so they don't have to admit large bad loans; the iron ore trader also said that for some mills, loan renewal for next year has already been completed, which means the seasonal tightness in liquidity towards year-end may not be as tough as we imagined."
Such prisoner's dilemmas are of course being played out among other Chinese commodities producers and non-Chinese commodities producers as well.
CreditSights analysts last month cited the example of China Hongqiao Group, a local aluminum producer that was opting to expand its output capacity in the face of lower metals prices. Elsewhere in the world, the head of Chile's Codelco said last week that he would rather rein in costs than curb copper production. The ultimate prisoner's dilemma in commodities? OPEC and its oil production.
Still there may be limits to steel mills' stubbornness, Macquarie says.
"It was thus quite gloomy to hear that the Chinese mills would just keep producing no matter how much their losses get," the analysts concluded.
"However, in our opinion, while all the factors mentioned above underline the stickiness of Chinese steel production, they still have their own limits, and sticking to them risks underestimating the pace of potential capacity exits."
Before it's here, it's on the Bloomberg Terminal.
LEARN MORE