Putin, Hollande to Meet as Russia Penalizes Turkey Over Jet
Foreign minister calls attack an `ambush' that looks `planned'

Turkey's Erdogan says no intention `to escalate this issue'
Russia said Turkey may have planned the downing of one of its warplanes near the Syrian border, as Germany bolstered calls to ease tensions and maintain focus on defeating Islamic State.
While Turkish President Recep Tayyip Erdogan maintained that the Russian jet was shot down after failing to heed multiple warnings and crossing into his nation's airspace, he said in Istanbul that "we certainly don't have any idea to escalate this issue."
The conciliatory message was echoed by Turkey's army, which said Thursday that it had invited Russian attaches to its headquarters to explain how the incident unfolded and to share radar maps. In a statement on its website, the army said contact also has been made with military officials in Moscow, and Turkey is "ready for all forms of cooperation."
The shooting down of the aircraft represents the first direct clash between foreign powers embroiled in the Syrian civil war and weighed on Russian and Turkish asset prices. While Russian President Vladimir Putin ruled out any military retaliation against Turkey, a NATO member, the clash has highlighted dangers the Syria conflict could spiral into a broader one since Russia began air attacks there Sept. 30.
German Chancellor Angela Merkel Wednesday added to the calls for calm from the U.S. and France, warning in Berlin that the downing of the Russian bomber "has further heightened the situation in Syria." President Barack Obama said Tuesday that he'll make it a "top priority" to prevent the Turkey-Russia standoff from worsening, and focus instead on destroying jihadist groups.
French President Francois Hollande, alongside Obama in Washington, said he's seeking an alliance with the U.S. and Russia against Islamic State after the Nov. 13 terrorist attacks in Paris that killed 130 people. Hollande said he'll press Putin to refocus strikes on Islamic State when he visits Moscow on Thursday.
Turkish Audio
In the continuing finger-pointing over the confrontation, the Turkish military released audiotapes it said documented at least 10 warnings issued to an encroaching aircraft by its command station in southeast Turkey, according to the official news agency Anadolu.
The army said in its statement that it didn't know the nationality of the aircraft when it gave the warnings.
But Russia says its Su-24 bomber didn't stray over the border from Syria, and that Turkey made no attempt to contact the plane before ordering two F-16s to shoot it from the sky. A Russian pilot rescued by special forces backed up the assertion that no warnings were given, "not by radio, not visually," according to comments to state media.
"If they'd wanted to warn us, they could have shown themselves, taking a parallel course," the pilot said. "But there was nothing. And the rocket hit the tail of our plane suddenly. We didn't even get a visual of it in time to take evasive action."
Rebel Gunfire
The second pilot was killed by rebel gunfire as he parachuted to the ground, while a marine also died when his helicopter was attacked during the mission to retrieve the two servicemen, the Defense Ministry said.
Russia said Wednesday it would deploy an S-400 air-defense system at the base its forces use in Syria's Latakia and provide air support for its planes from a cruiser in the Mediterranean Sea and by dispatching fighter jets to accompany bombing missions.
Russian jets escalated bombing raids Wednesday against targets in the area where the plane was downed, Rami Abdurrahman, head of the U.K.-based Syrian Observatory for Human Rights, said by phone.
Turkish Prime Minister Ahmet Davutoglu renewed appeals to Russia to stop bombing "Syrian Turkmen brothers," a reference to rebels in the area of Syria where the plane went down. He said there were reports of new Russian air attacks Wednesday.
Turkmen Fighting
Backed by Turkey, the Turkmen have been fighting troops loyal to Syrian President Bashar al-Assad, a Putin ally, and have lost ground to them in recent weeks amid the Russian bombing.
Russia's ruble weakened 0.3 percent against the dollar Wednesday, while bonds declined for a third day. Turkey's lira extended its slide into a third session, heading for its longest losing streak in a month against the U.S. currency with a 0.3 percent drop.
Expanding on allegations by Putin that Turkey is benefiting from Islamic State oil sales, Russian Prime Minister Dmitry Medvedev said there's "a direct financial interest of certain Turkish officials" in the supply of products from refineries controlled by the terrorist group, according to a transcript on his website.
On the other hand, U.S. Secretary of State John Kerry said this month that Assad's regime and Islamic State "do business with each other, buying and selling oil."
Medvedev said that shooting down the Russian plane caused a "dangerous" escalation in relations between Russia and the North Atlantic Treaty Organization,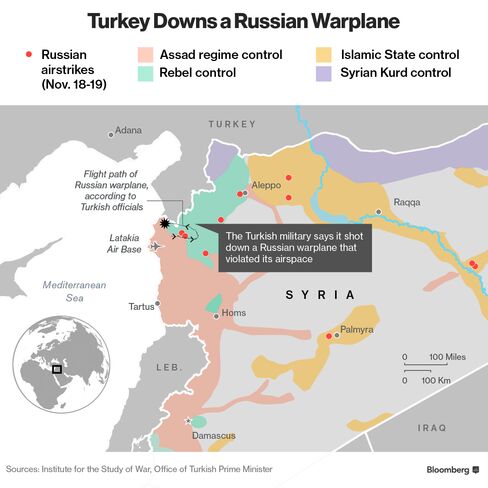 Warning of economic consequences from the conflict, Medvedev said Turkish companies will suffer and important joint projects may be halted because of the breach in "neighborly relations."
Russia's Federal Tourism Agency urged tour operators late Tuesday to suspend sales of trips to Turkey, citing the risk of terrorism in a country visited by millions of Russian tourists every year. Russia also announced a ban on poultry imports from Turkey's CP Standart Gida Sanayi ve Ticaret ASA supplier starting Dec. 1, Interfax reported Wednesday.
(An earlier version of this article was corrected to properly identify the location of Putin's comments Wednesday.)
Before it's here, it's on the Bloomberg Terminal.
LEARN MORE