Top Obamacare Official Makes Tweaks as Insurer Complaints Grow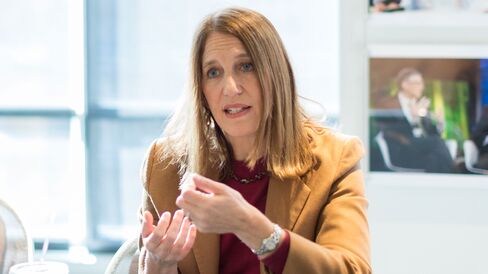 Patients choosing right plan can help reduce insurer turmoil

HHS secretary speaks in exclusive interview with Bloomberg
To reduce turbulence in Obamacare's fledgling insurance markets, the Obama administration's top health official is pushing to get more information to consumers about what they'll actually pay for health care, which can include out-of-pocket costs as well as premiums.
The changes are meant to help people choose coverage that fits their needs when up-front premiums and out-of-pocket costs are added together, Health and Human Services Secretary Sylvia Mathews Burwell said during an interview at Bloomberg News's Washington bureau. Cases of patients signing up, paying for a time, and then dropping out of Obamacare have plagued insurers like UnitedHealth Group Inc., which is debating whether to exit the government-run market to avoid more financial losses.
"Many people came into the system very focused on premium only, and then learned about total cost," Burwell said Monday. "We think total cost is important, and we've been driving the consumer to understand that."
The Affordable Care Act has helped cover about 9.9 million people through subsidized markets for private health insurance. Yet the new markets have in some cases proven challenging for insurers and hospitals. Patients may stop paying after a medical event, or can show up in hospital emergency departments with coverage that offers low premiums in return for more risk later, leaving them unable to pay their bills.
More Information
Sign-ups for 2016 coverage started on Nov. 1. For the first time, the U.S.'s healthcare.gov website will show customers the cost of insurance premiums and also estimate what their actual health expenses will be. That will help people pick appropriate coverage, Burwell said, and could keep them from dropping policies midyear, a problem known as churn that's plagued insurers like UnitedHealth and Aetna Inc.
"The insurers are absolutely right that this has to be truly viable, it has to be a market where people intend to buy insurance for the long haul," said Joseph Antos, a health-care policy expert at the American Enterprise Institute, a conservative think tank in Washington.
"Even with great information, ultimately the big wild card is, are you going to be sick this year or not?" Antos said. "It's going to take a few years for people to become minimally able to navigate all this stuff."
Burwell's interview came after UnitedHealth said last week that it was considering whether to pull out of the Affordable Care Act's insurance markets because it's losing hundreds of millions of dollars.
Until recently, Obamacare has been viewed as a boon to health-care firms, sending them millions of new customers and creating paying patients for drugmakers and hospitals. The Standard & Poor's 500 Health Care Index has more than doubled from the day President Barack Obama signed the Affordable Care Act into law through Monday, beating the broader S&P 500 gauge.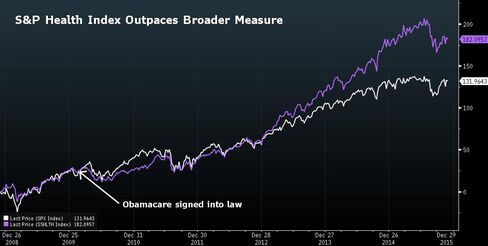 UnitedHealth, with fewer than 550,000 members on the Affordable Care Act's exchanges, isn't among the biggest health insurers in the program. But its experience could be a harbinger of things to come from other for-profit firms like Anthem Inc. and Aetna.
"We cannot sustain these losses," UnitedHealth Chief Executive Officer Stephen Hemsley told analysts on a Nov. 19 conference call. "We can't really subsidize a marketplace that doesn't appear at the moment to be sustaining itself."
Aetna has cited similar issues. Aetna Chief Financial Officer Shawn Guertin said earlier this month that people are buying coverage "and then staying for only a few months and then dropping again, and obviously getting service along the way." And Anthem has said that while it was willing to wait, it may take several years for the new insurance markets to stabilize.
Burwell declined to talk about UnitedHealth specifically. But she pointed to Anthem's statement last week saying it was committed to Obamacare, and similar remarks from insurers such as Kaiser Permanente and Molina Healthcare Inc., as a sign that there are plenty of firms willing to participate in the law.
Hospitals
Hospitals have faced their own issues, as for-profit chains HCA Holdings Inc. and Tenet Healthcare Corp. have said they're seeing an increase in uninsured patients. HCA said the number of uninsured people admitted to its hospitals climbed 13.6 percent in the third quarter, compared with a year earlier, while Tenet said its uninsured and charity admissions rose 3.7 percent. Those reports sparked investors worriesthat the law's gains in covering the uninsured are slowing.
Burwell said that while the U.S. had predicted only a modest increase in Obamacare sign-ups for next year, much of that was because people were keeping coverage they had through their jobs, helped by an improving economy.
"What we want to focus on is the reduction of the number of uninsured," Burwell said in an interview on Bloomberg Television Monday. "Whether that happens because people enroll in the marketplace or because we have lower unemployment in the nation, those are both positive ways to impact and affect that uninsured number."
The U.S. is rolling out other tools as well for the health law's third enrollment season. Insurers are increasingly narrowing the networks of doctors and hospitals that they're offering on the exchanges, which can help lower the cost of a plan. To help individuals figure out what's included in the coverage they're buying, the U.S. is developing a feature that shows whether a particular doctor or hospital is covered, Burwell said.
While that may mean fewer choices for care, that may not be a bad thing if consumers know what they're getting up front, Burwell said. "Narrow isn't bad if it's what you want and need."
Before it's here, it's on the Bloomberg Terminal.
LEARN MORE