Charting the Markets: Risk Assets Drop After Turkey Shoots Down Russian Plane
Lira falls after Russian jet shot down, mining stocks drop for a third day and ringgit tops the emerging market leader-board.
Global stocks are falling for a second session after after five days of gains. The clock is ticking to the Federal Reserve's Dec.15-16 monetary policy meeting. In a letter released yesterday Fed Chair Janet Yellen repeated she expects to tighten policy "gradually" after liftoff. Odds of a move next month have risen to 74 percent from 36 percent a month ago, according to Bloomberg data. The increased likelihood of a hike is underpinning the dollar, which is near a 10-year high against its ten leading peers, and weighing on commodities.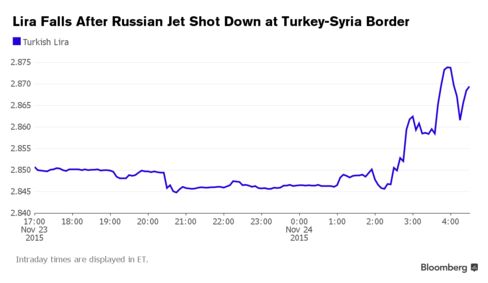 The lira fell after a Russian jet was shot down at the Turkey-Syria border, with Turkey alleging the warplane violated its airspace. Russia's Micex Index sank as much as 1.9 percent, its biggest drop in two months. Relations between Turkey and Russia have strained over Russian intervention in Syria, reinforcing President Bashar al-Assad. Turkey backs rebels seeking Assad's ouster. The lira is the world's third-worst performing emerging market currency this year, plunging 19 percent.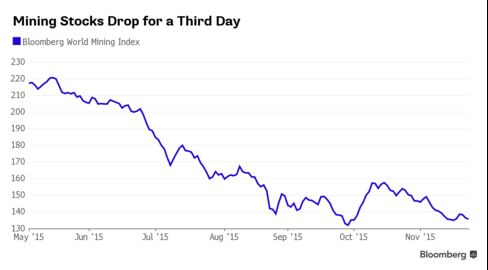 There's no respite for mining stocks. BHP Billiton sank to its lowest in seven years in London trading. The world's largest mining company faces a one-notch downgrade to its credit rating in the next 12 months. Standard & Poor's says the move depends on BHP's response to potential falls in iron ore and oil prices. The fortunes of the Bloomberg World Mining Index, a gauge of 81 stocks, are tied to the outlook for commodity prices, particularly base metals. An LME index of six industrial metals has sunk to the lowest since 2009 on falling demand from China, the biggest commodities user. Citigroup is sticking its neck out and saying platinum may prove to be a good bet after slumping to a seven-year low on Monday.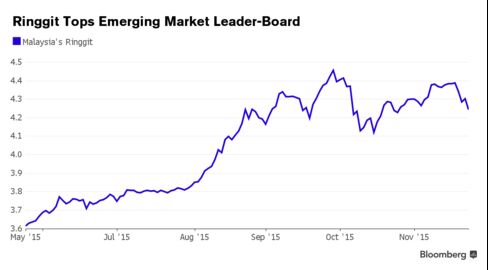 Malaysia's ringgit is the best performing emerging market currency as crude oil rose for a second day. The nation is the only major oil exporter in Asia. Crude was boosted after Saudi Arabia reiterated it's committed to stabilizing the market. Also lifting the ringgit is news that Malaysia's troubled state investment company moved closer to winding down operations. The ringgit is one of the world's worst performing emerging market currencies in 2015 as China's slowdown, oil's drop and the prospect of a U.S. rate increase this year batter the asset class.
Mark Barton is a presenter on Bloomberg TV. Follow him on Twitter @markbartontv
Before it's here, it's on the Bloomberg Terminal.
LEARN MORE