S&P 500 Profits Fall $25 Billion in First Three Quarters of 2015
Further drop seen in the fourth quarter
Profits from S&P 500 companies have fallen by about $25 billion in the first three quarters of this year, and a further drop is expected before the end of 2015 as energy companies battle with lower oil prices and a sharp rally in the dollar hits exporters.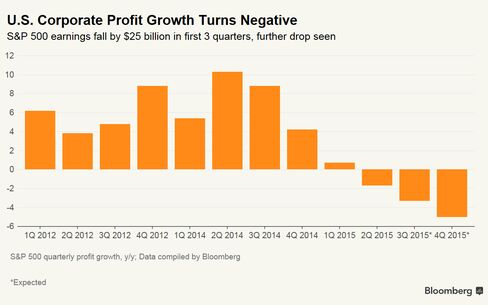 About 96 percent of S&P 500 companies have reported 3Q results so far, and their aggregate net income from continuing operations for the first three quarters is $804 billion, compared with $828 billion for the first three quarters last year, data compiled by Bloomberg shows.
The aggregate revenue for S&P 500 companies has fallen by $287 billion over the same period last year.
On a share-weighted basis, S&P 500 profits were down 3.3 percent on year in the third quarter, making this earnings season the worst since 2009, and marking a second consecutive quarter of negative earnings growth.
The energy sector has seen the biggest damage, hurt by plummeting oil prices. Earnings in the sector have dropped 57 percent in the third quarter year-over-year.
The negative trend in U.S. earnings is set to persist in the fourth quarter, with analysts expecting a 5 percent drop in S&P 500 profits in 4Q, according to data compiled by Bloomberg.
Lower crude has hit the energy sector, but the sharp rally in the dollar is also hurting U.S. profits and revenues, Societe Generale quantitative analysis research team led by Andrew Lapthorne writes in a note to clients on November 19.
"The question for us is not are we in a U.S. profit recession, but how bad is it likely to get and what are the implications for the wider U.S. economy, and with that massive consensus long on the U.S. dollar," they write.
Changes in U.S. import prices usually lead profitability by about 12 months, and without a reversal in the dollar's rally, a U.S. industrial profit recession looks "baked in the cake" for 2016, they say.
Paul Choi, equity trading strategist at Citi, says however that the negative impact from lower energy prices shouldn't weigh on earnings growth next year as oil prices are set to stabilize.
"Since the downside in earnings came from lower oil prices and cheaper energy, this is not likely to happen again, unless you think crude is going to $25 a barrel," Choi says in emailed comments. "At the same time, there is a stimulus to consumption that has not shown up yet."
Before it's here, it's on the Bloomberg Terminal.
LEARN MORE