EU Said to Be Set to Extend Russian Sanctions for Six Months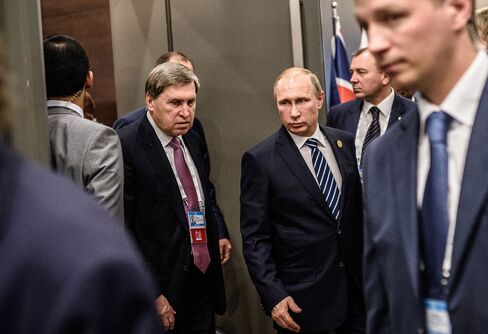 Ukraine peace deal delays said to hinder removal of sanctions

Russian bonds, ruble have gained on hopes of sanctions easing
European Union countries will probably extend Ukraine-related economic sanctions against Russia for another six months at the end of January despite improved cooperation in Syria, three European diplomats said.
Lack of progress in implementing this year's Ukrainian peace accord means the trading bloc has no choice but to prolong the measures, diplomats from pro- and anti-sanctions nations said, speaking on condition of anonymity because the discussions are confidential. The EU's 28 leaders are set to discuss the issue at a Dec. 17-18 summit, German Foreign Ministry chief spokesman Martin Schaefer told reporters in Berlin on Monday.
French President Francois Hollande will meet his Russian counterpart Vladimir Putin in Moscow on Thursday, two days after talks in Washington with U.S. President Barack Obama, with the goal of forging a united front against Islamic State. Russia has stepped up strikes on the militant group after blaming terrorists for downing a Russian civilian plane in Egypt last month and after the Nov. 13 Paris attacks promised to coordinate military action in Syria with France.
Russia, the world's largest energy exporter, is struggling to emerge from a recession caused by the collapse in oil prices and the sanctions on its energy and financial industries. The nation's bond yields fell and the ruble strengthened last week as Russia began to find common ground with the U.S. and its allies over fighting terrorism. An alignment on combating Islamic State may help remove the punitive measures and boost the country's sovereign debt rating, according to Standard and Poor's.
EU Vote
All EU member states must approve a renewal of sanctions, which have already cost European countries billions of dollars in lost exports after Russia imposed counter-sanctions on a range of food products.
While some EU members have opposed the sanctions, the bloc has so far presented a united front on the issue. Hungary, one of the countries that has opposed to measures and doesn't favor extending them, won't use its veto to block the move, which depends on Germany's stance, Prime Minister Viktor Orban said in an interview with Politico published Monday.
France's stance on sanctions as a means to ensure compliance with the Ukraine peace process hasn't changed, a French official said. There is no chance to cut a deal with Putin by linking cooperation over Syria to concessions over Ukraine, the official said.
Ukraine Violence
While the truce in Ukraine's easternmost regions has largely held in recent months, some violence persists. The February 2015 peace accord negotiated in the Belarusian capital Minsk requires Ukraine to grant some form of autonomy to the Russian-backed separatists in exchange for regaining full control of its border with Russia. About 8,000 people have died in the conflict since April 2014 according to the United Nations.
As a sign of the simmering conflict, the Crimea region that Russia annexed from Ukraine last year has been without power since Friday because of damage to the cables that connect its grid to the mainland. Russia is preparing to ban Ukrainian food imports from Jan. 1 in retaliation for an EU-Ukraine trade pact.
The optimism in financial markets that there won't be a sanctions rollover may be premature, because without improved signs of implementation of the Minsk peace deal "this is unlikely," Timothy Ash, head of EMEA credit strategy at Nomura International Plc, said in an emailed research note Monday.
At the same time, even as Hungary, Greece, Italy, Austria and Spain fall into line, resistance to the sanctions is growing and will further increase pressure on German Chancellor Angela Merkel, who is already facing calls from her domestic industrial lobby for a change in policy, Ash said.
Before it's here, it's on the Bloomberg Terminal.
LEARN MORE