Asean Opts for New Road Map as Economic Union Targets Missed
Officials haven't commented on progress on economic community

Report says priority to complete unfinished measures by 2016
Leaders from the Association of Southeast Asian Nations unveiled with fanfare another road map to a common community for the next decade even as the bloc missed targets for economic integration this year.
The 10 leaders signed a document declaring the establishment of an Asean Community from Dec. 31, and another titled "Asean 2025: Forging Together Ahead" that laid out the vision for the next 10 years. It aims to create a community that is "politically cohesive, economically integrated, and socially responsible."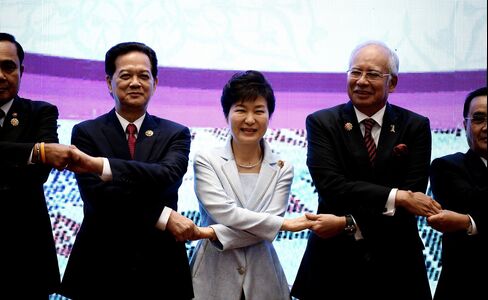 Less was said about the end-2015 targets for Asean Economic Community, whose goal was to allow free movement of goods, services and skilled labor as part of a European Union-style integration plan, without a common currency. Asean will now attempt to complete measures unfinished in an eight-year plan by the end of 2016 after missing the end-2015 goal.
"It will not lead to a 'big bang' moment in terms of regional integration" even as the formalization of the community is a significant step, said Guy Harvey-Samuel, chief executive officer of HSBC Holdings Plc in Singapore. "Instead, we are likely to see a slow initial burn that will become increasingly brighter as integration begins to get traction."
Single Market
Asean leaders adopted a blueprint for the AEC in 2007, where they aimed to create a single market that would include allowing the free flow of investments and capital across a region that is home to more than 600 million people. That would make it a larger trading bloc than the EU and a potential economic and political counter balance to China.
An Asean scorecard this month showed as of end-October, the grouping had implemented 79.5 percent of measures committed under the AEC. Among prioritized measures, the rate was 92.7 percent. The Asean 2025 report stated the "immediate priority is to complete the implementation of measures unfinished under the AEC Blueprint 2015 by end-2016."
"In practice, we have already virtually eliminated tariff barriers between us under the Asean Free Trade Area," Malaysian Prime Minister Najib Razak said in a speech Sunday. "We now have to ensure that we create a truly single market and production base, with freer movement of goods and services."
The signing ceremony Sunday included musical performances, a video montage of past meetings, a Technicolor light show and the leaders beating on traditional drums simultaneously to signify unity.
Own Interests
Each Asean nation is still focused on its own interests ahead of the AEC and there appears to be little popular support or political appetite for deeper integration, or funding for it, said Michael Every, head of Asia Pacific financial markets research at Rabobank Group in Hong Kong.
"Asean specializes in pointless symbolism," said Every, who wrote a paper in October on the AEC's lack of progress. "With the European Union, everyone understands what the European dream is, even when it's not working out. But with Asean, there is no concept of what the Asean dream is."
Intra-Asean trade represents only about 26 percent of the total, compared with about 60 percent for the EU, according to estimates by Rabobank. Asean's net exports account for between 6 percent and 7 percent of gross domestic product, compared with about 4 percent for the Eurozone, it said.
"In other words, most Asean economies still export far more to markets such as Japan, China, the U.S. and Europe than they do to each other," Every said. "Unlike the European Union, Asean simply doesn't have any kind of political vision or shared memory of historical trauma that must be overcome by a united regional community."
Trade Accords
The region is pressing ahead with measures to boost trade even as it faces challenges in reaching an agreement. The Regional Comprehensive Economic Partnership, a 16-nation trade accord, has gone through 10 rounds of negotiations and achieved "substantial" progress, Najib said Sunday. It includes the 10 Asean nations, China, Japan, India, South Korea, Australia and New Zealand.
The accord is a competing vision to the U.S.-led Trans-Pacific Partnership for an Asia-Pacific trade bloc, reflecting the struggle for dominance by economic powers over a region that is increasingly a driver of global growth. A dozen Pacific-rim nations came to agreement on the TPP in October, more than five years in the making.
"Considering the challenges faced and the value of constructive engagements, more time is needed to conclude the negotiations" of the RCEP, Najib said. Participating countries "request our negotiators to intensify their efforts to conclude and achieve a mutually beneficial and high quality agreement in 2016," he said.
Before it's here, it's on the Bloomberg Terminal.
LEARN MORE