Brussels Stays on Lockdown Amid Hunt for Several Terror Suspects
Terrorism alert at maximum on `precise information' of threat

`Very dangerous acts' are feared, Schaerbeek mayor says
Brussels remained on lockdown as authorities hunted several suspects they fear may be about to launch a Paris-style Islamic State terrorist attack.
The city kept its metro system closed, canceled neighborhood outdoor markets and cultural events and told people to avoid gathering in large groups. Police and soldiers patrolled the downtown area.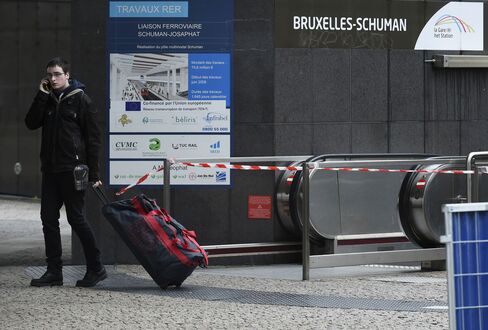 The government's National Security Council is scheduled to meet Sunday afternoon to discuss the current threat and whether to allow public transport to run and schools to open on Monday. That will also determine if it will be business as usual for NATO and the European Union come Monday morning, as the headquarters of both institutions are in the Belgian capital.
On Saturday night, the city was virtually empty as authorities advised bars and cafes to close after 6 p.m., having raised terror alert for Brussels to the highest level.
"We have precise information that outlines the risk of an attack similar to the one that unfolded in Paris," Belgian Prime Minister Charles Michel said on Saturday. "It is a threat based on the theory that it would take place with arms and explosives, maybe even in several places and at the same time."
With Europe still reeling from the Nov. 13 attacks in Paris that left 130 people dead, the U.K. government said on Sunday it will seek to step up military efforts against IS in Syria while France said it will continue airstrikes.
Brussels has been on alert since it emerged that at least three jihadists behind the Paris assaults had lived in the city. Salah Abdeslam, one of two brothers believed to have been involved and now the focus of an international manhunt, comes from the Molenbeek district of the capital.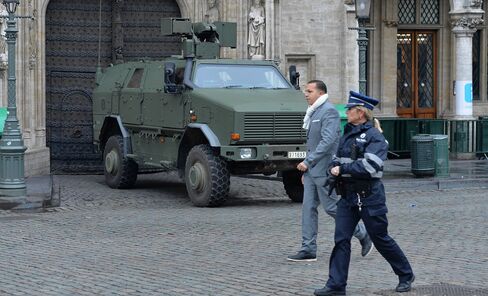 Abdeslam may possess an explosive belt, according to Hamza Attou, the man who helped him flee to Brussels after the Paris attacks, Carine Coquelet, Attou's lawyer, said in an interview published by RTBF. On the drive from Paris, Abdeslam and Attou were "stopped three times by French authorities and each time they showed their identity documents," Coquelet told the broadcaster.
Authorities are hunting more than one person, Belgian Interior Minister Jan Jambon told broadcaster VRT, Belga reported early Sunday. "It involves several suspects; that's why we've put in place such a concentration of resources," he said.
Bernard Clerfayt, mayor of the Brussels district of Schaerbeek, told RTBF that "there are two terrorists on the ground in the region of Brussels" and they could be planning "very dangerous acts."
Sporting Events
Authorities late Friday raised the terror alert for the Brussels region to 4, or "very serious," and canceled sporting events and cultural activities around the city. Movie theaters, libraries and galleries closed and shopping malls and department stores shut their doors. The Atomium tourist venue remained closed.
Most professional soccer games were postponed, though the Standard Liege club said its match Sunday afternoon against Kortrijk would go ahead with increased security.
Eurostar, which operates rail services between London and Brussels, advised Belgium-bound travelers to reschedule because of the lockdown. Brussels' main airport and rail stations -- apart from the station nearest EU offices -- are operating normally.
The Brussels metro system will probably reopen by Monday, Belgian Justice Minister Koen Geens told VRT television. "We don't want to paralyze Brussels economically," he said.
'Maximum Number'
"We are mobilizing the maximum number of people that is possible" to ensure security, Interior Minister Jambon told VTM television on Saturday. "All the reserves will be called and also the military will give more support to guarantee the highest possible security."
The terror warning came hours after the United Nations on Friday unanimously endorsed a resolution calling for countries to take "all necessary measures" to combat so-called Islamic State in Syria and Iraq, warning that the group intends further attacks like those in the French capital. French President Francois Holland and U.K. Prime Minister David Cameron applauded the decision.
The European Commission, the EU executive, restricted access to its buildings in Brussels in response to the terror alert and the European Parliament closed its visitor center. The U.S. Embassy in Brussels urged Americans in the city "to shelter in place and remain at home."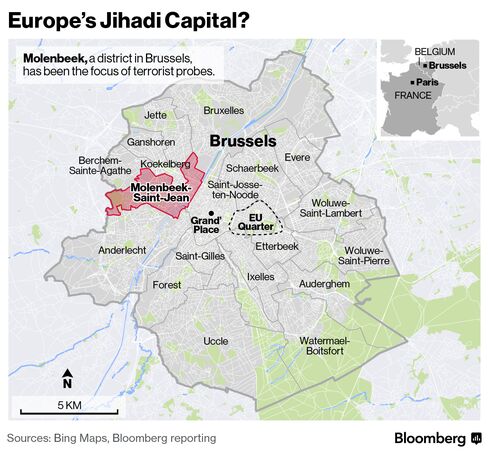 On Saturday, Belgian authorities searched the house of one of the suspects arrested in connection with the Nov. 13 attacks in Paris, the federal prosecutor's office said. "A few weapons were found, but no explosives or an explosive belt," the prosecutor said. In Turkey, a Belgian thought to have been in contact with the Paris attackers was arrested, a Turkish official said.
With the manhunt for people suspected of involvement in the Paris attacks continuing, investigators in France said two of the suicide bombers at the Stade de France in the suburb of Saint Denis had entered the EU on a route used by migrants. A three-month extension of a state of emergency decreed by Hollande came into force on Saturday, allowing the government to ban public demonstrations, carry out searches without warrants and place people under house arrest without a court order.
British Chancellor of the Exchequer George Osborne told BBC Television on Sunday that "this week we're going to step up our diplomatic efforts, our humanitarian efforts, and seek to step up our military efforts" to defeat IS in Syria. General Pierre de Villiers, France's chief of defense staff, told le Journal du Dimanche that in Syria and Iraq, France will continue air strikes against oil sites that are intended to weaken the Islamic State financially.
Before it's here, it's on the Bloomberg Terminal.
LEARN MORE