Companies left making standardized components hurting the most

Japanese lead gains among Asian technology stocks this year
For a stark depiction of how Taiwan's technology industry has been ravaged by the rise of the smartphone and the fall of the desktop computer, look at Asia's stock market.
The nine worst performers in Morgan Stanley's 106-member Asia-Pacific Infotech Index this year come from Taiwan, once the leader of computer innovation and a powerhouse in hardware and semiconductor manufacturing. The sagging companies include former PC giant Acer Inc. and its manufacturing spinoff Wistron Corp. -- both are down by more than 40 percent -- and smartphone maker HTC Corp., once the biggest seller in the U.S.
Those suppliers of ubiquitous electronics products from memory chips to flat-panel displays have lost about $24 billion in market capitalization so far this year, or about the equivalent of an HP Inc. By contrast, the top performers are all Japanese, led by automotive electronics maker Alps Electric Co. and games distributor Nexon Co.
"Being heavily exposed to PCs has been tough a place to be this year because of economic weakness in Asia, where the market had previously remained relatively robust," said Anand Srinivasan, an analyst with Bloomberg Intelligence.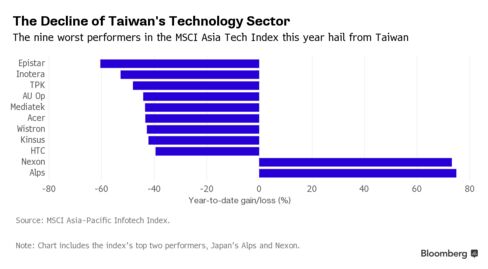 Other poor performers include flat panel maker LG Display Co. and memory-chip maker SK Hynix Inc., both from South Korea. Along with Taiwan's AU Optronics Corp. and Inotera Memories Inc., they supply industry-standard components differentiated only by price and subject to sharp swings in supply and demand.
Taiwan's technology companies mostly remain mired in PC hardware, while those in other countries such as China have moved into Internet services, birthing juggernauts such as Alibaba Group Holding Ltd. and Tencent Holdings Ltd.
Some of the other poor performers in the MSCI technology index are in businesses otherwise commoditized or facing stiff opposition from rising Chinese counterparts. The index's worst-performing stock is Epistar Corp., a maker of light-emitting diodes used in electronic displays that has plummeted 60 percent this year.
IPhone, Xiaomi
TPK Holding Co., inventor of the touchscreen for Apple Inc.'s first iPhone, was eclipsed by new Chinese and Hong Kong entrants and has shed almost half its value. HTC's downfall reflects the rise of smartphone startups, including Xiaomi Corp. and Guangdong OPPO Electronics Co.
Taiwan and Japan have equal representation in the index with 40 members apiece, yet Taiwan's benchmark Taiex index is down this year, compared with advances for Japan's Topix and Korea's Kospi indexes. The top performers on the Taiex this year include a textiles maker, a power-tools supplier and an infectious-waste disposal company.
"The latest version of Windows might spur a rebound next year, yet we're still seeing commoditization and price pressure not only in PCs but also smartphones and servers," Srinivasan said, referring to Microsoft Corp.'s operating system. "That will continue to challenge hardware businesses."
Before it's here, it's on the Bloomberg Terminal.
LEARN MORE