ECB Path to More Easing Littered With Potholes, Analysts Say
The right policy mix is essential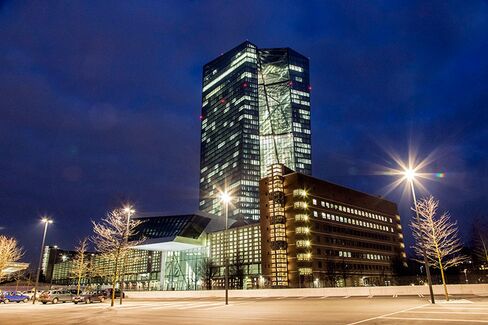 President Mario Draghi's speech today and European Central Bank accounts yesterday show the euro-area's central bank is open to doing more to stimulate the region's economy given it sees downside risks to inflation.
The policymakers' options include cutting the deposit rate and extending or expanding its bond-buying programs (QE), as well as buying new assets.
Greg Fuzesi, an economist at JPMorgan Chase & Co. in London, says it's clear the ECB is doing some soul-searching about inflation. Dirk Schumacher, an economist at Goldman Sachs Group Inc, says finding the right mix of measures is important as the ECB needs to stay credible while Gilles Moec, chief European economist at Bank of America Merrill Lynch in London, warns the wrong mix could spur renewed questions about debt sustainability in the periphery.
Deposit rate cut
Draghi, after last month's meeting, said the ECB discussed lowering the deposit rate and today commented that the level of the deposit facility rate can empower the transmission of QE. There's a 100% chance the ECB will cut its deposit rate by 10 basis points next month versus ~20% before the October rate decision, ECB-dated Eonia forwards show.
The institution's chief economist Peter Praet told Bloomberg this week the impact of negative deposit rates was more favorable than expected. The net effect of negative deposit rates globally has been positive on bank profitability, he says.
Cutting further into negative territory might be seen as a necessary step to help money recirculate around the euro area, Jefferies analyst Marchel Alexandrovich writes. A cut is a rather less contentious option than expanding asset purchases, Oxford Economics' Ben May says. Barclays analysts including Philippe Gudin say a cut, alongside more QE, has been effective in reducing leverage so expect a rate decrease, a time extension and the door to more cuts to be left open.
But BofAML's Moec says if the bank were to make a big cut because Europe's rate-setters can't agree on more QE, that could quickly rekindle questions around debt sustainability in some peripheral countries amid concern QE is close to exhaustion. And the ECB's accounts show the Governing Council is aware that cutting rates again could have repercussions on the functioning of markets and the behavior of banks and customers.
Extend
The bank has already said it could extend QE program beyond September 2016, if needed, and Draghi's speech to parliament this month reiterated that possibility. For many commentators this is the most straightforward way for the ECB to do more, with many expecting an extension of six months or beyond.
While the ECB could also drop the date target, Nomura analyst Nick Matthews doesn't think it will, saying the date-based guidance has more market appeal. And losing that anchor could trigger unwelcome market uncertainty over how long the program will last, particularly once headline inflation moves higher, he says.
Expand
There are binding technical restraints on QE, including the size of the bund market, which mean its potential size isn't as big as many think, HSBC's chief European economist Karen Ward said at conference in London last month.
The potential for an increase in the monthly pace of buying would be limited as ECB would run out of government bonds to buy by March 2017 if it increased the pace of purchases to 80 billion euros, according to BofAML's Moec, who sees 70 billion euros as the top of expectations.
The ECB is buying an estimated 105 million euros more of German debt than the government sells in 2015, according to data compiled by Bloomberg. Around 40% percent of German bonds yield less than the deposit rate, making them ineligible for ECB QE.
And while QE has been effective in pushing up liquidity in core countries, the rise in commercial bank deposits is falling far short of QE purchases in Spain and Italy, Jefferies's Alexandrovich says.There are a number of reasons why the ECB may decide to keep the option of expanding monthly asset purchases in reserve, not least, fierce opposition from some Governing Council members, Oxford Economics' May says.
New asset classes
Given the will to do more, widening the scope of what debt the ECB can buy looks set to continue, Neil Murray, head of Pan European Fixed income at Aberdeen Asset Management writes in client note. Corporates bonds are a possibility, although a tricker one, he says.
It's more likely the ECB will do more rather than less than Nomura expects, with an expansion of the list of eligible securities possible, Matthews says. The "downside" of including other private-sector assets is that this increases the financial risk on the ECB's balance sheet, Goldman's Schumacher says.
Other options
BofAML's Moec says getting the right policy mix is important; using the deposit rate to try to force banks to lend more seems very convoluted and not a bullet-proof approach. Cutting the average cost of banks funding further, by extending TLTROs or QE, could make more sense, he says.
Different policy mix
There's a risk the ECB's measures to stimulate the economy become less effective as the ECB's balance sheet expands, creating a new challenge for rate-setters, Goldman's Schumacher writes. Changing the composition of its purchases to avoid fueling tensions in certain market segments or lengthening the average maturity of purchases may be other options the ECB could consider, he says.
No certainty medicine is working
Draghi said that more than nine months after the ECB began buying government bonds the recovery is on a firmer footing, but this hasn't been mirrored in the path of inflation, which still remains well below the ECB's objective of below but close to 2%.
Praet said the ECB has been surprised at the slow transmission of easier financial conditions on current and future inflation. Also, the bank's Vice President Vitor Constancio says monetary policy alone can't respond to all the existing challenges, adding that the economic, social and demographic problems of the euro area need to be addressed.
The ECB isn't doing anything drastically different to what it was doing before QE and what it is doing is on a much smaller scale than was done in the U.S. and elsewhere, Aberdeen's Murray points out.
Julius Baer's chief currency strategist David Kohl is highly skeptical additional unconventional monetary measures will help the economy but expects a homeopathic dose. RBS says the ECB's exhortations to politicians to do more adds to the sense of urgency for monetary policy given no-one believes the pleas will be answered in a market timeframe.
Then again, Schumacher warns ECB mustn't do too much too soon as a higher level of activism may spur suspicions the ECB is no longer in control.
Before it's here, it's on the Bloomberg Terminal.
LEARN MORE