Bond ETF Withdrawals Surge as Investors Brace for Higher Rates
Funds see sales in November for the first month since June

Two-year U.S-German yield spread widest since August 2006
Investors in U.S. exchange-traded funds are selling bonds this month for the first time since June as they prepare for the Federal Reserve to raise interest rates.
They've pulled $1.12 billion from U.S. fixed-income funds in November. While the Fed has emphasized it plans to move at a gradual pace, the figures highlight the extent to which bond investors are seeking protection as the prepare for the first increase to borrowing costs in almost a decade.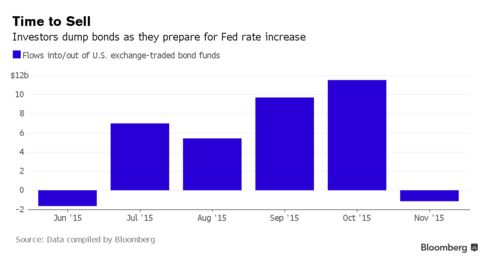 The divergence between a Fed set to tighten and a European Central Bank committed to looser monetary policy is also apparent in the bond market. The extra yield that two-year U.S. Treasuries offer over equivalent German notes widened to a nine-year high after ECB President Mario Draghi said Friday that officials will do everything they can to boost euro-zone inflation quickly.
"We expect the Fed to raise interest rates in December and this is still not fully priced in," said Nick Kounis, head of macro and markets research at ABN Amro Bank NV in Amsterdam. "At the same time, we think the ECB will be more decisive in stepping up monetary stimulus next month. The chasm in policy on either side of the Atlantic will likely drive the spread further."
The U.S. two-year Treasury yield rose two basis points, or 0.02 percentage point, to 0.91 percent as of 7:30 a.m. New York time, according to Bloomberg Bond Trader data. The 0.75 percent security due October 2017 fell 1/32, or 31 cents per $1,000 face amount, to 99 22/32.
Record Low
German two-year yields dropped to a record-low minus 0.389 percent. The yield spread with the U.S. notes widened to 1.29 percentage points, the most since August 2006.
The Bloomberg U.S. Treasury Bond Index fell 0.6 percent this month through Thursday, though it trimmed losses during the past two weeks.
The probability the Fed will increase its benchmark by its Dec. 15-16 meeting is 68 percent, according to futures data compiled by Bloomberg. The calculation is based on the assumption the effective fed funds rate will average 0.375 percent after liftoff, compared with the current range of zero to 0.25 percent.
Fed officials inserted language into their October statement to stress that it may become appropriate to raise the benchmark rate in December and largely agreed that the pace of increases would be gradual.
"It looks like they're going to raise rates in December," said Soniya Chen, a government bond trader at Hontai Life Insurance Co. in Taipei. "I don't have any position in Treasuries now," she said, adding that she's bullish on higher-yielding government bonds and that she boosted her position in Mexico this week.
Before it's here, it's on the Bloomberg Terminal.
LEARN MORE