Iran Sanctions Might Be Lifted in January as Atomic Gear Removed
IAEA reports Iran may meet its nuclear commitments by Jan. 12

Iran's enriched-uranium stockpile still needs to be eliminated
Oil and banking sanctions against Iran might be lifted by mid-January based on the pace at which technicians are removing and mothballing nuclear equipment at the country's uranium-enrichment facilities.
Iran removed 4,530 centrifuges during the 28 days ending Nov. 15, a rate of 162 machines per day, according to an International Atomic Energy Agency report issued late Wednesday. Based on current work rates, Iran may be able to fulfill its part of the nuclear deal agreed with world powers by Jan. 12.
"By the time you have this down to a routine, it's not much more difficult than changing a set of tires," said Robert Kelley, a nuclear engineer and former IAEA director who has supervised centrifuge disassembly projects. "There's no reason the Iranians cannot continue at the same pace."
The July 14 deal agreed with world powers requires requires Iran to reduce the number of its installed centrifuges -- the fast-spinning machines that enrich uranium -- to 5,060 from about 19,000. Once IAEA monitors have verified that Iran has met its commitments, oil and banking sanctions that have dragged on the economy of 77 million people will be lifted.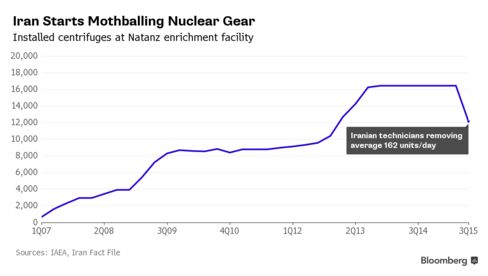 Nuclear monitors have been present during every stage of the removal process, according to two senior diplomats familiar with the IAEA's role in Iran. The agency is recording the serial number of every machine that is being removed to ensure nothing goes missing, they said, asking not to be identified in exchange for discussing details of the work.
Before sanctions are removed, Iran also has to eliminate about 8,000 kilograms (17,600 pounds) of enriched uranium, either by exporting it to another country or diluting it with inert material. The core of a heavy-water reactor in Arak also has to be disabled.
The IAEA "has begun conducting preparatory activities related to the verification and monitoring of Iran's nuclear-related commitments," it said in the 22-page document. The agency is setting up remote monitoring technologies and will be prepared to implement its commitments whenever the Iranians are ready, the diplomats said.
Before it's here, it's on the Bloomberg Terminal.
LEARN MORE