Deep in India's Desert, a Crucible for Modi's Economic Plan
Rajasthan has pushed through reforms Modi's struggled with

ADB says Rajasthan set to be favored investment destination
To catch a glimpse of Prime Minister Narendra Modi's economic vision for India, drive to the edge of the desert sands to the 18th century walled city of Jaipur.
The capital of the northwestern state of Rajasthan saw one of India's steepest surges in foreign direct investment in the year through March 2015. Chief Minister Vasundhara Raje, taking advantage of her absolute dominance over the state and municipal legislatures, has pushed through reforms Modi has struggled with, relaxing contentious labor rules and making it easier for companies to acquire land.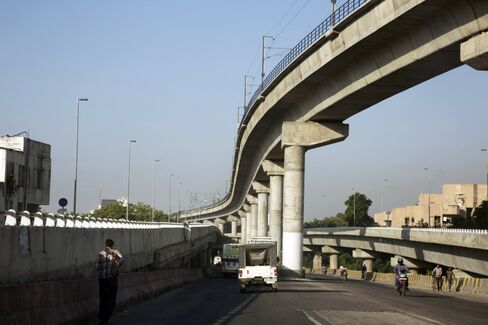 Fettered by an opposition-controlled upper house of parliament where national bills lie blocked, Modi's counting on India's 29 states to individually ease restrictions and compete for investment. Some are heeding his call: a spate of lavish investor summits by state governments has seen FDI into India poised for a record this fiscal year.
"It isn't incongruent with what Modi had initially launched in terms of decentralization and a smaller government," said Vishnu Varathan, a Singapore-based economist at Mizuho Bank Ltd. "The more the individual states show they are in favor of such reforms, that kind of momentum will seep through at the national level."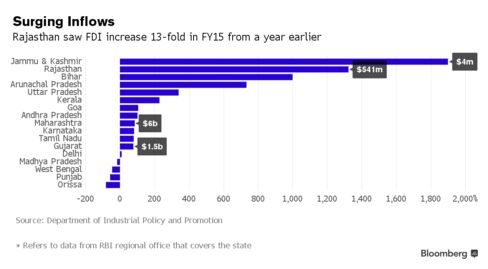 Rajasthan -- the 'Land of Kings' -- was ranked sixth among Indian states in the World Bank's Ease of Doing Business assessment, and 80 percent of respondents in an ADB survey have a favorable view of its business regime. Time-bound clearances, speedy land approvals and efficient transport connectivity were factors cited, the Asian Development Bank said in the report released in Jaipur on Thursday, the first of a two-day investor summit.
Land, Labor
India's constitution allows state governments to tinker with certain federal laws to meet local requirements. Raje, 62, a descendant of the former royal family and a member of Modi's Bharatiya Janata Party, last year made it easier to hire and fire workers. Modi's attempts to do so have been stymied by national labor unions.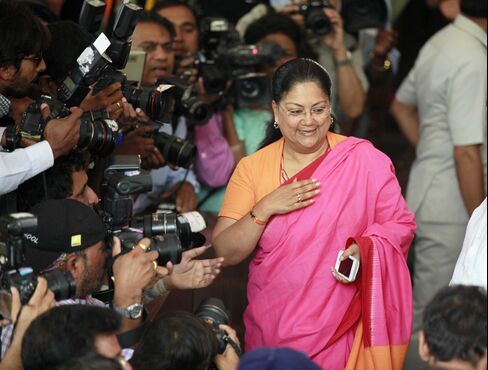 Raje has also relaxed land acquisition rules to set up factories in special economic zones and is now looking to extend the provisions state-wide, after Modi was forced to backtrack from his proposals.
In other areas, she's a step ahead of Modi: Rajasthan in October unveiled a new start-up policy, vowing to provide funding for new companies, months ahead of Modi's promised incentives.
"The chief minister is dynamic," said I.C. Agarwal, chairman of Genus Power Infrastructure Ltd., part of the Kailash Group that has projects in six Indian states including Gujarat, Haryana and Uttar Pradesh. Yet, Rajasthan needs to do more to simplify its tax system and tackle a chronic water shortage, he said.
Finance Minister Arun Jaitley called on the state to hasten the pace of project implementation, adding that "the aspirational constituency of India has increased," which is demanding faster reforms.
Pledges and Risks
Failing to persist with reforms would leave Rajasthan at the risk of losing out to other BJP-ruled peers such as Madhya Pradesh, India's fastest-growing state, or Congress-led Karnataka that's due to hold its own investor summit in February.
There's also the chance that -- like Gujarat, which championed investment summits while Modi was chief minister -- only a fraction of investment pledges will actually be implemented.
Rajasthan has won 295 pledges worth $65 billion that will generate 250,000 jobs, Raje said in Jaipur on Thursday. Indian billionaires Gautam Adani and Kumar Mangalam Birla committed to invest 100 billion rupees each and Takeshi Yagi, Japan's ambassador to India, said five Japanese companies will sign pacts with the state government.
The administration is also looking to create a land bank of 10,000 acres and is working with the federal government to help clear debt accumulated at power distribution companies. About 40 percent of India's ambitious Delhi-Mumbai Freight Corridor will run through Rajasthan, across the sands of the Thar desert and the shrines of Ajmer.
"Path-breaking reforms have been carried out," Raje said. "India is stronger today because states are strong."
Before it's here, it's on the Bloomberg Terminal.
LEARN MORE