Xi Decries Islamic State Execution as Syria War Touches China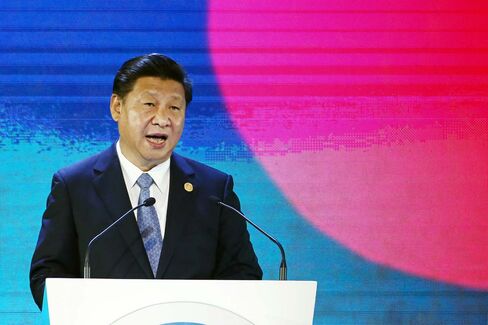 Expresses condolences for first national executed by group

Death unlikely to steer China toward backing military response
President Xi Jinping condemned the Islamic State's execution of a Chinese national, an act that raises pressure on China to take a greater role in resolving Syria's civil war.
Xi issued a statement on the sidelines of the Asia-Pacific Economic Cooperation summit in Manila on Thursday, after Islamic State claimed credit for killing Fan Jinghui, 50, and another Norwegian captive. The group published pictures of the two dead men in its English-language Dabiq magazine on Wednesday under the banner "Executed." It was the first time the Islamic State had killed a Chinese captive.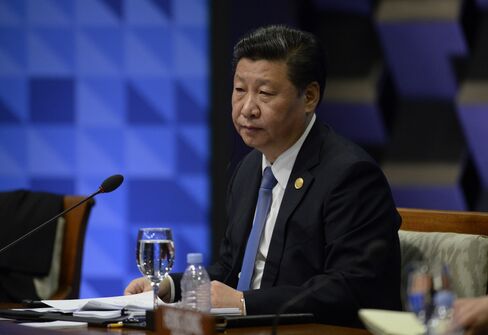 "China strongly condemns the brutal murder of a Chinese national by Islamic State," Xi said, according to official China Central Television. "I express my deep condolences to the families of the victim. Terrorism is the common enemy of humanity. China resolutely opposes terrorism in any form and resolutely fights against violent, terrorist, criminal activities that challenge the bottom line of human civilization."
The executions show the increasingly global impact of violence by Islamic State and its affiliates, as leader Abu Bakr al-Baghdadi looks to incite a clash of civilizations. Attacks that killed scores in Paris and Beirut -- days after a bomb brought down a Russian jet with 224 people on board -- have increased efforts for greater international cooperation to strike back against Islamic State.
While the killing might increase China's urgency in seeking a resolution to the Syrian civil war helping Islamic State to thrive, it was unlikely to steer the country toward support for military intervention, said Li Wei, head of security and anti-terrorism research at the China Institutes of Contemporary International Relations.
Peace Process
"I don't see any possibility for China to join the international coalition in air-striking the group in any near future," Li said. "China will likely play a more active diplomatic role in participating in the Syrian peace process."
Thursday's statement was the first time Xi had publicly mentioned the Islamic State by name, Li said.
China has for decades pledged to stay out of the "internal" matters of other nations, declining to back international sanctions against Syrian President Bashar al-Assad or Russia over Ukraine, even as its overseas business interests proliferate. Last month, Chinese Foreign Minister Wang Yi outlined three proposals on the Syrian conflict, including political talks, humanitarian relief and greater anti-terrorism cooperation.
The Chinese victim, Fan, once ran an advertisement company in Beijing and had become a freelance consultant, according to the Beijing News. Islamic State had been seeking a ransom for both Fan and the Norwegian victim, who had been identified as 48-year-old Ole Johan Grimsgaard-Ofstad.
Overseas Chinese
The magazine provided no details about the killings, such as where and when they took place. It said only that they were executed "after being abandoned by the Kafir nations and organizations," using a derogatory Arabic term for non-Muslims.
China had sought Fan's rescue and would work to bring his killers to justice, Ministry of Foreign Affairs spokesman Hong Lei said in a separate statement. Premier Li Keqiang promised to strengthen protection for Chinese living abroad.
Norwegian Prime Minister Erna Solberg earlier told a press conference that while her government couldn't confirm the killing, there were "no reasons to doubt it," according to the Associated Press. She described Islamic State as a "barbaric group."
Dabiq also published a picture of the bomb that the Islamic State said was used to down the Russian plane over the Sinai Peninsula last month. The bomb, hidden in a soft-drink can, was smuggled onto the plane after the group's local affiliates breached security at Sharm El-Sheikh airport, Islamic State said. It said Russia was chosen as a target in retaliation for its intervention against militants in Syria, which began in September.
Before it's here, it's on the Bloomberg Terminal.
LEARN MORE