Dutch Court Rules Gas Output From EU's Biggest Field Be Cut
Groningen output limit set at 27 bcm, 33 bcm in cold year

Production at Loppersum cluster of field to remain suspended
A Dutch court Wednesday ruled that natural gas extraction from Europe's largest deposit should be cut by another 18 percent as local residents sought to stop tremor-inducing production that's damaging their houses.
The Council of State said output from the Groningen gas field should be temporarily limited to 27 billion cubic meters (950 billion cubic feet) for the year from Oct. 1, the court said in its ruling. That's about 6 percent of expected European Union gas use this year. Higher output may be allowed if it's "relatively cold," it said.
The decision followed appeals from about 40 individuals, housing corporations and environmental groups against production and before Economy Minister Henk Kamp next month outlines future output at the field. European gas prices extended declines after the ruling on Groningen, which generated about 10.7 billion euros ($11.4 billion) in revenue last year and also supplies Germany, Belgium and France.
"Markets have taken this news in their stride and prices are falling," Wayne Bryan, an analyst at Alfa Energy Group in London, said by e-mail Wednesday. "Even though production has been capped the caveats give confidence that if extra production is required it will be permitted."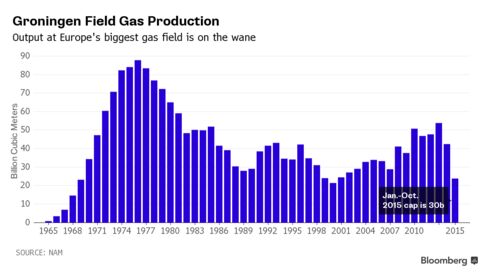 The production limit may be raised to 33 billion cubic meters, the cap set by Kamp in June, "only if the 2015-2016 gas year proves to be relatively cold," according to the ruling.
While the Netherlands progressively limited production at Groningen, the plaintiffs argued that production should be completely stopped or at least cut further, claiming safety should come before security of supply. The Dutch caps have so far failed to stop a slump in European gas prices amid abundant supply from Russia, Norway and Qatar.
Price Drop
U.K. next-month gas fell as much as 3.2 percent to 36.75 pence a therm ($5.6 per million British thermal units) on the ICE Futures Europe Exchange after the court decision. Dutch gas for next-month delivery declined as much as 4.6 percent to 17.10 euros ($18.25) a megawatt-hour while the 2016 contract dropped as much as 4.7 percent.
The Economy Ministry in June lowered this year's output target to 30 billion cubic meters from an original plan for 39.4 billion. The cap was set at 33 billion cubic meters but included an option to withdraw 3 billion cubic meters from a storage site not operational for some time last year.
Kamp should have explained more clearly why the curb could not be set at less than 33 billion cubic meters if studies showed that less production would mean a lower seismic risk, the court said Wednesday.
2016 Production
The government will decide on output from 2016 around Dec. 18, taking into account research that showed at least 31 billion cubic meters of Groningen gas is needed during a cold year, 2 billion cubic meters less than forecast previously, Kamp said in a letter to Parliament Oct. 7.
"While the government has notional responsibility for setting the Groningen production cap, we think it unlikely that in this case it does not follow the advice of the courts," Trevor Sikorski, head of gas, coal, carbon at Energy Aspects Ltd., said by e-mail Wednesday. "This limits further downside to Groningen cap levels in 2017, with the government likely to resist going any lower than around the 25 billion cubic meter a year level."
Groningen caps affect neighboring regions in Germany, Belgium and France, which built their networks to use the low-calorific fuel the field produces and don't yet have the capacity to convert enough richer gas from nations including Russia.
Loppersum Cluster
Groningen production dropped 28 percent year on year to 23.7 billion cubic meters in the first 10 months of the year, according to data on the website of Nederlandse Aardolie Maatschappij, or NAM, a venture between Royal Dutch Shell Plc and Exxon Mobil Corp. that operates the field.
About 400 million cubic meters was extracted from the Loppersum area of the field from May to October, the NAM data show. The court Wednesday maintained the suspension of production at Loppersum decided on in April unless necessary for security of supply.
Before it's here, it's on the Bloomberg Terminal.
LEARN MORE