Asia's Wealthy Turn to Aussie as Local Currencies Wilt, UBS Says
View that RBA won't cut interest rate supports currency

Aussie `more or less stabilizing' at 70 U.S. cents: UBS's Tay
Asia's wealthy, anxious as many of their local currencies depreciate, are getting drawn to the resilience of the Australian dollar, says UBS Group, the world's largest private bank.
The Aussie strengthened against all but one of 12 major Asian counterparts since Sept. 30 on signs the South Pacific nation's central bank won't cut its benchmark interest rate beyond a record-low 2 percent amid a revival in the jobs market. China's slowing economy and slumping commodity prices have also weighed on the region's currencies.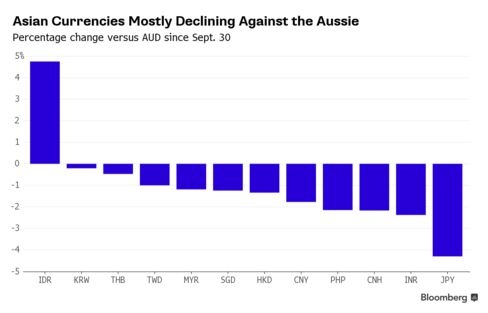 "The interest in the Aussie dollar has picked up again recently because it is more or less stabilizing at 70, 71 U.S. cents," Kelvin Tay, regional chief investment officer at UBS's wealth management business in Singapore, said in an interview Wednesday. "As an alternative to the local currencies in the region, it's not too bad to consider the Aussie."
Australia's dollar reached a six-year low of 68.96 U.S. cents in September before trading at 71.71 as of 3:55 p.m. in Sydney Thursday, rising against all but two of its 12 major Asian peers. The median estimate in a Bloomberg analyst survey projects the currency will weaken to 68 cents by June. The currency has dropped more than 30 percent against the greenback since policy makers started easing in November 2011.
"There could be some downside risk to 68 cents, but anywhere at 70 or slightly below, that's a pretty attractive level to get into," Tay said. "70 is a very strong support level."
Bearish Position
UBS closed a bearish position last month for its clients betting on the Aussie's decline versus the pound, Tay said.
The situation is a reversal from the start of the year when UBS noted many of its wealthiest clients in the region had abandoned the Australia's currency amid record-low yields and sustained declines as the nation struggled with the end of a once-in-a-century resources boom. The Reserve Bank of Australia cut rates for four years, shrinking the yield advantage the nation's 10-year bonds offer over U.S. Treasuries to less than a quarter of its 2.8 percentage-point spread in February 2008.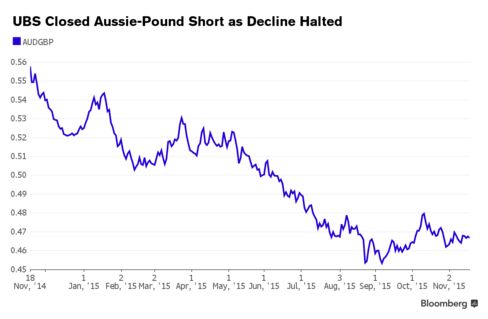 UBS ranked first in assets under management in the latest survey of the world's wealth managers published this year by Scorpio Partnership, a London-based consultancy.
RBA Governor Glenn Stevens kept interest rates unchanged for a sixth month in November. A report last week showed the jobless rate unexpectedly fell in October, while minutes of the Nov. 3 policy meeting released on Tuesday showed the central bank forecast growth would strengthen gradually.
Singapore's dollar will probably weaken against its Australian counterpart on speculation the Monetary Authority of Singapore might ease at its next policy review in April, while the RBA remains on hold in the next quarter, Tay said.
"The question that clients always have is: Asian currencies have weakened so much. Are we near the bottom or should we actually hold back and then after that buy our local currencies back?" Tay said. "Our answer to them is you need to diversify."
Before it's here, it's on the Bloomberg Terminal.
LEARN MORE