Argentina's Much-Needed Devaluation Is Going to Cost Coca-Cola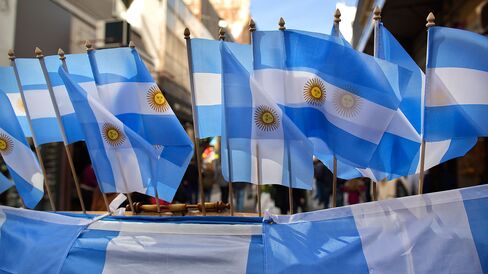 Clorox, Telefonica also among companies with cash in Argentina

Investors expect peso to plunge 36% over next three months
The currency devaluation that Argentina needs to restore its economic health is going to be painful for foreign companies swimming in pesos.
Coca-Cola Co., Clorox Co. and Telefonica SA are among businesses with millions of pesos that will lose value if the new government elected on Nov. 22 weakens the peso's official rate, something economists are urging be done. Investors from George Soros to Richard Perry, and multinationals including Brazilian foodmaker BRF SA and American oilseed processor Bunge Ltd., have wagered on policy makers implementing much-needed economic reforms promised by the leading presidential candidates.
But the result could be bruising for some businesses with large hoards of cash, as currency controls have left foreign companies stuck with profits that they can't move out of the country. There may be as much as $8 billion in company dividends that could not be repatriated in the period between 2012 and 2015, according to consulting firm Elypsis.
"It's difficult, because they often have a lot of liquid cash that's reserved for sending dividends abroad as soon as it's possible," said Orlando Ferreres, who runs Ferreres & Asociados, a consulting firm that advises companies including Coca-Cola and Total SA. "Some of them have bought buildings, but they don't like that at all. It's a way of protecting dividends, but it immobilizes the money."
Argentina's crawling currency peg has become one of the most prominent themes of the elections, with opposition leader Mauricio Macri vowing to lift currency controls and let the peso float freely on his first day in office. Ruling-party candidate Daniel Scioli has said he would lift restrictions gradually while continuing to control the exchange rate through central bank intervention so as to not hurt the purchasing power of Argentines.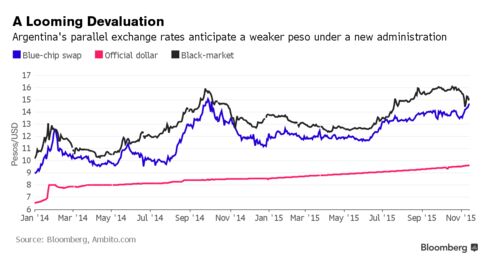 Clorox, the U.S. consumer-products company that sells everything from bleach to salad dressing, has said it expects "business challenges" in Argentina next year, and warned it had $100 million of peso-denominated assets that would be affected by a devaluation. A 50 percent drop in the peso could have a material impact on earnings, Clorox executives wrote in a U.S. regulatory filing Sept. 25. The company is "monitoring developments in Argentina and is taking steps intended to mitigate the adverse conditions, but there can be no assurances that these actions will mitigate these conditions."
Argentina contributed 4 percent of Clorox's total sales in 2015, making it one of the about 70 companies in the Standard & Poor's 500 Index that get at least a portion of their revenue from Argentina. A Clorox spokeswoman referred questions to the company's latest earnings statement.
Coca-Cola said in a regulatory filing after the third quarter that it has $346 million stuck in Argentina because of currency controls. A Coca-Cola spokesman declined to comment on the country's exposure to a peso devaluation. Madrid-based Telefonica told investors Nov. 6 that it has 105 million euros of pesos that it can't send back to Spain. Telefonica declined to comment about its cash position in Argentina.
The list of companies that will be affected is incomplete because many break down their revenue by region, not specific country. Most also don't specify how much cash they have in individual countries. It's also not clear if the companies hedge their exposure to the peso, a move that could blunt any losses from a devaluation.
Investors expect the peso to fall 36 percent over the next three months to 15 per dollar, according to trading in non-deliverable currency forwards. That compares with the current official rate of about 9.6 per dollar. At the so-called blue-chip swap rate, a foreign-exchange value derived from buying bonds or stocks in pesos and then selling them abroad to obtain dollars, the peso trades at about 14.8 per dollar. Most individuals use illegal street markets to avoid controls, and pay 15 pesos per greenback.
Spanish security company Prosegur Cia. de Seguridad SA -- after benefiting from increased demand for its armored-car services fueled by the country's money printing --invested 70 million euros ($75 million) in real estate this year to "protect the cash" it has in the country, Chief Financial Officer Antonio Rubio Merino told investors Oct. 29.
Prosegur gets 25 percent of sales from the so-called "Argentina area," which also includes sales from Uruguay and Paraguay, according to a company spokesman.
"Our business has a natural hedge because both our revenues and our costs, primarily labor, are in local currency," Prosegur said in an e-mailed statement. "We also consider that the impact of a devaluation would be mitigated by Prosegur's inflation adjustment."
A devaluation could be advantageous for businesses that pay employees in the local currency while receiving dollars for their exports, such as mining companies. The chief executives of Silver Standard Resources Inc. and Globe Specialty Metals Inc. both told investors in recent presentations that a drop in the peso could be beneficial as it would lower their operating costs.
A peso devaluation would increase the flow of dollars into the country, helping rebuild foreign reserves, according to Barclays Plc strategist Sebastian Vargas. Exporters who have been delaying sending goods abroad in hopes of a better exchange rate will unleash a flurry of trade, he said.
Alejandro Diaz, the CEO of the local chapter of the U.S. Chamber of Commerce, which sent its first delegation to the country in 20 years earlier this month, said companies are looking toward the long term as they confront the upcoming changes.
"There's a lot of expectation ahead -- we're not waiting for it to be Disney World in 2016, but we are ready for the challenges ahead," Diaz said. "We've heard from different economic groups the intention to take the right long-term decisions, and we're ready for these decisions and optimistic on how to face them."
Before it's here, it's on the Bloomberg Terminal.
LEARN MORE