Suitor's `sizable' premium gets a muted response from target

CEO Harrison tries again to create transcontinental carrier
Canadian Pacific Railway Ltd. went public with an offer of about $28 billion for Norfolk Southern Corp., wooing the U.S. company's shareholders to get behind a deal that would create a transcontinental railroad.
The gambit renews Chief Executive Officer Hunter Harrison's effort to link Canada's second-largest carrier with one of the big operators in the eastern U.S. Talks faltered with CSX Corp. in late 2014 but didn't end Harrison's quest to write a final chapter in consolidating the North American industry.
"This has been discussed for months, and the CEO wasn't hiding the fact he was looking to consolidation plays," said Victor Kuntzevitsky, a senior associate at Northland Wealth Management in Toronto, which manages about C$325 million ($244 million). "I don't see CP letting this get away from them. This is an important acquisition for them."
While Canadian Pacific promised "a sizable premium," Norfolk Southern called the bid an "unsolicited, low-premium, non-binding and highly conditional indication of interest" that was less than 10 percent higher than Tuesday's close. The board will evaluate the proposal, according to Norfolk Southern, whose market value was about $26 billion.
The directors are unlikely to agree to a takeover by Canadian Pacific, and even if they did, Norfolk Southern sees little chance that regulators would approve because shippers, unions and other railroads would balk, said two people familiar with the matter who asked not to be identified because the details aren't public.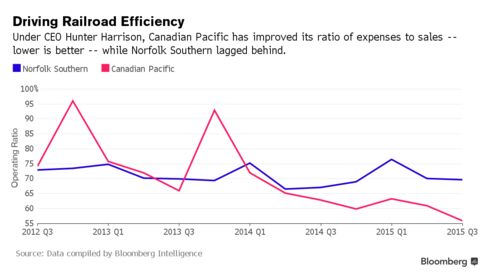 Norfolk Southern jumped, signaling that investors may be open to an overture from Canadian Pacific, whose largest shareholder is activist investor Bill Ackman. The U.S. company's stock slid 27 percent this year through Nov. 6, the last trading day before Bloomberg News reported Nov. 9 that Canadian Pacific was exploring a takeover.
"This is the first letter to management that CP is sending," Logan Purk, an Edward Jones & Co. analyst, said in a telephone interview. "It wouldn't surprise me if Norfolk refused it out of the gate. That's when you can go to shareholders."
Power Balance
A tie-up would alter the balance of power in North American railroading after U.S. deregulation in 1980 triggered mergers that reduced the industry to four major carriers: CSX and No. 2 Norfolk Southern in the east, and Union Pacific Corp. and BNSF Railway in the west. They operate alongside Canadian Pacific and Canadian National Railway Co. as well as Kansas City Southern, whose network spans parts of the central U.S. and into Mexico.
Harrison, 71, is a longtime champion of rail tie-ups, and his public musings about possible combinations have been echoed by Ackman, who recruited him to run Canadian Pacific in 2012 and who founded Pershing Square Capital Management.
"CP hopes the NS executive leadership team and the board of directors give this offer due consideration, and looks forward to a thoughtful dialogue on creating a new industry leader," said Canadian Pacific, whose closing price at C$184.68 valued the Calgary-based company at C$28.4 billion.
Canadian Pacific on Wednesday released the contents of its letter, confirming Norfolk Southern's statement that the bid was $46.72 in cash and a fixed exchange ratio of 0.348 Canadian Pacific share based on Friday's closing price. That indicates an offer of $94.02 a share for Norfolk Southern, 5.7 percent higher than its closing price on Friday. The bid amounts to about $28 billion, based on Norfolk Southern's shares outstanding and the terms that Canadian Pacific laid out.
Stock Climb
"There has been considerable appreciation" to Norfolk Southern's stock because of market speculation since the letter was sent Nov. 9, Canadian Pacific said in a statement accompanying the letter. Its offer represents a 23 percent premium to Norfolk Southern's volume-weighted average price for the previous 45 days, Canadian Pacific said.
A deal would yield more than $1.8 billion in annual operating savings over the next several years and substantial tax advantages, Canadian Pacific said. The railroad said it had received a commitment of $14.2 billion in financing from JPMorgan Chase & Co.
Norfolk Southern rose 6.3 percent to $92.49 at the close Wednesday in New York, reaching its highest price since June 22. Canadian Pacific climbed 5.6 percent to C$194.94.
"The company's board of directors, in consultation with its financial and legal advisers, will carefully evaluate and consider this indication of interest," Norfolk Southern said. "The company's stockholders do not need to take any action at this time."
Bucking History
While Canadian Pacific said a combination with Norfolk, Virginia-based Norfolk Southern would improve service for shippers, a deal would buck recent railroad history. Canadian National and Burlington Northern Santa Fe Corp. abandoned a cross-border deal in 2000 amid opposition from the U.S. Surface Transportation Board.
Canadian Pacific has become one of the industry's most-efficient operators under Harrison, who presided over a Canadian Pacific rally of almost 150 percent from the day before his appointment in June 2012 through Nov. 6.
Norfolk Southern is lagging behind its Canadian counterpart in operating ratio, a measure of expenses to sales, and stock-price appreciation in the same span. It was up 14 percent in the period.
"A deal makes perfect sense," said Purk, the Edward Jones analyst. "If they get a hold of Norfolk's assets, there's a lot of opportunity to really make them more efficient. With Norfolk struggling to lower its operating ratio and CP doing just fine, it's ripe with opportunity."
Before it's here, it's on the Bloomberg Terminal.
LEARN MORE