Putin Overture Boosts Ukraine Bonds as Court Battle Seen Averted
Ukraine bonds climb as Putin offers to delay repayment

Move is first `conciliatory stance' for Russia, Deka says
Russian President Vladimir Putin is giving investors a reason to buy Ukrainian bonds again.
Prices jumped yesterday after Putin, softening his stance over the $3 billion Ukraine owes his country, said Russia is prepared to change the payment terms, giving the government in Kiev until 2018 to settle the debt, which still officially comes due next month. After refusing for months to negotiate with Ukraine as it restructured $18 billion of separate debt with private investors, Putin's overture reduces the risks that would come with a prolonged court battle, which Russia had been threatening, according to NN Investment Partners in The Hague.
"Any deal will be better than a holdout and potential court cases," said Marco Ruijer, who oversees about $7 billion of debt including Ukraine bonds as a money manager at NN Investment. "It's surprising and positive news as it shows some willingness to reach an agreement." Ruijer said he won't change his holdings for now while a deal on Russia's bond would boost the investment case.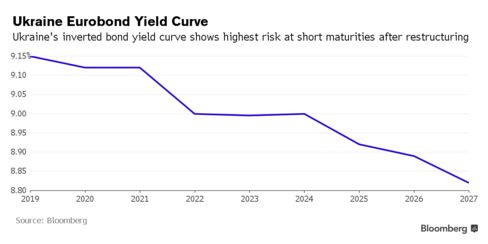 An agreement on the notes Russia bought in December 2013, two months before President Viktor Yanukovych was ousted, would signal tension with its northeastern neighbor has eased enough to open the way for investment in a bond market that gave the biggest returns in emerging markets this year. It would also remove questions about Russia's status as a creditor that could have hindered payments from a $17.5 billion International Monetary Fund bailout needed to revive the economy.
Russia offered to lift the December deadline and let Ukraine pay back $1 billion annually from 2016 to 2018, Putin said. His country is also waiting for guarantees from the U.S., the EU or other global financial organizations on the repayment, he said.
The proposal is a turnaround for Russia, which had refused to take part in debt talks that led to an accord with creditors led by Franklin Templeton in August. It's still unclear if Ukraine can accept the deal under the conditions of its debt restructuring, which prevent it from giving holdouts better terms than those agreed to by other bondholders.
Crimea Annexation
Ties between the two nations have been fraught since the Maidan protests in Kiev, that led to the ousting of Yanukovych. Ukraine has refused to pay back the bond in full as it seeks claims for Russia's annexation of Crimea and as it accuses Putin of spurring a separatist insurgency in the country's eastern industrial heartland. The conflict deepened the economic slump that drove Ukraine to seek the IMF rescue, which included a requirement to change terms on external debt to qualify.
The nation's bonds have handed investors returns of 47 percent in 2015, surpassing all emerging markets, after creditors got a restructuring that exceeded expectations. The deal involved a 20 percent writedown to principal holdings, higher interest payments and warrants tied to growth in Ukraine's gross domestic product.
The restructured notes, which started trading last week, climbed after Putin's comments, with yields on the 2025 securities falling 10 basis points to 8.79 percent by 12:20 p.m. in Kiev. That compares with a rate of 7.66 percent on similar-maturity debt of Egypt, which carries the same B- credit rating at Standard & Poor's.
"This is the first sign of a more conciliatory stance from Russia," said Peter Schottmueller, a money manager who helps oversee emerging-market debt at
Deka Investment GmbH in Frankfurt. "The positive news flow may help to reduce the gap to Egypt."
Before it's here, it's on the Bloomberg Terminal.
LEARN MORE