Oil Dealmakers Find Slim Pickings Among Premium-Priced Explorers
Crude needs to rebound to justify valuations, FirstEnergy says

Industry will have `almost no value' if oil doesn't recover
Wannabe dealmakers in the oil industry are stymied by a fundamental problem: there's a mismatch between the price of crude and the value of companies.
Oil's slump prompted speculation that explorers and producers, collectively known as E&Ps, were on the cusp of an acquisitions boom as many of the smaller companies burned through cash. That's unlikely with crude languishing below $50 a barrel, according to research from FirstEnergy Capital LLP.
"Many names among the E&Ps require a much higher oil price than $60 a barrel to justify their valuation and you won't have a transaction if you don't pay a premium to the share price," Stephane Foucaud, an analyst at FirstEnergy in London, said by phone. If crude doesn't rebound, "there's almost no value in the oil exploration and production sector."
Royal Dutch Shell Plc's $70 billion move for BG Group Plc helped lift the value of merger and acquisition proposals this year to about $150 billion, from roughly $110 billion in the same period last year, but deals involving smaller companies have been failing, according to data compiled by Bloomberg. Almost $30 billion of this year's takeover approaches have been rejected, the data show.
Santos Rebuff
Santos Ltd. rejected an offer worth $11.3 billion including debt from Scepter Partners, calling it "opportunistic." Canadian Oil Sands Ltd. snubbed a C$6.6 billion ($4.96 billion) bid from Suncor Energy Inc. saying it "substantially" undervalued the company.
"Reaching a consensus on fair value between buyer and seller presents challenges," Martin Ewan, an oil and gas corporate partner at law firm Pinsent Masons LLP, said by e-mail. "Oil price volatility adds a layer of complexity to M&A deals not typical during more stable market conditions."
A gauge of volatility in U.S. crude prices has almost doubled on average this year to the highest since 2009.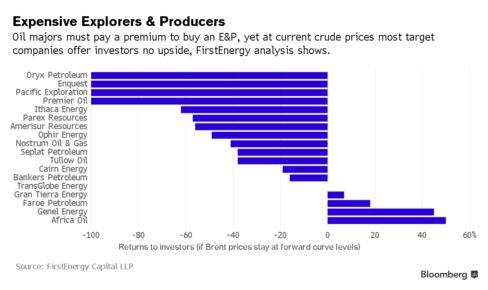 French oil giant Total SA said in October it wouldn't bid for overvalued explorers and producers, which were trading as if crude were at $70 to $80 a barrel. Adding a takeover premium would bring their valuation closer to a $100 scenario, Chief Financial Officer Patrick de la Chevardiere said Oct. 29.
Out of 18 oil E&P companies tracked by FirstEnergy, only four can give positive returns for shareholders with oil at $60 a barrel, Foucaud said. Should prices rise to about $83, all but one would deliver returns.
Brent, currently trading at about $44-$45 a barrel, will probably recover to $58 in 2016 and may take a further two years to reach $70, according to the median estimate of 48 analysts surveyed by Bloomberg.
Feeding Frenzy
Most recently Anadarko Petroleum Corp., the third-largest U.S. natural gas producer, said it withdrew an all-stock offer for Apache Corp. after the company refused to engage in substantive talks. In a prolonged slump, targeted companies may find themselves less able to refuse prospective buyers.
Crude's collapse has hit E&Ps hard, wiping off about 45 percent of their market value this year according to the index of 18 companies tracked by FirstEnergy. In comparison, the Stoxx Europe 600 Oil & Gas index, which includes the largest energy companies, has returned 3.5 percent.
The lack of completed deals "indicates that people aren't yet at the completely distressed point, or on the buy-side they don't believe that prices have bottomed out yet," said Michael Wachtel, a partner at Clyde & Co., who has worked for more than 20 years in the oil and gas industry. The price slump has left many companies facing mounting debts and ratings cuts. A "feeding frenzy" may ensue in the first half of 2016 once buyers believe prices have reached their lowest point, Wachtel said.
There's no shortage of funds for takeovers. The world's six biggest publicly traded producers have more than a half-trillion dollars in stock and cash to snap up rival explorers, according to data from corporate filings compiled by Bloomberg. Ewan of Pinsent Masons said he's noticing a "very healthy" interest in North Sea exploration and production assets.
"We are in a transition period where industry players have to adjust to a lower price environment and where buyers and sellers need to find a common ground for deals to happen," said Lionel Therond, a London-based equity analyst with Standard Bank Group Ltd. "No doubt that price aspirations will go down as desperation sets in."
Watch Next: How the Energy Market Could Shift in 2016
Before it's here, it's on the Bloomberg Terminal.
LEARN MORE