Ruble Isn't Falling Fast Enough to Save Putin's Rainy-Day Fund
Nomura says fund will run dry in 2016 without ruble correction

Central bank governor says any interventions should be careful
The ruble isn't falling fast enough to avoid sacrificing Russia's rainy-day fund, bolstering the case for policy makers to buy dollars to speed up the depreciation.
The currency needs to weaken 13 percent by the end of next year in order for Russia to earn enough from its oil revenue to avoid virtually wiping out the Reserve Fund used to cover budget shortfalls, assuming current prices persist, according to Nomura Holdings Inc. Brent in ruble terms dropped to 2,912 a barrel Friday, a level it hasn't breached since January 2011. Following a less-severe decline, the central bank started selling the local currency in May to boost waning international reserves, which weakened the ruble.
"Unless the ruble depreciates to come more in line with the fundamentals, either naturally or through resumption of central bank foreign-currency purchase auctions, the government may deplete the Reserve Fund by the end of 2016," Dmitri Petrov, a currency strategist at Nomura International in London, said by e-mail Friday.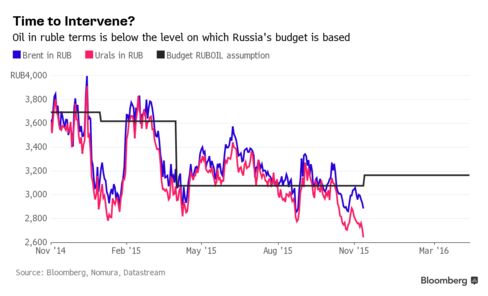 Russia is relying on its oil riches to finance its budget through a year when recession and international sanctions, following President Vladimir Putin's annexation of the Crimea peninsula in March 2014, are causing the worst deficit since 2010. The Reserve Fund earmarked for covering fiscal gaps fell by almost 15 percent in 2015 to 4.23 trillion rubles ($64 billion).
Since late July, the central bank put aside a goal to rebuild overall reserves, of which the rainy-day fund is one part, to avoid exacerbating the ruble's drop and stoking inflation. International reserves, which also include gold and central bank foreign currency assets, have plunged to $366 billion on Nov. 6 compared with an official target of $500 billion.
Policy makers have no concrete date for resuming dollar purchases, Bank of Russia Governor Elvira Nabiullina told journalists and lawmakers at the State Duma on Friday, saying interventions should be done "carefully."
The central bank will enter the market to buy foreign currency "only if there is a stable currency market and our purchases are organized in such a way as to minimize the impact on the domestic exchange rate, so as not to intensify trends and not create volatility," she said.
The cost of stalling is that while oil has fallen 22 percent this year, the ruble is down by a smaller 11 percent, meaning that in local-currency terms, revenue from the nation's top export is lower than it would be if the exchange rate was weaker. The currency is nonetheless the worst performer in emerging markets in the past six months and inflation is more than 10 percentage points above the country's medium-term target. The ruble strengthened 0.4 percent to 66.535 against the dollar by 6:39 p.m. in Moscow.
Nomura's Petrov said the prospect of higher Federal Reserve rates as soon as next month means Russian policy makers aren't in any rush to intervene.
"In the medium-run it would make a lot of sense if the central bank would absorb the hot-capital inflows and some of de-dollarization inflow that will help it to build buffers for the rainy days, " Petrov said.
Before it's here, it's on the Bloomberg Terminal.
LEARN MORE