Japan Falls Into Recession for Second Time Under 'Abenomics'
GDP data shows slumping business investment hurt the economy

Report could put pressure on Abe, BOJ's Kuroda for action
Japan's economy contracted in the third quarter as business investment fell, confirming what many economists had predicted: The nation fell into its second recession since Prime Minister Shinzo Abe took office in December 2012.
Gross domestic product declined an annualized 0.8 percent in the three months ended Sept. 30, following a revised 0.7 percent drop in the second quarter, meeting the common definition of a recession. Economists had estimated a 0.2 percent decline for the third quarter.
Weakness in business investment and shrinking inventories drove the contraction as slow growth in China and a weak global outlook prompted Japanese companies to hold back on spending and production. While growth is expected to pick up in the current quarter, the GDP report could put pressure on Abe and Bank of Japan Governor Haruhiko Kuroda to boost fiscal and monetary stimulus. The BOJ holds a policy meeting later this week.
"This report shows the increasing risk that Japan's economy will continue its lackluster performance," said Atsushi Takeda, an economist at Itochu Corp. in Tokyo."The weakness in capital spending is becoming a bigger concern. Even though their plans are solid, companies aren't confident about the resilience of economy at home and abroad."
Inventories subtracted 0.5 percentage point from growth this quarter as companies reduced stocks that had expanded over the previous two quarters, the Cabinet Office said.
Business investment subtracted 0.2 percentage point from growth.
Private consumption added 0.3 percentage point of growth.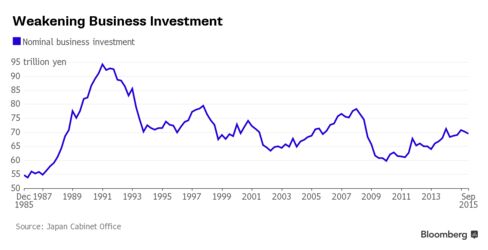 The reduced investment is a rebuff for Abe, who called on Japanese companies to put more of their record cash holdings into capital spending. From the previous quarter, business investment fell 1.3 percent in the July-September period, following a revised 1.2 percent contraction, according to the report.
Abe has made bolstering the economy a priority and advocated for reflationary policies that weakened the yen and boosted corporate profits. Kuroda had said in September it wouldn't be unusual for the economy to grow in the July-September quarter.
Bank of Japan officials didn't see the GDP report as likely to change their outlook for an improving trend in inflation, people familiar with discussions at the central bank said last week.
Hiroaki Muto, chief economist at Tokai Tokyo Research Center Co., said that while he thinks the economy "might have hit the bottom" in the third quarter, there's a strong chance that the government will compile an economic package to shore up growth.
Yen Strengthens
The yen strengthened after the data was announced and was up 0.1 percent at 122.52 per dollar at 11:50 a.m. in Tokyo. Investors have purchased the yen as a haven following the terrorist attacks in Paris. The Topix stock index dropped 0.8 percent in the morning session amid a broad-based decline in Asian share markets.
In a string of somber economic reports in the past few months, Kuroda's core price gauge fell, household spending unexpectedly dropped, vehicle production declined, retail sales slipped and imports fell while exports stagnated. One bright spot: Industrial output advanced 1.1 percent in September from the previous month, yet wasn't enough to make up for contractions in July and August.
"The BOJ should act now if they are looking at economic fundamentals: prices are falling and economy isn't growing, giving no sign for inflation expectations to rise," said Itochu's Takeda. "As for the question of whether they will act, it's hard to say."
Economy Minister
Abe has told Economy Minister Akira Amari to compile measures this month to help achieve his goal of expanding Japan's nominal GDP by 20 percent to 600 trillion yen over five years.
Amari said Monday after the data that an extra budget may focus on addressing Japan's demographic issues and to help alleviate the effects of the Trans Pacific Partnership trade pact and the government would take a flexible approach to fiscal and economic management. Amari also said GDP was likely expand in the current quarter.