Leaders haggle over paragraph after France wants tougher words

Paris summit on climate change will start on Nov. 30
After uniting to fight terrorism and narrowing their differences over the future of Syria, one issue remains divisive among world leaders: what should be done to stop the planet from getting hotter.
France pressed for tougher pledges on climate change from the Group of 20 nations ahead of climate talks in Paris that start at the end of this month. The key issue was whether to mention the aim to limit the rise in global warming to 2 degrees, which is what United Nations scientists have said the world needs to do by the end of this century to avoid catastrophic climate changes.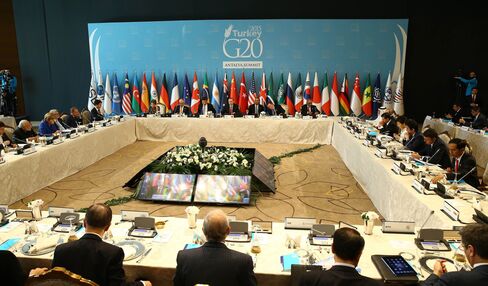 "After long negotiations through the night, we managed to get the two-degree-goal into the agreement," German Chancellor Angela Merkel said. "However, we also made clear that a lot of negotiating remains to ensure that we make progress at the Paris climate summit. It has to be a success, and Germany will do anything to assist France."
The section on climate emerged as the foremost sticking point in negotiations over what countries will promise to undertake. French Foreign Minister Laurent Fabius said all leaders reaffirmed their commitment to gather in Paris following the slaughter by Islamic militants in the city, yet he pushed for more ambitious language about tackling rising temperatures. The 2 degree goal wasn't mentioned in an earlier draft, he said.
'Too Weak'
Officials at the G-20 summit in Turkey worked overnight and into the morning to hammer out the wording of a paragraph in the final communique that was released on Monday.
"We can see the difference between the statement at the outset and the one at the end," Fabius, who represented Francois Hollande at the summit after the president canceled his trip to stay in Paris, said at a briefing. "The initial draft wasn't satisfactory so I intervened and I received a great deal of support. We had to continue the hard work so the statement was a little more robust."
While emission-reduction pledges submitted by nations so far are not enough to reach that goal, the international deal that envoys aim to reach in Paris may encourage further cuts as long as it includes a mechanism to revise the commitments, the UN Environment Program said earlier this month.
'Collective'
Another bone of contention was that France and allies such as Germany encountered resistance to include a line in the communique to simply say that climate change is a common challenge and needs collective enhanced action, according to an EU official who asked not to be named while the haggling continued over the language. In the end, the world "collective" was included in the final text.
The COP 21 climate summit is due to begin on Nov. 30, when leaders from around the world will meet in Paris to attempt what a 2009 summit in Copenhagen failed to do: reach a global agreement on how to cut fossil-fuel use. Countries have already submitted so-called Intended Nationally Determined Contributions, pledging the scope of emissions cuts.
The divide at the G-20 initially emerged over whether countries will back a more "differentiated" approach, where developed nations carry an extra burden, or "shared" emissions responsibilities, which would require developing nations to make bigger cuts, according to officials who asked not to be named.
A reference to differentiation was removed from an early draft of the communique, though was cited in a separate statement from Brazil, Russia, India, China and South Africa, the so-called BRICS developing economies.
The BRICS nations called for a greater focus on emissions pledges to be "differentiated" based upon national circumstances, suggesting they favor industrialized nations doing more to limit emissions than developing ones.
Watch Next: A Brief History of Global Warming
Advocacy groups said the final agreement was a compromise that fell short of expectations. There are no guarantees that climate financing will be part of the Paris agreement and even mention of the 2 degrees pledge is not backed up by measures, according to Kiri Hanks, energy policy adviser for Oxfam.
"They've postponed the tough choices," Hanks said in Antalya. "It's a very bland statement. They're basically saying, 'see you in Paris."'
Before it's here, it's on the Bloomberg Terminal.
LEARN MORE