Portugal's Coelho Challenges Socialists to Allow Early Vote
New elections would require a change to the constitution

President to decide who will govern after Premier Coelho fell
Portugal's caretaker Prime Minister Pedro Passos Coelho called on his Socialist opponent, Antonio Costa, to back a review of the constitution and allow early elections to take place in a gambit aimed at staving off Costa's attempt to seize power.
Coelho's challenge marks a different tack to stop Costa from forming a minority Socialist government propped up by three other left-wing parties. Finance Minister Maria Luis Albuquerque warned this week that any attempt to abandon the path of reform and budget constraint could drive Portugal down the same path of economic misery as Greece.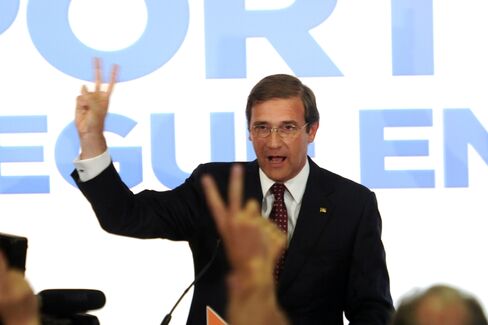 The Socialists formed a majority to block the government's program and oust Coelho in a vote in parliament on Tuesday five weeks after Coelho's bloc took the most votes in Portugal's general election. While the Socialists say the three other parties that rejected Coelho's program would back the formation of a minority administration under Costa, it's up to the country's president to decide whom to ask to try and form an administration that would offer the most stability.
"If those that want to govern instead of us don't want to govern fraudulently, they should accept that constitutional revision and allow elections to take place," Coelho said late Thursday in Lisbon in a speech broadcast by television station SIC.
The constitution states that parliament can't be dissolved less than six months after it's elected, meaning that early elections could only be called from April 2016. Changes to the constitution have to be approved by two-thirds of Portugal's 230 lawmakers, which the Socialists, with 86 seats, and Coelho's coalition parties, with a larger minority of 107, have when combined.
"There won't be a political crisis if nobody creates one," Socialist leader Costa said on Thursday night in Oporto, northern Portugal, according to news agency Lusa.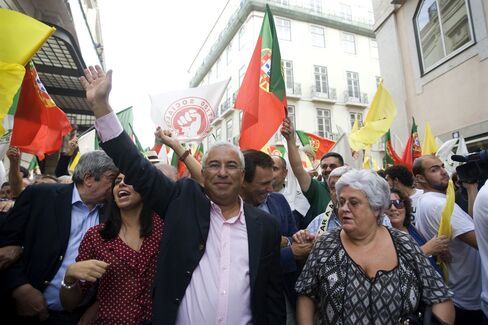 President Silva
Portugal's 10-year bond yield fell 3 basis points to 2.75 percent on Friday, after rising to as much as 2.91 percent on Monday, the highest since July. After peaking at 18 percent three years ago at the height of Europe's debt crisis, the yield fell to as low as 1.5 percent in March and 2.3 percent just before the Oct. 4 election.
While Costa is urging President Anibal Cavaco Silva to let him head up a minority government with the support of other parties, the president could opt to seek an alternative or even ask Coelho to continue as caretaker. The presidency hasn't yet said when it will hold the meetings with parties that are required before naming a prime minister. Silva is meeting groups including labor unions CGTP and UGT on Friday, and he will be visiting businesses in the island of Madeira on Monday and Tuesday.
Costa plans to reverse state salary cuts and bolster family incomes. He says he can do that and keep the budget deficit below the European Union limit of 3 percent of gross domestic product through 2019.
Coelho's government prefers an export-led recovery and plans to ease austerity at a slower pace than the Socialists. He won re-election on Oct. 4,though his coalition fell short of the majority it held for the past four years as it steered Portugal through a financial aid program.
The government coalition led the Socialists by 8.3 percentage points in a survey published by Expresso on Nov. 6. That's wider than the gap of 6.1 percentage points by which the Socialists lost the Oct. 4 election.
President Silva, who will step down in January, served as a Social Democratic premier from 1985 to 1995. His first government was backed by a minority and was ousted after two years following a censure motion. His party then won majorities in the ensuing early election in 1987 and in the following ballot four years later, taking more than 50 percent of the vote in both cases.
Before it's here, it's on the Bloomberg Terminal.
LEARN MORE