Forget El Nino. La Nina May Turn Grain Markets Upside Down
El Nino may flip to its opposite, bringing transformed climate

La Nina risks dry, hot summer in U.S. Midwest, curbing yields
Never mind El Nino. La Nina may be on the way next, bringing a chance for a rebound in U.S. grain prices that have been falling for three straight years.
If history is a guide, the El Nino weather pattern that's thrown off averages for rain and heat around the world this year may shift gears to the phenomenon known as La Nina, and bring dry, hot weather to the growing areas of the U.S. Midwest.
La Nina, meaning the girl in Spanish, is the "most likely" outcome next summer, Kyle Tapley, a forecaster for MDA Weather Services, said in an interview at the Global Grain conference in Geneva. While weather is always uncertain, three of the five El Ninos designated strong since the 1950s were followed by La Nina, he said.
The switch would transform current weather conditions that have coincided with record grain harvests and falling prices as demand in major markets such as China slowed. A Bloomberg gauge of farm commodities fell 15 percent this year, while grain stockpiles will rise to a 29-year high in the 2015-16 season started in July, according to the International Grains Council.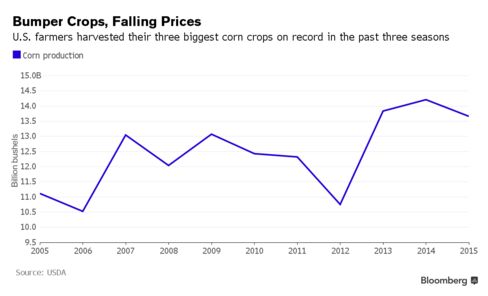 "If we move into La Nina, it will be bullish for grains," Stefan Vogel, an analyst at Rabobank International, said in an interview in Geneva. "Dry and hot weather would potentially hurt yields and reduce production in the U.S., both for corn and soybeans."
La Nina is a cooling in the equatorial Pacific and El Nino the opposite, with the U.S.'s National Oceanic and Atmospheric Administration considering the two events as lying at the "extreme phases of a naturally occurring cycle." La Nina increases the possibility of a dry, hot summer in the U.S. Midwest, according to Commodity Weather Group.
While La Ninas can grow on their own, they also develop out of the remains of El Nino, says the University Corporation for Atmospheric Research in Boulder, Colorado.
The current El Nino, forecast to be the strongest since 1997-98, will weaken by spring, potentially giving way to La Nina, according to MDA. In the 1983-84 marketing year, when U.S. farmers planted corn under El Nino conditions before La Nina developed during the crop's growing and maturing phases, production fell by almost half, according to the U.S. Department of Agriculture and an Oct. 26 report by Citigroup Inc.
Fickle Weather
Weather can be fickle, though. While La Nina has in the past brought dry conditions to the U.S. corn belt, that wasn't the case most times, David Streit, a CWG forecaster, said by e-mail Wednesday. El Nino will be in place at least through June before moving back to neutral conditions, according to consultant aWhere Inc.
"If there is a transition to La Nina, it would probably not start until the latter part of 2016 and extend into 2017," Michael Ferrari, a senior climate scientist at aWhere, said by e-mail. "For the 2016 U.S. grains crop, the next season will still likely be dominated by El Nino conditions rather than La Nina."
The effects can sometimes be dramatic when one follows the other. U.S. corn production fell to 4.17 billion bushels in 1983-84 from 8.24 billion bushels the prior year, USDA data show. At the time, it was the smallest crop in 13 years. Soybean output fell to 1.64 billion bushels from 2.19 billion bushels the prior year, a seven-year low. Farmers this season harvested their third-biggest corn crop on record at 13.65 billion bushels, the USDA estimates.
"The next growing season in the U.S. is when we could have some issues," Tapley said.
Before it's here, it's on the Bloomberg Terminal.
LEARN MORE