Global stocks are heading for the third consecutive weekly drop as weak Chinese data and the prospect of a U.S. interest rate hike in December breeds caution among investors. The losing run for the MSCI All Country World Index is the longest since the end of August. The takeaway from the handful of Fed officials who spoke Thursday is rates are likely to rise this year, but the pace thereafter will be gradual. Chinese stocks on the mainland and in Hong Kong sank after data late Thursday showed the country's broadest measure of new credit tumbled to a 15-month low, demonstrating that rate cuts have yet to ignite borrowing.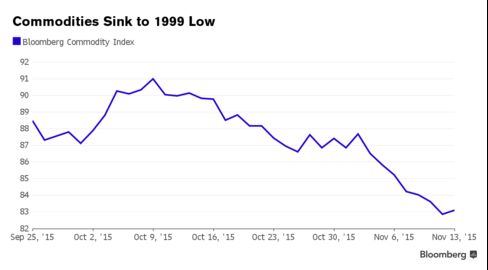 A gauge tracking 22 commodities is on track for a 5th weekly decline. A culmination of the strong dollar and a slowing Chinese economy are battering the Bloomberg Commodities Index, sending it to the lowest in 16 years. This week alone crude oil has sunk almost 6 percent as U.S. stockpiles expand, while copper has dropped 4 percent on signs of falling demand from China. Gold hasn't been spared either. This week it's fallen to its lowest since 2010 as its appeal diminishes with the likelihood of a U.S. rate increase next month. The Bloomberg Commodities Index is set for a fifth yearly drop, its worst run ever.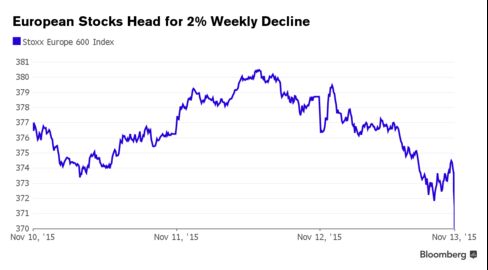 The Stoxx Europe 600 Index is on track for its biggest weekly decline in two months. Every major Western European equity index has dropped. Regional bourses have been at the mercy of corporate earnings as well as international events. Portugal's PSI 20 is the worst performing index, with a decline of 5 percent, its biggest of 2015. Earlier this week the government of Pedro Passos Coelho was ousted by a left-wing alliance. The country's president will decide who to ask to try to form the next administration.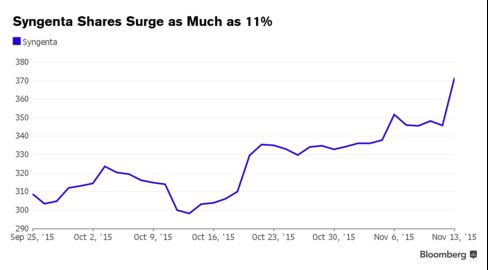 Swiss Pesticide maker Syngenta is a target of China National Chemical Corp., otherwise known as ChemChina. According to people with knowledge of the matter, ChemChina's 41.7 billion franc ($42 billion) offer has been rejected by Syngenta because of regulatory risk. A takeover would be the largest by a Chinese company of a European target. Syngenta is said to be talking to other potential suitors. Earlier this year it spurned a $47 billion takeover approach from Monsanto, the world's largest seeds company.
Mark Barton is a presenter on Bloomberg TV. Follow him on Twitter @markbartontv
Before it's here, it's on the Bloomberg Terminal.
LEARN MORE