Russia Sees Syria War Endgame Stretch to 2017 as Talks Renew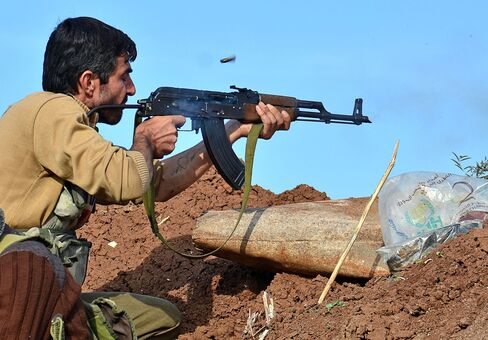 Talks in Vienna Saturday seek to jump-start political process

Russia, Western powers try to agree on terrorist list
Russia will propose a political transition in Syria lasting as long as 18 months at the next round of talks starting Saturday in Vienna, where diplomats will resume the search for a settlement to the country's civil war.
Russia, which has entered the conflict on the side of Syrian President Bashar al-Assad, will also seek United Nations backing for a wide coalition to carry out airstrikes against Islamic State militants, according to a draft proposal obtained by Bloomberg. The plan may encounter opposition from the U.S. and its allies, who say the Russian intervention is geared more toward propping up Assad than defeating the jihadists.
In the run-up to Saturday's meeting, European and U.S. diplomats, fresh off a two-year negotiation over Iran's nuclear program, have warned that there isn't a quick solution to the Syrian conflict. The war has already cost about 250,000 lives, sent millions fleeing the conflict zone and resulted in Europe's worst refugee crisis since World War II.
It was also a catalyst for the emergence of Islamic State, which set up its territory on an area straddling the Iraq-Syria border last year and grabbed more land later, including Iraq's Sinjar province, displacing as many as 200,000 people. The group captured thousands of minority Yazidis living there, including women.
Ahead of the Vienna meeting, more than 20,000 Kurdish Peshmerga guerrillas began a dawn offensive Thursday to liberate Sinjar from the militants, the Iraqi Kurdish news agency Rudaw said. The attack was coordinated with the U.S.-led coalition against Islamic State, which carried out strikes against the group as the Kurdish fighters targeted Islamic State positions with heavy weapons, it added.
U.S. Secretary of State John Kerry and Russian Foreign Minister Sergei Lavrov will be among the diplomats meeting to discuss Syria for the third time in three weeks. Other participants include Middle Eastern nations such as Iran, Saudi Arabia and Turkey, which have competing agendas in Syria.
Assad Future
While Assad's future is still a central and divisive issue at the talks, negotiators have tried to build cohesion by focusing on the need to stop Islamic State.
"Ministers stressed a need for constructive approaches and clear coordination of international efforts in fighting terrorism and assisting the quickest launch of an inter-Syrian political dialog," the Russian foreign ministry said Wednesday after a telephone call between Lavrov and his Iranian counterpart, Mohammad Javad Zarif.
Zarif, whose attendance at a previous round marked a more prominent diplomatic role for Iran after the nuclear deal, won't be in Vienna this time, according to Iranian news agency Tasnim. Iran and Russia are Assad's main allies, while the U.S. and European Union nations say he must be replaced at some point, and Turkey and Saudi Arabia are more insistent on his early departure.
In cryptic remarks on Wednesday that appeared to target the Russian intervention, Turkish President Recep Tayyip Erdogan warned that "those who carry wood to the fire in Syria won't be able to avoid finding themselves in that very same fire soon."
Bombing Campaign
In its eight-point proposal, Russia suggested forming a constitutional reform commission that would include opposition and regime representatives. Notably, Assad's presidential office wouldn't chair it, though nothing suggests he'd be barred from running in a presidential election after a referendum to adopt the new constitution. The proposal also says the presidential office would retain control of the army and foreign policy.
A Russian official, who asked not to be identified discussing the confidential negotiations, said Saudi and Turkish insistence that Assad step down or be overthrown continued to complicate attempts at a compromise. Both countries have given support to rebels fighting Syria's government, a loose collection of allies and rivals in which Islamist groups have come to dominate.
Russia is in its second month of a bombing campaign targeting Islamic State as well as some rebel groups that have received Western support. It wants Saturday's talks to produce one list that spells out which of the dozens of rebel groups in Syria are "terrorists" and should be targeted by airstrikes, and another that identifies opposition figures who could take part in a transition.
The request to identify acceptable opposition groups is awkward for the U.S., which abandoned an unsuccessful effort to train a "moderate" force to take on Islamic State. Providing detailed information is also sensitive to U.S. officials, who have expressed concern that Russia might target those labeled American allies.
'Eureka Moment'
U.K. Foreign Secretary Philip Hammond, who'll also be in Vienna, said Britain and its allies agree that "the sensible thing is to try and agree who is a terrorist and who's not," but said they have a different motivation than Russia.
"What we're trying to do is narrow the Russians' target set," Hammond told reporters at a breakfast meeting in Washington this week. While Moscow has agreed not to strike the Western-backed Free Syrian Army, "we're now looking to constrain them much further than that."
Ministers will discuss the mechanics of a cease-fire and the U.K. will propose confidence-building measures including prisoner exchanges and an end to barrel-bombing by Assad's army, Hammond said. While the U.S. hasn't outlined its approach to the latest meeting, Kerry is scheduled to do so in a speech in Washington on Thursday.
"We're not going to come out of one these meetings with a 'eureka' moment," Hammond said. "It's going to be a long process."
Before it's here, it's on the Bloomberg Terminal.
LEARN MORE