May 1994 - What Happened When the Fed Last Diverged With Europe
Fed may increase key rate in December as ECB adds stimulus

Citigroup, Credit Suisse see dollar rising as policies split
It's been more than 21 years since the Federal Reserve last raised interest rates the same month as its main counterpart in Europe eased monetary policy.
May 1994 was the month. Nelson Mandela was being sworn in as South Africa's first black president and the tunnel linking the U.K. and France was opening for the first time. Beverly Hills Cop 3 was released in cinemas and the Crash Test Dummies were singing "Mmm Mmm Mmm."
At the same time, Janet Yellen was teaching at the University of California Berkeley and about to become a Fed governor. Mario Draghi was a top civil servant in Italy's finance ministry. Now they run the Fed and European Central Bank, respectively.
It's so long ago that neither the euro nor the ECB existed. Europe's benchmark interest rate was set by Germany's Bundesbank.
That month, Alan Greenspan's Fed boosted its benchmark to 4.25 percent from 3.75 percent to "maintain favorable trends in inflation and thereby sustain the economic expansion."
Meantime, the Bundesbank -- led by Hans Tietmeyer -- cut its discount rate to 4.5 percent from 5 percent to spur expansion in Europe's largest economy. Left unsaid by both central banks was the likely desire for a stronger dollar after its decline had started to trouble financial markets.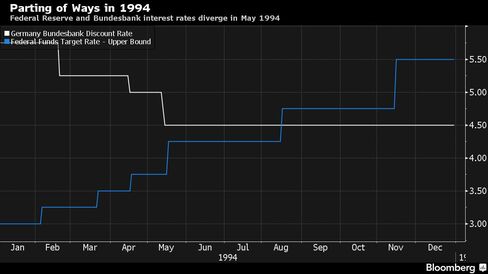 Fast forward and a similar split is set to occur as investors predict December will see the Fed raise its key rate from near zero and the ECB inject fresh monetary stimulus, possibly in the form of more asset-purchases or a lower deposit rate.
"Central bank policy is currently the main driver of markets with divergence back on the table as the main story," said Jeremy Hale, head of macro strategy at Citigroup Inc. in London.
Drawing parallels between now and 1994 isn't entirely fair, Credit Suisse Group AG currency strategists Shahab Jalinoos and Matthew Derr wrote in a report to clients on Tuesday. Back then, Germany's rates were coming down from the peaks of the post-unification boom and its bond yields remained higher than those of the U.S. even with the policy divide.
Also, no tightening cycles are the same, Neil Dutta, head of U.S. economics at Renaissance Macro Research LLC in New York, wrote in a report to clients on Thursday. The average cycle in the U.S. was about 2 percentage points of increases a year and ran for just over two years, he said. In 1994, Greenspan raised rates by 2.5 percentage points. This time the Fed will move more slowly, according to Dutta.
In 1994, German and U.S. yields eventually converged as the Fed and Bundesbank continued along their separate paths. The rates on U.S. 10-year Treasuries gaining more than 200 basis points in what became known as an annus horribilis for bond traders. By the middle of 1995, the dollar was climbing.
So what happens this time? Hale predicted a flatter yield curve in the U.S. as rates on short-term Treasuries rise in response to the Fed's shift. European stocks will likely outperform those in the U.S. and the dollar will strengthen, he said.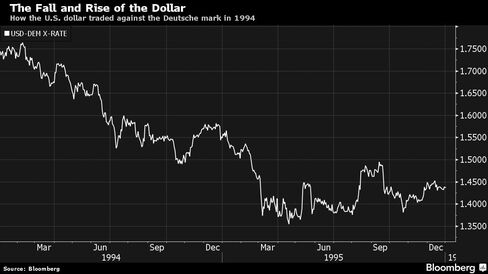 Jalinoos and Derr also predicted the greenback will gain and said it could eventually trade at parity with the euro. Obstacles to that call would include a climbing currency spooking the Fed or the ECB holding off on easing because of a weaker euro, they said.
Less sure about the dollar's direction is Anatole Kaletsky, chief economist and co-chairman of consultancy Gavekal Dragonomics. He notes history could repeat itself as in 1994 the dollar continued to fall against the Deutsche mark until April 1995, when it kicked off a two-year surge.
"Of course, past performance is no guarantee of future results," said Kaletsky. Just because the dollar weakened in 1994 "does not mean it will weaken again. But it does mean it is far from inevitable that the dollar will strengthen."
(An earlier version of this story corrected the Fed rate increase of May 1994 in fifth paragraph.)
Before it's here, it's on the Bloomberg Terminal.
LEARN MORE