London's most expensive homes and apartments have slumped in value as the government's stamp duty sales tax damps demand.
Prices of homes valued at 5 million pounds ($7.6 million) or more fell 11.5 percent on a per square foot basis in the third quarter from a year earlier, according to Richard Barber, a director at broker W.A. Ellis LLP, a unit of Jones Lang LaSalle Inc. Sales volumes across all homes in the best parts of central London dropped 14 percent in the period, the realtor said on Thursday.
"The bubble may already have burst" for the most expensive homes, Barber said. Now, "36 percent of all properties currently on the market across prime central London are being marketed at a lower price than they were originally listed at, with the average reduction in price being 8.5 percent."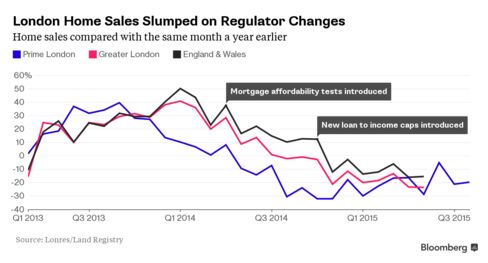 Sales of luxury homes have fallen since Chancellor of the Exchequer George Osborne increased stamp duty for the most expensive homes in December. The purchaser of a 5 million-pound home now pays 513,750 pounds in duty, almost 164,000 pounds more than before the change.
Values across all homes in London's best central districts rose 1.4 percent during the third quarter to 1,832 pounds a square foot, W.A. Ellis said.
"The downturn in price growth in 2015 has reduced the number of these properties entering the market as discretionary vendors are willing to wait for prices to recover," broker Strutt & Parker LLP said in a separate report this week. The strength of the pound against other currencies has discouraged overseas buyers, the report said.
UBS Group AG last month said London was the second-least affordable of 15 urban centers studied, trailing only Hong Kong. The U.K. capital risks a "substantial price correction should the fundamentals for estate investment deteriorate," according to the report.
Watch Next: Is London's Housing Bubble About to Burst?
Before it's here, it's on the Bloomberg Terminal.
LEARN MORE