Fed Officials Stress Gradual Rate-Rise Pace After Liftoff
Dudley: Conditions to raise rates `could soon be satisfied'

`Critically important' to communicate gradual path, Evans says
Federal Reserve officials stressed that policy should be tightened gradually after interest rates are increased for the first time since 2006, in an attempt to shift investors' focus as New York Fed President William C. Dudley said the conditions for liftoff "could soon be satisfied."
Though Dudley declined to say if he expected rates to rise at next month's meeting of the policy-setting Federal Open Market Committee, he devoted considerable space in his speech to the Economic Club of New York to explaining why the central bank should proceed with caution as it raises rates above zero.
"After liftoff commences, I expect that the pace of tightening will be quite gradual," he said. "In part, that is because monetary policy is not as stimulative as the low level of the federal funds rate might suggest."
The FOMC said last month that it would consider moving at its "next meeting" on Dec. 15-16 and Chair Janet Yellen told Congress on Nov. 4 that December was live for action. Officials must weigh ending seven years of near-zero rates amid solid employment gains, though inflation remains well below its 2 percent goal.
Shift Focus
"As everyone has been focused on the date of liftoff, Yellen and most others have been trying to shift the focus to the path," said Kim Rupert, a San Francisco-based economist at Action Economics LLC.
Investors have increased bets that the Fed will move in December. If they anticipate a steeper pace of tightening than policy makers view is warranted, it could hurt the economy by slowing exports if the dollar strengthened further. The greenback has already appreciated 8.5 percent so far this year against a basket of 10 major counterparts.
Dudley's speech followed comments by the Chicago Fed's Charles Evans, Richmond's Jeffrey Lacker and St. Louis Fed chief James Bullard. Yellen made welcoming remarks at a conference at the Fed Board in Washington, but didn't discuss the policy outlook.
Fed Vice Chairman Stanley Fischer later said that the U.S. was weathering the headwinds of a stronger dollar and said the committee had indicated last month that liftoff "may be appropriate."
"The outcome will depend on the committee's assessment of the progress -- realized and expected -- that has been made toward meeting our goals of maximum employment and price stability," Fischer told the Fed Board conference, echoing the FOMC's statement on Oct. 28.
Dudley, the only regional-bank chief with a permanent vote on the FOMC, said the Fed's preferred gauge of price pressures was "substantially" short of its target, though the payroll report that showed employers created 271,000 new jobs in October was strong and he called the 0.3 percent rise in hours worked a solid gain.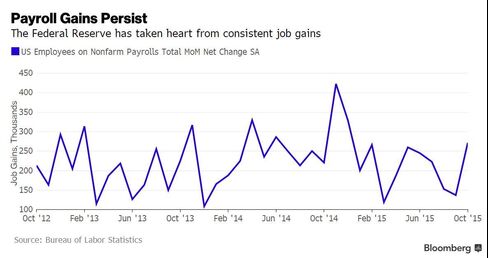 "I see the risks right now of moving too quickly versus moving too slowly as nearly balanced," he said, explaining that the lingering hangover from the financial crisis and 2007-2009 recession may have depressed the so-called neutral rate of interest and that even though the Fed was near zero, "the current monetary policy stance is not exceptionally stimulative."
Evans, speaking earlier in Chicago, also stressed the need to tighten policy slowly and for officials to spell out this strategy as clearly as possible.
Critically Important
"It is critically important to me that when we first raise rates the FOMC also strongly and effectively communicates its plan for a gradual path for future rate increases," he told a National Communities Council leadership forum.
Evans, an FOMC voter this year and one of the committee's most dovish members, has argued that liftoff should be delayed until 2016.
He said on Thursday that he favored liftoff later than many of his FOMC colleagues and that the benchmark federal funds rate should still be under 1 percent by the end of next year. The median estimate of policy makers' forecasts submitted for the FOMC projected the rate at 1.4 percent by the end of 2016.
St. Louis's Bullard, in contrast, has been pushing the central bank to get on with rate increases and he repeated that call during a monetary policy conference at the Cato Institute in Washington.
Prudent Policy
"Prudence alone suggests that, since the goals of policy have been met, we should be edging the policy rate and the balance sheet back toward more normal settings," said Bullard, who called the Fed's current policy settings "as extreme as they have been at any time since the recession ended."
He also said that the committee expected the pace of rate increases to be shallower than during previous Fed tightening cycles and officials would have to keep reiterating that point.
Richmond's Lacker, speaking at the same conference, said the central bank had not lost its ability to guide inflation, but had more limited scope to use monetary policy to lift real economic performance over the longer term. He said that his projected path for future rate increases was steeper than the median of forecast of policy makers.
Lacker votes on the FOMC this year and dissented in September and October in favor of a 25 basis-point rate increase. Bullard will be an FOMC voter in 2016.
Before it's here, it's on the Bloomberg Terminal.
LEARN MORE