Paying to Get Dollars Is Most Expensive Since 2012 in Swaps
Outlays for banks in the euro area, U.K. and Japan jump

Central bank divergence adds to year-end demand for greenback
A crunch is developing in international funding markets.
The cost to convert local currency payments in the euro area, U.K. and Japan into dollars has jumped amid speculation the Federal Reserve will raise interest rates in December. With other major central banks set to hold, or even loosen, monetary policy, the projected policy divergence is supercharging the usual year-end uptick in demand for dollar funding.
"Now that for once this year the Fed is all on the same page, it is giving investors confidence that the Fed really is going to be moving rates," said Paresh Upadhyaya, director of currency strategy in Boston at Pioneer Investments, which oversaw about $250 billion as of June 30. "This theme -- that everyone latched on to at the start of the year, monetary policy divergence, is giving people greater confidence that this time we are actually seeing it. Therefore it's not surprising to see the demand for dollar funding is increasing."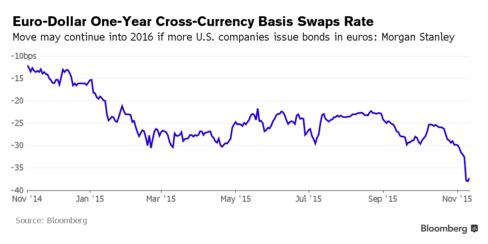 The one-year cross-currency basis swap rate between euros and dollars reached negative 39 basis points Wednesday, the largest effective premium for dollar borrowing since September 2012, according to data compiled by Bloomberg. The rate was at negative 37 basis points as of 11:31 a.m. London time.
The measure, which was closely watched by investors during the financial crisis as an indicator of stresses in the banking system, reached negative 138 basis points in 2008 following the collapse of Lehman Brothers Holdings Inc. While the increase this month is driven more by monetary-policy divergence it still has implications for global banks. It also means U.S. companies, which have been borrowing in euros to take advantage of historically low interest rates, must pay more to swap those proceeds back into dollars.
The increase in funding costs may continue into the first quarter of 2016 if more overseas companies choose to sell euro-denominated bonds, Morgan Stanley analysts Alexander Wojt and Koichi Sugisaki, wrote in an client note on Wednesday.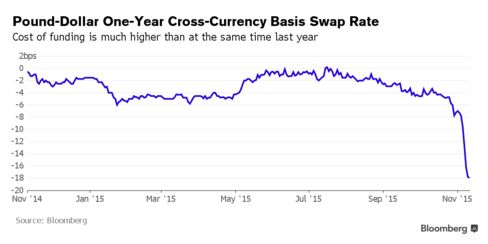 Following a Nov. 6 report that showed the best U.S. jobs growth this year, the market-implied probability that the Fed will raise rates by next month has climbed to 66 percent, compared with 50 percent at the end of October, futures contracts indicate. Meanwhile forward contracts imply traders have pushed back bets for the Bank of England's first rate increase to November 2016 and European Central Bank policy makers have said they will re-examine their stimulus policies when they meet on Dec. 3.
"While the Fed's intent to go off the zero floor has gained significant ground after the recent employment report, the ECB, and to some extent the BOE, has shifted guards in the other direction," Subhrajit Banerjee, a fixed-income strategist at HSBC Holdings Plc in London, wrote in a research note to clients on Wednesday. "Such policy mix is evolving at a time when demand for dollar-denominated assets seasonally remains high to year end effects."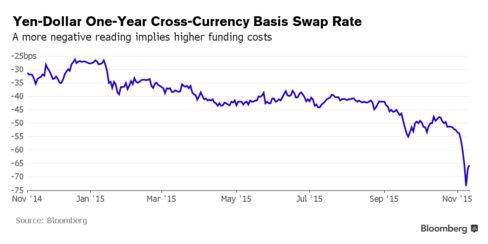 This rush for dollar fundraising across the globe this month pushed up the one-year cost for Japanese banks to the highest level since 2011. Meanwhile, the cost for U.K. banks has more than doubled in November. That's unusual because the surge was mostly focused in the euro area and Japan the last two occasions that funding costs rose, according to George Saravelos, global co-head of foreign exchange research at Deutsche Bank AG in London.
Before it's here, it's on the Bloomberg Terminal.
LEARN MORE