Express Scripts Drops Pharmacy With Ties to Horizon Pharma
Drug benefits manager says Linden Care violated agreement

Horizon Pharma shares drop 20% at the close in New York
Express Scripts Holding Co., the largest U.S. manager of prescription drug benefits, said it removed a mail-order pharmacy from its network after finding it dispensed a substantial portion of its medications from Horizon Pharma Plc and didn't fulfill its contractual agreements.
The decision to cut off Linden Care LLC is part of Express Scripts' continuing examination of relationships between drugmakers and pharmacies, started after recent revelations about the close ties between Valeant Pharmaceuticals International Inc. and a mail-order pharmacy called Philidor Rx Services. Express Scripts is already evaluating several other pharmacies it said get a substantial portion of their business from dispensing Horizon drugs -- businesses it calls "captive pharmacies."
Linden Care was terminated mainly because it "represented itself as a retail provider when they are almost exclusively mail-order," Express Scripts spokesman Brian Henry said in a statement. Overall, 40 percent of prescription claims from Linden Care that Express Scripts received this year were for Horizon drugs, he said.
In a statement, closely held Linden said it's a licensed retail pharmacy in New York and has received credentials from Express Scripts several times to reflect that much of its business is mail-order. The pharmacy said Horizon is one of many of its customers.
Horizon shares sank 20 percent to $17.99 at the close in New York. The company denied that Linden or any other pharmacy is anything less than independent and accused Express Scripts of a conflict of interest, since the benefits manager operates one of the nation's largest mail-order pharmacies. Horizon has no ownership stake in any pharmacy, unlike Valeant's controversial option to acquire Philidor.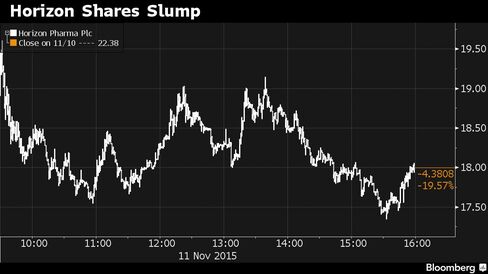 "The notion that Linden Care is a so-called 'captive pharmacy' of Horizon Pharma is entirely false," the drugmaker said in a statement.
Linden Care, based in Woodbury, New York, filed a complaint Tuesday in U.S. District Court in Albany, New York, seeking a reversal of Express Scripts' decision. The complaint says Linden Care didn't violate its contract and that Express Scripts forced Linden out of its network on a "trumped-up charge." The pharmacy benefit manager has known for years that Linden Care has been dispensing prescriptions out of state, and didn't object until now, the pharmacy said in its complaint.
Art Kersey, Linden Care's chief compliance officer, declined to comment.
The pharmacy has been majority owned since 2013 by BelHealth Investment Partners, according to the website of the New York-based private equity firm. Inder Tallur, a managing director at the firm, didn't immediately reply to a phone message Wednesday.
Specialty pharmacies like Linden Care have come under the spotlight in the U.S. and drawn attention to the complex relationships between insurers, manufacturers and sellers. Some doctors, seeking to reduce insurance paperwork and ensure their orders were fulfilled as desired, had encouraged patients to contact Philidor to fill prescriptions for Valeant dermatology medicines like Jublia and Solodyn. Valeant announced plans to end its relationship with Philidor after the pharmacy's business practices came under scrutiny.
Philidor Employees
Former Philidor employees have alleged that the pharmacy altered some doctors' orders to specify that they wanted brand-name drugs instead of generics, a way to get larger reimbursements for Valeant from health insurers. Philidor said that it only filled prescriptions with medications that doctors and patients requested. Weeks before Valeant said it would cut ties with Philidor, the drugmaker was planning to expand the relationship, Bloomberg has reported.
Express Scripts and the two other largest U.S. drug-benefit managers announced last month that they would terminate Philidor from their networks. Express Scripts said at the time that it would review and evaluate "all similar captive pharmacy arrangements," referring to pharmacies that derive the vast majority of their prescription volume from one manufacturer or one product.
In a Nov. 9 letter to Linden, Express Scripts said it had recently discovered that the pharmacy was mail-order and shouldn't have been part of the benefits manager's retail network. Express Scripts said Linden was also billing it for mailing drugs to Maryland and California without having a current license. The letter made no mention of Horizon.
Linden Care, in its lawsuit, says it is licensed in Maryland.
Horizon and Express Scripts have a history of bad blood. The drugmaker disclosed last year that Express Scripts and another benefits manager, CVS Health Corp., had dropped coverage of Horizon's two best-selling medications, stomach drugs Duexis and Vimovo.
The benefits manager also said late Tuesday that it has filed a lawsuit against Horizon seeking $140 million, saying the drugmaker "refused to honor certain contractual obligations" under a rebate agreement. Express Scripts said in a statement that it's seeking "to recover money rightfully due its clients."
The lawsuit relates entirely to a previously disclosed dispute concerning a prior rebate agreement between the parties, Horizon said, adding that it is still reviewing the allegations in the complaint but the claims are without merit and it intends to defend itself.
The drugmaker noted that Express Scripts has its own mail-order pharmacy unit, Accredo, that competes with businesses like Linden Care and accounts for a larger portion of Horizon's revenue than Linden Care does. Horizon said it's re-evaluating the relationship with Accredo.
Horizon's relationship with specialty pharmacies is non-exclusive and each outlet may also fulfill prescriptions for other drug manufacturers, it said in the statement. Less than 5 percent of Horizon's net sales are from prescriptions that are filled by Linden Care and processed by Express Scripts, the drugmaker said.
Before Wednesday's slump, Horizon shares had been paring losses recently after tumbling from $38.45 in July amid scrutiny of its use of specialty pharmacies. The company's hostile bid for fellow drugmaker Depomed Inc. has also met resistance from executives of the target company.
Before it's here, it's on the Bloomberg Terminal.
LEARN MORE