Energy Default Alarms Get Louder as Pain Seen Lasting Into 2016
Oil slump may push junk default rate to four-year high

23 energy companies defaulted this year, Moody's says
Eleven months of depressed oil prices are threatening to topple more companies in the energy industry.
Four firms owing a combined $4.8 billion warned this week that they may be at the brink, with Penn Virginia Corp., Paragon Offshore Plc, Magnum Hunter Resources Corp. and Emerald Oil Inc. saying their auditors have expressed doubts that they can continue as going concerns. Falling oil prices are squeezing access to credit, they said. And everyone from Morgan Stanley to Goldman Sachs Group Inc. is predicting that energy prices won't rebound anytime soon.
The industry is bracing for a wave of failures as investors that were stung by bets on an improving market earlier this year try to stay away from the sector. Barclays Plc analysts say that will cause the default rate among speculative-grade companies to double in the next year. Marathon Asset Management is predicting default rates among high-yield energy companies will balloon to as high as 25 percent cumulatively in the next two to three years if oil remains below $60 a barrel.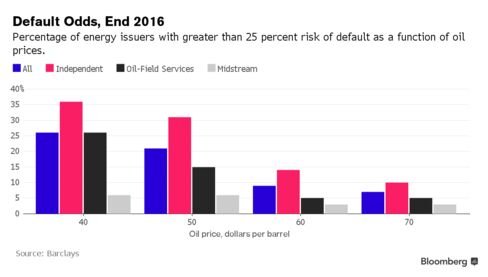 "No one is putting up new capital here," said Bruce Richards, co-founder of Marathon, which manages $12.5 billion of assets. "It's been eerily silent in the whole high-yield energy sector, including oil, gas, services and coal."
That's partly because investors who plowed about $14 billion into high-yield energy bonds sold in the past six months are sitting on about $2 billion of losses, according to data compiled by Bloomberg. And the energy sector accounts for more than a quarter of high-yield bonds that are trading at distressed levels, according to data compiled by Bloomberg.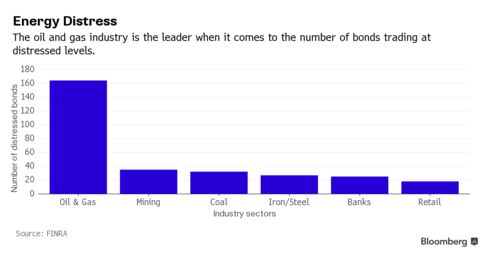 Between January and October, 23 energy companies defaulted on their debt, with six filing for bankruptcy protection, according to Moody's Investors Service. Twelve of the defaults occurred because the firms orchestrated distressed-debt exchanges. The ratings firm estimated in a recent report that so many U.S. high-yield energy companies will implode in 2016 from plunging oil prices that they will push the overall default rate for speculative-grade companies to 3.8 percent, the highest in four years.
Still, some investors say there's value to be found in the industry, with Oaktree Capital Group LLC among firms that have collectively raised more than $20 billion for investing in the sector this year.
"All we're concerned with is: Will we get paid, and does the current price over or underestimate the likelihood of getting paid?" Oaktree co-founder Howard Marks said.
Stinging Returns
Yields on speculative-grade energy debt have risen to 12 percent, compared with 7 percent a year ago and 8 percent for all of high-yield Tuesday, according to Bank of America Merrill Lynch index data.
But returns on the debt of energy companies have continued to sting investors in the month after banks pared back some energy producers' credit lines to reflect weaker energy prices. Banks review oil and gas producers' revolving loans twice a year in April and October, trimming them back if companies no longer have as much of the fuels in the ground or if the reserves are worth less. When the credit line cuts are particularly sharp, some producers are unable to meet requirements imposed by their lenders.
Energy bonds have lost 9.4 percent on a total return basis so far in 2015 after generating a gain of 1.5 percent in the same period last year, according to Bank of America Merrill Lynch index data.
When a wave of energy companies was in trouble earlier this year, many of them relied on agreements with creditors to swap some debt for new, higher-ranked borrowings. Halcon Resources Corp., Warren Resources Inc. and Midstates Petroleum Co. completed debt-exchange deals that helped reduce their obligations.
The firms have come under increasing pressure as the price of oil has fallen about 59 percent since June last year to trade below $44 a barrel on Tuesday as U.S. industry data showed crude stockpiles expanded in the world's biggest consumer. And most analysts think it will stay there for longer, with Goldman predicting crude prices could go as low as $20 a barrel because the global surplus is even bigger than expected earlier. The firm also trimmed its 2016 estimate for West Texas Intermediate to $45 a barrel from a May projection of $57.
Oil fell to a two-week low Wednesday as U.S. industry data showed that inventories rose by 6.3 million barrels through Nov. 6. West Texas Intermediate Crude was down 81 cents at $43.41 a barrel at 10:12 a.m. in New York.
Default Triggers
Penn Virginia said on Monday the lower prices have dragged the value of its reserves so much that it would probably lead to a "further reduction" of its revolving loan, which was cut to $275 million from $395 million this month. The company is also set to exceed a leverage covenant on the loan by April if it doesn't take action to refinance or restructure the debt or get permission from lenders to waive compliance, it said.
Paragon warned its going-concern status is imperiled because it might breach a covenant under its revolver. The loan requires the company to meet net leverage and interest coverage ratios. Emerald said oil staying at its "current price levels for an extended period of time" threatened its ability to remain a going concern.
In Magnum Hunter's case, the company doesn't have enough cash to make a $29.3 million interest payment due Nov. 15. It's already in default on its two loans because it has account payable balances it hasn't resolved in at least six months.
"The auditors are saying that they don't think the company can last another 12 months. That can trigger an event of default sometimes and could cause investors to pull away," said Spencer Cutter, a credit analyst at Bloomberg Intelligence.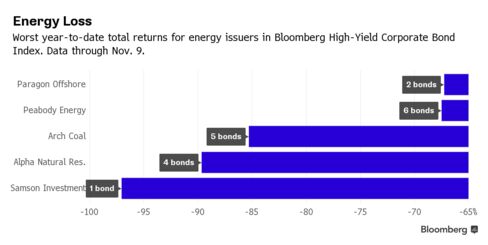 Lee Ahlstrom, a spokesman at Paragon, declined to comment beyond the press release and the earnings call the company had on Nov. 9. Representatives of Penn Virginia, Magnum Hunter and Emerald Oil didn't respond to telephone and e-mail messages.
Barclays said in a Nov. 6 research note that the market is anticipating "a near-term wave of defaults" among energy companies. Those can't be avoided unless commodity prices make "a very large" and "unexpected" resurgence.
"Everybody's liquidity is worse than it was at this time last year," said Jason Mudrick, founder of Mudrick Capital Management. "It's a much more dire situation than it was 12 months ago."
Before it's here, it's on the Bloomberg Terminal.
LEARN MORE