Biggest Metals Market Set for First Trade Drop Since Crisis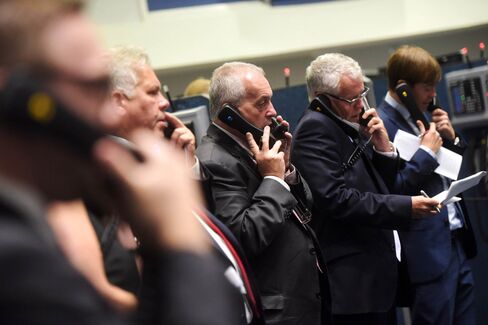 Weakness follows five record years fueled by Chinese demand

Hedge funds, banks scale back; regulators increase scrutiny
The biggest market for metals is going into reverse for the first time since the 2008-09 financial crisis as slowing Chinese demand deters investors.
The London Metal Exchange is set for weaker volumes this year as hedge funds and banks have scaled back their commodities business, regulators increase scrutiny of the market and the bourse charges higher transaction fees.
Trading of futures and options from copper to zinc totaled 142.7 million contracts in the first 10 months, down 4 percent from a year earlier, according to data on the exchange's website. If the final two months stay depressed, the LME will suffer its first annual drop in volumes since 2009, when the number of transacted contracts slipped by 1.1 percent.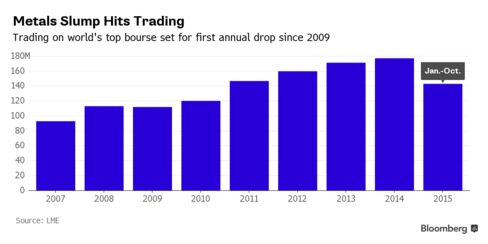 "The volumes speak for themselves," Steve Hardcastle, industrial commodities client-services chief at broker Sucden Financial Ltd. in London, said by phone. "Business activity generally has been slower, with the funds and banks' activity reducing as well."
Prospects of the slowest growth in China, the biggest consumer of commodities, in more than two decades has sent prices to the lowest in more than six years. That's as the LME seeks to lure new users and boost income after its purchase by Hong Kong Exchanges & Clearing Ltd. The LME will keep trading fees unchanged next year after raising its 2015 charges 65 percent. Higher fees helped boost Hong Kong Exchanges' commodities revenue by 37 percent in the third quarter as volumes fell in the period, it reported on Wednesday.
Exchange Fees
"It cannot be ignored that exchange fees have increased on the LME and in general the cost of doing business is higher through more regulation, which could have impacted LME volumes," said Andrew Patterson, global co-head of metals at Societe Generale Newedge U.K. Ltd. in London, one of the companies entitled to trade on the exchange's floor.
Interest in metals has weakened as investors focused more on equities than commodities, Patterson said. The hope is interest may return next year, while the LME also plans to extend its global reach by adding new contracts and raising accessibility, he said.
The exchange, accounting for more than 80 percent of the world's industrial-metals futures, is boosting trading of monthly contracts, offering rebates for companies that trade more and trying to broaden access as part of a "liquidity roadmap." It's adding new contracts this month, and also expanding the options market and data reporting.
Before it's here, it's on the Bloomberg Terminal.
LEARN MORE