PokerStars Parent Amaya Tumbles After Lowering Profit Forecast
Drop in Canadian dollar hurts spending power of customers

PokerStars business faces restrictions in numerous countries
Amaya Inc. fell as much 35 percent after the company, the owner of PokerStars, reported third-quarter results that missed estimates and lowered its forecast for the rest of the year.
Shares of the world's largest online poker company were down 29 percent to $16.71 at 12:14 p.m. in New York, after falling as low as $15.25. The company, based in Montreal, said it will earn C$345 million to C$365 million this year, or C$1.66 to C$1.75 per share, excluding some items. Previously it had projected profit of C$367 million to C$415 million, of C$1.76 to C$2 per share.
The strengthening U.S. dollar has reduced the purchasing power of customers by 19 percent, the company said. Another factor impacting sales was a decision to delay a sports-betting product that needed improvement before its release, Chief Executive Officer David Baazov said in the statement Tuesday.
Sales for the year will be between C$1.29 billion and C$1.34 billion, down from the C$1.45 billion to C$1.56 billion projected earlier, the company said. That suggests a maximum of C$357.4 million in fourth-quarter sales, below the C$426.6 million average estimate of five analysts.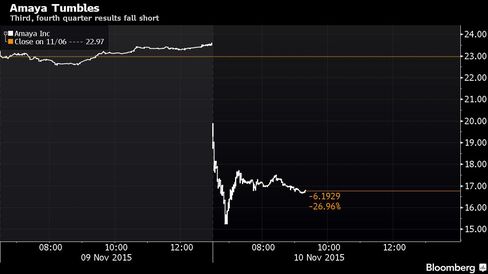 Amaya bought Isle of Man-based PokerStars in a $4.9 billion deal last year. The company has since exited more than 30 markets where the legality of the business was unclear. The third quarter-results were hurt by the suspension of operations in Portugal, where a new licensing regime is being implemented. The company also took a write-off on its business in Greece, where the economic downturn and banking restrictions have hurt betting.
The number of active PokerStars players fell 3 percent to 2.2 million in the third quarter from a year earlier, the company said.
Before it's here, it's on the Bloomberg Terminal.
LEARN MORE