Helmut Schmidt, Former West German Chancellor, Dies at 96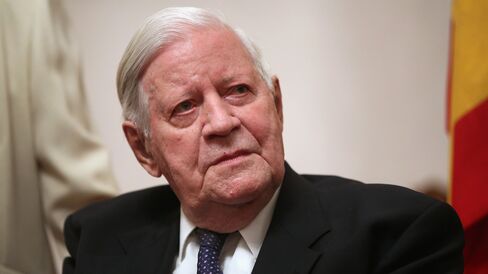 Chain-smoking former leader helped start G-7 meetings

Faced terrorism, missile protests during tenure ending 1982
Helmut Schmidt, the former West German chancellor who steered his country through the world economic crisis of the 1970s and took an uncompromising line against domestic terrorism, has died. He was 96.
He died Tuesday at home in his native city of Hamburg, according to the German weekly Die Zeit, where he was co-publisher. No cause was given.
An iconic figure in post-World War II Germany, commonly wreathed in cigarette smoke or wearing his trademark sailing cap, Schmidt was chancellor from 1974 to 1982, leading his Social Democratic Party to two election victories.
A Wehrmacht officer who was a British prisoner of war at the end of World War II, he took office after his predecessor, Willy Brandt, fell from power over a Cold War spy scandal. Schmidt found himself thrust into the 1970s global economic crisis and the Red Army Faction terror group's war against the West German state, while helping set up the European Monetary System, a forerunner of the euro.
"Helmut Schmidt was a political institution," Chancellor Angela Merkel said in Berlin. "The important initiatives he undertook in international policy are still being felt today."
Global Thinker
Dubbed in Germany a "Weltoekonom" -- a global economist or thinker -- Schmidt was viewed as a statesman who understood the machinery of world politics better than most. He was a popular guest on talk shows well into his 90s, weighing in on everything from the global economy to relations with Russia.
"Helmut Schmidt was the first chancellor who actively positioned Germany in the realm of global issues," Henry Kissinger, a close friend, said in 1998.
Schmidt co-founded the EMS in 1978 and helped initiate the annual economic summits of leading industrialized nations known as the Group of Seven. In 1977, he faced his bleakest moments when he rejected demands by the RAF for the release of imprisoned leaders after the kidnapping of a top business leader and the hijacking of a German airliner to Somalia.
At his side until her death in 2010 was his wife Hannelore, known as Loki, whom he met at age 10 and married in 1942. He leaves a daughter, Susanne Schmidt.
Hamburg Flood
Helmut Schmidt was born in Hamburg on Dec. 23, 1918, the son of teachers. After his wartime army service, he trained as an economist. He joined the Social Democrats in 1946 and was first elected to the Bundestag, the lower house of parliament, then in Bonn, in 1953.
He gained national prominence in February 1962 when, as interior minister of Hamburg's state government, he led rescue operations in a flood that killed more than 300 people. For Merkel, then a girl living behind the Iron Curtain in communist East Germany, that triggered a personal recollection.
"I remember very well how I and of course my parents were literally hanging onto the radio because we were incredibly worried about grandma and our aunt, who lived in Hamburg, and how we trusted Helmut Schmidt to get the situation under control," Merkel told reporters.
International Rise
Schmidt became a member of West Germany's first Social Democratic-led government in 1969 as defense minister, then finance minister, under Brandt. When the popular Brandt resigned after one of his closest aides was exposed as a spy for communist East Germany, Schmidt acceded reluctantly to the top position.
The new chancellor had already been trying as finance minister to limit the damage to the German economy from recession. Faced with rising unemployment, Schmidt's cabinet increased spending on maintaining jobs in industries such as steel, coal and shipbuilding as well as on unemployment and social-welfare benefits.
Schmidt and Valery Giscard d'Estaing, France's then-president, recognized international cooperation was vital to overcoming the recession.
At their initiative, the leaders of the six main western industrial powers met in Rambouillet, France, in November 1975. It was the first in an annual series of summits of what later became the Group of Seven.
To make Europe's economy less dependent on the dollar, Schmidt and Giscard proposed setting up the EMS in 1978. A year later, eight European countries joined the mechanism, intended to prevent large fluctuations of their currencies against each other.
RAF Terrorism
Schmidt's most visible challenge at home was to combat the RAF, also known as the Baader-Meinhof Gang after founding members Andreas Baader and Ulrike Meinhof, which carried out bombings and targeted killings seeking to topple the capitalist system.
Among the darkest episodes was the "German Autumn" of 1977, when the group gunned down Germany's federal prosecutor and the chairman of the board of Dresdner Bank AG, then kidnapped Hanns-Martin Schleyer, the head of the BDI employers' association, to press their demand for RAF prisoners to be freed.
As Schmidt refused to give in, four armed Palestinians hijacked a German airliner with more than 90 people on board and flew it to the Somali capital, Mogadishu. Schmidt ordered German special forces to storm the plane. Three of the hijackers were shot dead; the passengers were freed. Schleyer was found fatally shot in the trunk of a car the next day.
Schmidt later said he wept at the news, having previously pledged to resign if it resulted in carnage.
Nuclear Missiles
Schmidt lost support within his own party in the late 1970s over his support for NATO plans to deploy nuclear missiles in West Germany in response to the targeting by the Soviet Union of western Europe with SS-20 rockets.
His chancellorship ended after the Social Democrats' junior partner in the government, the Free Democrats, switched sides to form a coalition under Helmut Kohl with the main opposition Christian Democrat bloc.
Schmidt, Germany's longest-serving Social Democratic chancellor, had never enjoyed the same popularity within his party as Brandt, being perceived by some members as cold and overbearing.
"He ran his country in difficult times and led it to economic stability," French President Francois Hollande said in Paris. "He was also a great social democrat who said you had to let the free market breathe, but you had to give it a social dimension."
Before it's here, it's on the Bloomberg Terminal.
LEARN MORE