Best Bet Amid China Slowdown Is Chinese Debt, Western Asset Says
Fund-management firm has been adding to Chinese bond holdings

Sees IMF SDR inclusion ushering in new era of inflows
For Western Asset Management, the best place to take shelter from China's economic slowdown is in the eye of the storm.
The fund manager has been raising the proportion of China-related holdings in its developing-nation portfolios, said Chia Liang Lian, co-head of emerging-market debt in Pasadena, California. Western Asset has recently bought the debt of Industrial & Commercial Bank of China Co. and favors notes sold by high-quality real-estate developers on bets the worst of the property cycle is over, he said. The firm oversees $446 billion of assets, including $38.5 billion in emerging markets.
"The best place to hide from the fear of Chinese growth worries is actually in China," Lian said in a phone interview. "At face value, it sounds like a contradiction. But if you look at the high quality performance this year, Chinese credits, in spite of the stock market volatility, yuan devaluation and the huge supply, they aren't doing that bad."
The central bank has cut benchmark borrowing costs six times over the past year to spur an economy that's forecast to grow at the slowest annual pace since 1990. That's helped drive a 6.5 percent gain in China's local-currency sovereign bonds in 2015, while an index of yields for top-rated corporate debt fell to an eight-year low last week.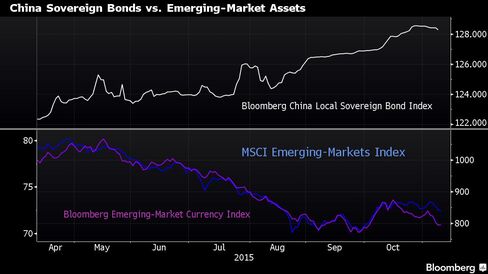 "The central bank has been in an easing mode," said Lian. There's room for more rate cuts to manage the growth cycle, he said.
China's sovereign bonds dropped the most since 2013 on Monday as plans to resume initial public offerings after they were suspended in late June fueled concern investors will switch out of debt and into equities.
"While the IPO resumption may cause a knee-jerk reaction to bonds, we believe that official efforts to fine-tune the IPO process will help contain market volatility," Lian said.
Patient Trade
The yuan tumbled by the most in two decades in August as the People's Bank of China devalued the currency, but has made up some ground since then amid speculation it's being kept stable before the International Monetary Fund's decision this month on whether to grant it reserve-currency status. Being added to the IMF's Special Drawing Rights basket could lead to as much as 7 trillion yuan ($1.1 trillion) of inflows over the next five years, according to an estimate by Standard Chartered Plc.
Becoming a reserve currency would be as significant as China joining the World Trade Organization in 2001 and will trigger "captive demand" for Chinese assets, Lian said, adding that it will be a "patient trade" as the impact won't be immediate.
"With the under-allocation to China, we feel it's at the start of an adjustment cycle," he said. "The SDR decision, if we are right, will usher in a new era of inflows for China."
Before it's here, it's on the Bloomberg Terminal.
LEARN MORE