Goldman: This Is How S&P 500 Companies Will Use Their Cash in 2016
Spending on shareholders is outpacing corporate re-investment.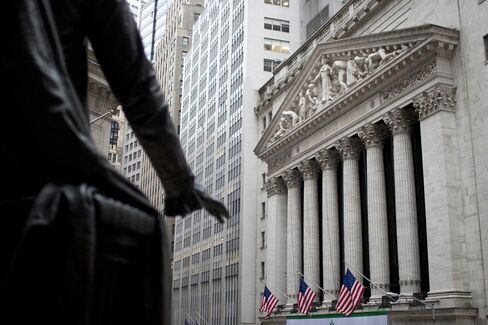 Companies in the Standard & Poor's 500-stock index will spend $2.2 trillion next year, according to Goldman Sachs.
Goldman's Chief U.S. Equity Strategist David Kostin and his team figure 54 percent of that total spending amount will go toward "growth" activities such as capital expenditure, research and development, and mergers and acquisitions -- up 3 percent compared with 2015. Meanwhile, some 46 percent will be spent returning cash to shareholders in various forms. That's up 7 percent compared with this year.
Here's a deeper look at some of the areas Goldman expects the most cash to flow into.
1. Capital expenditure, research and development
Goldman is calling for $650 billion in capex and $256 billion in R&D spending, reflecting growth of 1 percent and 5 percent, respectively. The firm points out that the energy sector accounts for 30 percent of S&P 500 capex, which means "lower for longer" oil prices are weighing on capital spending. "Our forecast of a roughly $50 per barrel Brent crude price in 2016 and recently slashed spending budgets by both Chevron and Exxon suggest a further decline of 20 percent in energy capex during 2016," the team says in the note. R&D is a different story, however, with energy only accounting for 2 percent of total S&P 500 R&D spending.
2. Mergers and acquisitions
After a blockbuster 2015, Goldman expects cash M&A spending to come in at $300 billion in 2016, that's an 8 percent increase but still lower than previous growth rates. "The pace of growth in S&P 500 cash M&A spending will decelerate in 2016 relative to the 50 percent surge experienced in 2015. Although two months of the year still remain, cash M&A has totaled $191 billion year-to-date, higher than the 2014 full-year total of $185 billion. Healthcare accounted for almost 50 percent of cash deal activity this year. We expect cash M&A during the second half will decelerate considerably relative to activity in the first half," Kostin and team say.
3. Buybacks, buybacks, and more buybacks
Goldman says companies will spend $608 billion on buybacks in 2016 even in the face of increasing valuations. "Despite weak activity during the first half of 2015, buyback activity will remain robust. Following 9 percent growth in 2014 and an estimated 10 percent growth in 2015, we expect S&P 500 gross buybacks will rise by another 7 percent to $608 billion in 2016. More than 80 percent of S&P 500 firms engage in share repurchases, roughly double the number of firms buying back stock 20 years ago."
4. Dividends for everyone
Led by financials and tech, Goldman expects dividends to increase 7 percent to $432 billion. "Consensus forecasts imply that the financials sector will grow dividends by 10 percent in 2016, the highest growth rate of any sector, while energy dividends are expected to come under pressure. Slowing global growth has weighed on long-term dividend prospects," the note says.
Goldman has some recommendations for investors seeking to capitalize on its spending predictions. Even though the bank has vocally opposed hefty buybacks, the analysts recommend investors buy firms that have high total cash returns relative to those investing in growth, as the former group is typically rewarded by markets.
We expect high cash return strategies to outperform given modest GDP growth, low rates, and slim equity returns. A similar macro environment in 2015 rewarded stocks with high cash returns to shareholders while firms investing in capex lagged.
Here's a look at performance vs. the S&P 500 since 1991.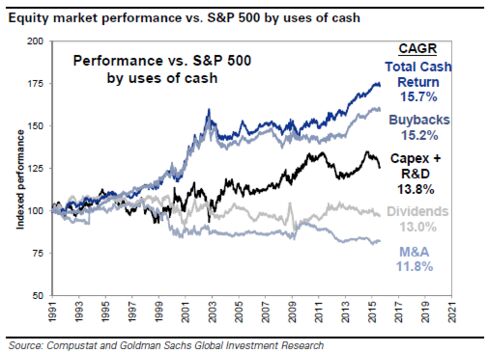 Goldman has a Total Cash Return basket and a Buyback basket that include the firms with the highest cash return plans in the S&P 500. The two baskets include many of the same stocks, with Bed Bath & Beyond, Macy's, Coca-Cola Enterprises, Marathon Petroleum, Navient Corp., Ameriprise Financial, AbbVie, Deere & Co., Motorola Solutions, and Monsanto among the names making it onto both lists.
Before it's here, it's on the Bloomberg Terminal.
LEARN MORE