Swiss Pray for Rhine Rain as Fuel Stays Stuck in Netherlands
Tax increase on heating oil could increase demand for imports

Barge rates soar as falling water level limits capacity
The Swiss are praying for rain on the Rhine River before winter as low water levels restrict barges transporting supplies of heating oil to the land-locked European country. A tax rise on the fuel that takes effect next year makes the need even more acute.
Water levels have slumped to the lowest in a decade, leaving fuel supplies stuck in the Netherlands and Belgium, where stockpiles are already at a seasonal record high because of a global glut. Vessels must sail with smaller-than-normal cargoes to avoid getting held up. Jaegers Shipping in Rotterdam, which operates 115 barges in that area, has told customers it can't deliver some contracted volumes because of the Rhine levels.
"It's a matter of going to church every night and lighting a candle to hope that we will get some rain," said Joachim Hessler, general manager of German operator Maintank Schiffahrtsgesellschaft mbH, whose barges are loading at about a third of capacity. "We're getting to the stage where some barges cannot sail up the Rhine any more because the draft is too big and the water level is not sufficient."
Praying for Rain
The Port of Switzerland, which operates terminals in the Basel area, handles about a third of the nation's fuel imports. Supplies to its facilities began to fall in August because of the low Rhine level, with shipments of crude and oil products slumping in September by 26 percent from a year earlier. The nation is tapping its emergency stockpiles to help make up the shortfall.
The disruption in shipments on the Rhine coincides with possible increased demand for heating oil in Switzerland before the introduction of a carbon tax on the fuel next year, said Simon Oberbeck, a spokesman for the Port of Switzerland. The tax, paid by importers and refiners, will rise by 40 percent to 84 Swiss francs ($83.59) per 1,000 kilograms of CO2 from Jan. 1, according to the Federal Customs Administration.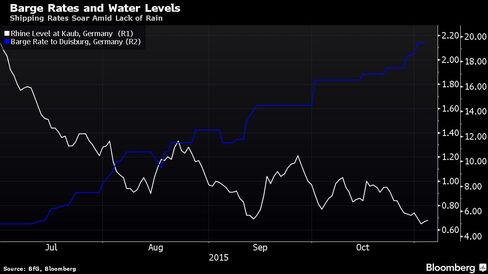 "The tourists hate the rain but we love it and are praying for it," Oberbeck said. "As winter comes, customers would need the storage to be filled and that depends on the rain. The higher tax on heating oil from January will be a big part of the anticipated traffic flows in the next weeks till end of December."
The cost of shipping heating oil and gasoline by barge along the Rhine from Europe's oil-trading hub in Amsterdam-Rotterdam-Antwerp has risen since mid-year as the falling water level limited the volume of fuel carried on vessels. Germany's rainfall has been below average levels for nine months and the situation is close to critical levels for barges, according to researcher Petromatrix GmbH.
Rhine water levels at Kaub, a bottleneck south of Cologne, fell to the lowest in almost four years as of Friday.
Force Majeure
"In my 15 years with the company, I have never seen Rhine water levels this low," Dennis Hanssen, director at Jaegers Shipping, said by phone on Thursday. The company issued force majeure on oil and chemical products, a clause that protects it from liability when it can't fulfill a contract for reasons beyond its control.
The crunch in supply into Switzerland follows the closure of Tamoil's Collombey oil refinery earlier this year. That leaves Varo Energy's Cressier plant, which had an unscheduled halt last month, as the nation's only processing plant.
"The Swiss government chose to ignore the risk of dependency on Rhine supplies when earlier in the year it decided to not do anything to save the Collombey refinery and Switzerland is now left to rely on strategic stocks to balance its supply requirements," Petromatrix said in a report at the end of last month.
Coal Too
Companies including Royal Dutch Shell Plc, which runs Europe's biggest refinery in Rotterdam, are using more trucks for transporting oil products because of the increased shipping fees, according to the BVB navigation information agency in the city. The cost of transporting heating oil from that area to Karlsruhe, a German town, rose to EU77 ($82.64) a metric ton this week compared with less than EU13 a ton in July.
It's not just heating oil supply that is being hindered by the low water levels. Energie Baden-Wuerttemberg AG, Germany's third-biggest power producer, has had difficulty securing coal supply since September, with the situation now affecting three locations.
Emergency Release
Importers into Switzerland can tap the nation's emergency stockpiles, the office for national economic supply, or BWL, said at the end of last month. About 4.5 percent of total inventories of diesel, which is similar to heating oil, was made available in the release.
Inventories of heating oil in independent storage in the ARA hub are at more than 3.5 million tons, according to PJK International, a researcher based in Breda, Netherlands. That's almost double the five-year average level, the data show.
"Rhine water levels are extraordinarily low and this is stopping resupply into central Europe from ARA," said Robert Campbell, head of oil products research at Energy Aspects, referring to the trading hub. "While overall European stock levels on diesel are near the January 2010 highs, stocks this time are concentrated into coastal regions while inland storage is relatively empty."
Before it's here, it's on the Bloomberg Terminal.
LEARN MORE