Gross Says 100% Certain of December Rate Hike as Jobs Surge
Janus fund shorts bonds, goes into negative duration

Manager says not to invest in stocks, high-yield bonds
Bill Gross said there is a "100 percent chance" the Federal Reserve will raise interest rates in December after jobs surged.
"They are ready to go," Gross said in an interview with Tom Keene and Michael Mckee of Bloomberg Radio after the Labor Department reported that the U.S. economy added a better-than-expected 271,000 jobs in October and wages rose the most in more than six years.
Gross, manager of the $1.4 billion Janus Global Unconstrained Bond Fund, said his fund had a negative duration coming into the jobs report, meaning that he was positioned to make money from rising rates. He also said he was shorting the 30-year Treasury bond and advises investors to reduce risk.
"So what I would be doing is to pursue risk-off types of trades, meaning don't invest in stocks to a significant extent and don't invest in high-yield bonds," he said.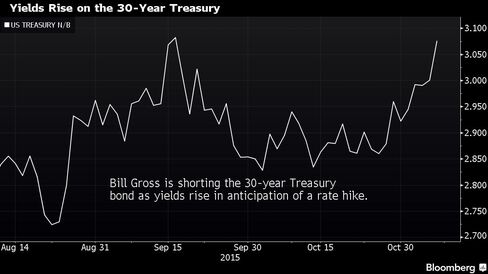 Gross, who has urged the Fed to raise rates, said he expected the central bank to increase rates at a pace of about 50 to 75 basis points a year. Fears that a strong U.S. dollar could hurt the global financial system may restrain the pace of rate hikes, Gross said.
"I believe the Fed will be gradual," he said.
The Janus Global Unconstrained Bond Fund lost 1.5 percent this year, trailing 78 percent of peers, according to data compiled by Bloomberg. Earlier this week, Gross said he made moves in his fund in preparation for the jobs report.
"You know, going short the 30-year Treasury as opposed to long and obviously making money at the moment," he said.
Before it's here, it's on the Bloomberg Terminal.
LEARN MORE