S&P 500 Closes Little Changed as Investors Weigh Rates, Economy
Banks gain amid increased bets for higher interest rates

Valeant resumes selloff, Celgene results weigh on health-care
U.S. stocks closed little changed near a three-month high as the specter of an interest rate increase this year left investors looking to Friday's jobs report for fresh signs the economy is strong enough to withstand tightening.
Equities swung between gains and losses in the session as a rally in banks helped erase declines sparked by a renewed selloff in embattled drugmaker Valeant Pharmaceuticals International Inc. Weakness in commodity producers also held back stocks for a second day.
The Standard & Poor's 500 Index slipped 0.1 percent to 2,099.93 at 4 p.m. in New York, trimming a drop of as much as 0.6 percent. The Dow Jones Industrial Average declined 4.15 points, or less than 0.1 percent, to 17,863.43. The Nasdaq Composite Index declined 0.3 percent, dragged lower as Qualcomm Inc. and Celgene Corp. fell more than 5 percent after their results disappointed.
"The only thing that's certain today is that there are going to be significant price swings in both directions," said Michael James, managing director of equity trading at Wedbush Securities Inc. in Los Angeles. "If the implications from the jobs report tomorrow do imply a December rate hike, it could weigh on the market. The Valeant debacle continues to weigh on health-care."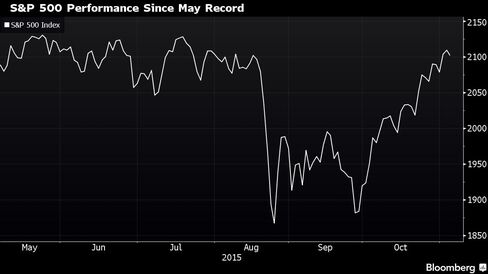 Equities trimmed a weekly advance after reaching a three-month high on Tuesday, stalling a rally that boosted the S&P 500 by as much as 13 percent from an August low and carried the benchmark to within 1 percent of its record. Gains in the past two months have been paced by a rebound in commodity shares, after they led declines during a summer selloff sparked by worries that weakness in China's economy would spread.
Stocks are coming off their strongest month in four years, bolstered as central banks in Europe and China pledged more stimulus and the Federal Reserve refrained from boosting interest rates in October. Traders now price in a 56 percent chance the Fed will increase rates at next month's meeting, up from 50 percent earlier this week, after Fed Chair Janet Yellen said yesterday the economy is performing well enough to possibly raise rates in December.
Fed Bank of New York President William Dudley backed Yellen's stance that December is a "live possibility," while Fed Vice Chairman Stanley Fischer expressed confidence that inflation isn't too far below the central bank's goal. Fed Bank of Atlanta President Dennis Lockhart said today liftoff "will soon be appropriate," in remarks prepared for delivery today in Bern, Switzerland.
Tomorrow's report on payrolls and unemployment will garner even more scrutiny as it feeds into the Fed's assessment of the economy's strength. A report today showed the number of Americans filing for unemployment benefits rose more than economists forecast to a five-week high, representing a pause in the recent progress that left claims at their lowest level since 1973.
Earnings Season
Mixed earnings reports provided little direction for equities today. Facebook Inc. rose 5.2 percent to a record after posting higher-than-expected revenue and profit. Ralph Lauren Corp. surged 16 percent, the most in seven years after its earnings beat estimates.
Qualcomm slid 15 percent after the chipmaker's sales and profit forecasts fell short of some analysts' estimates, underscoring its struggle to collect technology-licensing fees for smartphones sold in China. CF Industries Holding Inc., the largest U.S. producer of nitrogen fertilizer, fell 9.5 percent after posting lower-than-expected earnings.
With more than 80 percent of S&P 500 companies having reported, about three-quarters have beaten earnings estimates, while only 45 percent have topped sales forecasts. Analysts estimate profits dropped 3.9 percent in the third quarter, up from predictions for a 6.1 percent decline a week ago.
The Chicago Board Options Exchange Volatility Index fell 3 percent Thursday to 15.05, down for the first time in three days. The measure of market turbulence known as the VIX posted its biggest monthly drop ever in October. About 7.3 billion shares traded hands on U.S. exchanges, in line with the three-month average.
Seven of the S&P 500's 10 main industries declined, with energy, utilities and raw-materials the worst performers. Financial and consumer discretionary shares rose, while industrials were little changed.
Energy companies in the benchmark fell 1 percent in volatile trading, led by Transocean Ltd.'s 8.2 percent drop. A plan to slash more than $1 billion in costs next year wasn't enough to excite investors of the world's largest offshore rigs provider as signs warn of more pain ahead. Chevron Corp. and Exxon Mobil Corp. retreated more than 1.3 percent as crude fell again after its worst drop in three weeks yesterday.
Valeant Tumbles
Valeant lost 14 percent after earlier sliding more than 20 percent. The shares fell below $80 for the first time in more than two years as investors grappled with the drugmaker's mounting challenges and a top shareholder, Bill Ackman, discussed how his confidence in the company's leadership had briefly wavered. Ackman later expressed support for Chief Executive Mike Pearson.
Endo International Plc sank 15 percent, the steepest decline among health-care companies in the S&P 500 and the company's biggest drop since 2009, despite earnings and sales that exceeded analysts' estimates. Celgene lost 5.3 percent, the most this year, after quarterly sales were short of analysts estimates as the company's top cancer drugs didn't grow as fast as expected. The Nasdaq Biotechnology Index slumped 1.9 percent.
Banks climbed amid speculation that rising bond yields will help boost profitability, as the U.S. 10-Year Treasury yield reached a seven-week high. Bank of America Corp. increased 1.8 percent to its highest since Aug. 19. State Street Corp., Bank of New York Mellon Corp. and Comerica Inc. added more than 1.6 percent. The KBW Bank Index gained 1 percent, near its highest level in 11 weeks.
Ralph Lauren's 15 percent rally led a group of apparel and accessory companies higher. Fossil Group Inc. climbed 3.1 percent, the most in a month, while PVH Corp. and Michael Kors Holdings Ltd. added more than 2.1 percent.
Before it's here, it's on the Bloomberg Terminal.
LEARN MORE