Global stocks are rising for a third day before Federal Reserve Chair Janet Yellen addresses Congress, in her first speech since the U.S. central bank signaled last week interest rates may rise in 2015. Investors are still digesting comments made by European Central Bank President Mario Draghi, who spoke at a cultural event in Frankfurt Tuesday evening. He said policy "will need to be re-examined" in December, leaving the door open for more easing. Only a few days ago, in an Italian newspaper interview, he said it's still an "open question" whether adding further stimulus will be necessary next month. The MSCI All Country World Index has risen to its highest level since Aug. 18, after a 7.8 percent jump in October, the biggest monthly increase in four years.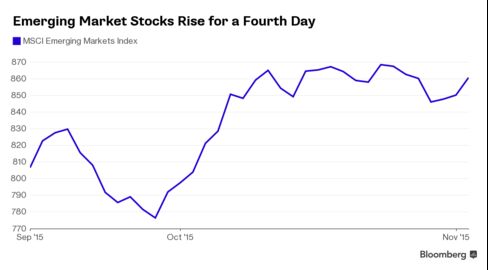 Appetite for riskier assets is evident in the performance of emerging market equities, which have risen to a three-month high. The MSCI Emerging Markets Index is gaining for a fourth day, its best run in almost a month, based on the assumption China will stabilize its economy. The durability of the rally might depend on the outcome of Friday's U.S. jobs report. A strong number could boost bets for a rate hike this year, acting as a barrier to further emerging market gains. The MSCI Emerging Markets Index has risen 13 percent since setting a six-year low in August.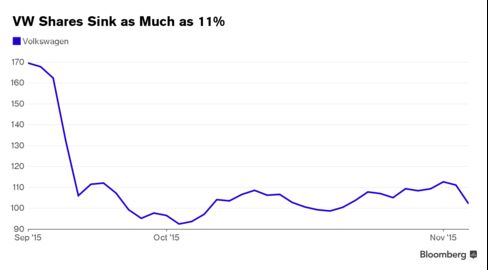 Volkswagen preferred shares tumbled the most since Sept. 22, after the company disclosed finding faulty emissions readings for the first time in gasoline cars. Some 800,000 cars may be affected, and the repairs bill may add at least 2 billion euros ($2.2 billion) to the 6.7 billion euros already announced. VW's Porsche unit is also stopping North American sales of a model criticized by U.S. regulators. Shares have plunged 38 percent since the automaker admitted to cheating U.S. pollution tests in September. That's 24 billion euros of market value.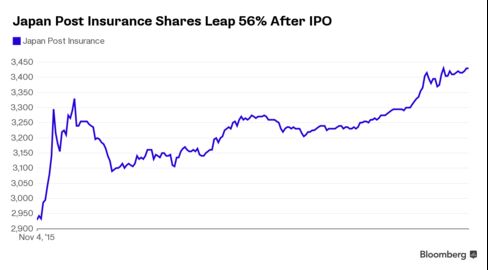 Japan's largest state asset sale since 1987 and the world's biggest initial public offering of 2015 saw shares of Japan Post Holdings and its two financial units soar on their first day of trading. Japan Post Holdings jumped 26 percent, Japan Post Bank rose 15 percent, while Japan Post Insurance surged 56 percent. The Japanese government raised 1.44 trillion yen ($12 billion) from the three-pronged IPO, which was a decade in the making as the nation sought to follow other countries like the U.K. in selling shares in its postal service. Local investors were the main beneficiaries of the sale as Prime Minister Shinzo Abe urges the Japanese to put more of their savings into investments.
Mark Barton is a presenter on Bloomberg TV. Follow him on Twitter @markbartontv
Before it's here, it's on the Bloomberg Terminal.
LEARN MORE