Netanyahu Is Bringing a $4.5 Billion-a-Year Arms Wish List to Obama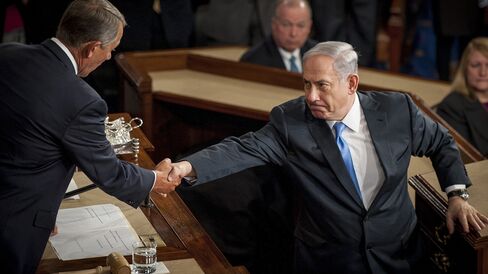 Israeli leader heads to White House after Iran deal showdown

Don't expect `warm and fuzzy' reunion, Israel's ex-envoy says
Israeli Prime Minister Benjamin Netanyahu returns to the White House next week seeking to boost annual U.S. military aid to an estimated $4.5 billion and, his former ambassador to Washington says, unapologetic about trying to sink the U.S.-led Iran nuclear deal.
"It's not going to be warm and fuzzy," said Michael Oren, an Israeli lawmaker who was Netanyahu's U.S. envoy for five years. "It's about what we need to defend ourselves and what we need to deter Iran."
Netanyahu's March 3 speech to the Republican-led Congress opposing the Iran accord so strained ties with President Barack Obama that he was told he wouldn't be welcome at the White House. Now that the deal has been approved, both men have reasons to focus during this visit on areas of agreement, such as strengthening Israel's defense capabilities. Few expect resolution of their ideological differences over Iran and peace efforts with the Palestinians before Obama's term ends.
"There is a real opportunity to at least steady this very rocky relationship in its final year," said Aaron David Miller, vice president of the Wilson Center in Washington, who served as a Middle East negotiator under Democratic and Republican presidents. "I think this administration would like to leave office with the channel changed."
QuickTake: U.S.-Israel Relations
The issue is already surfacing in the presidential campaign, with contenders for the Republican nomination accusing the president of leaving Israel unprotected from Iran and treating the 66-year-old Netanyahu shabbily. Billionaire candidate Donald Trump said at an Oct. 29 rally in Reno, Nevada, that friends in Israel believe Obama hates Israel and "I think he does." Obama said in a May interview with the Atlantic's Jeffrey Goldberg that "no U.S. president has been more forceful in making sure that we help Israel protect itself."
Netanyahu leaves for Washington on Sunday, with the White House meeting scheduled the following morning. In the course of a four-day trip, he will speak to the conservative American Enterprise Institute, the liberal Center for American Progress and a conference of Jewish federations from across the U.S.
Iran Deal's Done
In preparation for Netanyahu's visit, his first to the White House since October 2014, Defense Minister Moshe Ya'alon was conciliatory after reviewing Israel's military wish list with U.S. Defense Secretary Ashton Carter at the Pentagon last week. "The Iranian deal is a given," he said at an Oct. 28 news conference. "The disputes are over. Now we have to look to the future."
Israel, already the recipient of $3.1 billion a year in military aid from the U.S., says it needs an array of aircraft, arms and surveillance equipment to maintain its military advantage against a variety of new threats. Those include Iran's conventional weapons capabilities, Iranian-backed militants in Lebanon and the Gaza Strip, and affiliates of al-Qaeda and Islamic State operating in Syria and Egypt's Sinai peninsula.
"We are in a very stormy region," Netanyahu said in a statement issued by his office on Tuesday. "Radical Islam is all around us and is also extending its arms into our midst."
Netanyahu's shopping list will probably include more of the F-35 stealth fighter planes Israel is already buying, said Yiftah Shapir, a senior fellow at the Institute for National Security Studies in Tel Aviv. Increased aid may also pay for the MV-22 Osprey battle transport aircraft capable of vertical landing and take-off that Ya'alon decided not to buy last year for lack of funds, he said.
Israel needs a large-scale restocking of munitions used during the 50-day Gaza war in 2014, said Shapir, who heads the institute's Middle East Military Balance project. Those include the U.S.-produced Tamir missiles fired by Israel's Iron Dome anti-rocket system.
Among U.S. defense contractors benefiting would be Lockheed Martin Corp., Raytheon Co., Boeing Co. and Textron Inc.'s Bell Helicopter unit.
F-35 Fleet
Israel signed a $2.75 billion contract with the U.S. in 2010 for a fleet of F-35s, at a cost of $96 million each, with deliveries beginning in December 2016.
Netanyahu and Obama are also likely to discuss a new Memorandum of Understanding that would call for an increase in the 10-year, $30 billion U.S. military aid package to Israel that's now due to expire in 2017, according to Oren, Shapir and Michael Eisenstadt, director of the Military and Security Studies Program at the Washington Institute for Near East Policy. The Israel Defense Forces has prepared wish lists that would raise U.S. allocations for the decade starting in 2018 to as much as $5 billion a year from the current $3.1 billion, Eisenstadt said, suggesting $4.5 billion "would be a nice compromise."
Ya'alon declined to say when asked at the press conference what Israel will request. Netanyahu spokesman Mark Regev said it was too early to comment on the prime minister's agenda in Washington.
Making some sort of announcement, or simply cataloging the ways the U.S. supports Israel's ability to defend itself, would have symbolic value on three fronts, said Natan Sachs, a fellow at the Brookings Institution in Washington.
It would allow Obama to reassure American voters of U.S. support for Israel, and it would let Netanyahu show Israelis that despite the disagreement over the Iran nuclear agreement, U.S.-Israeli ties remain strong. Most important, Sachs said, it would send a clear message to Iran that the U.S. and Israel maintain "a united front that's resolute" about the Iran nuclear agreement and will enforce "severe repercussions if Iran breaks it."
Oren, who was critical of Obama in the book he published in June, "Ally: My Journey Across the American-Israeli Divide," said he expects the president to give Netanyahu a cordial welcome and speak publicly about his desire to allay Israel's security concerns.
The prime minister also will seek to mend fences but won't hide his continued opposition to the nuclear deal with Iran, according to Oren.
"That's not going to change," he said. "The badness of the deal is going to become increasingly clear if it hasn't already. This is a country that wants to destroy us."
Before it's here, it's on the Bloomberg Terminal.
LEARN MORE