Temasek Drags Olam From Muddy Waters to Winning $1 Billion Loan
Olam bonds returned 6.9% in last year as rival notes slumped

Commodity trader ready to spend $2 billion on acquisitions
Olam International Ltd., the Singapore commodities trader that fended off an attack from U.S.-based short seller Muddy Waters LLC in 2012, is discovering it's good to have friends with deep pockets.
Nineteen banks from around the globe last week lent $1 billion to the company, which has been controlled by Singapore state investment fund Temasek Holdings Pte since 2014. Olam's 2020 dollar bonds returned 6.9 percent in the past year, as those of rival commodities traders slumped. Noble Group Ltd.'s notes of the same maturity lost 24 percent in the same period and Trafigura Beheer BV's euro-denominated bonds lost 10.6 percent since their April sale.
Olam, flush with cash from loans as well as its share of a more than $1 billion investment by Mitsubishi Corp., plans to take advantage of a commodities rout that it's called a $2 billion opportunity for acquisitions. Pacific Investment Management Co. said last month the worst of the collapse is probably past, after a 26 percent tumble in raw-materials prices in the 12 months through September.
"After the Temasek stake acquisition, credit spreads have narrowed and they have found it easier to borrow," said Abhijit Attavar, a Singapore-based analyst at Jefferies Group LLC. "There was a point when management was preserving cash, but now they can again go into acquisitions."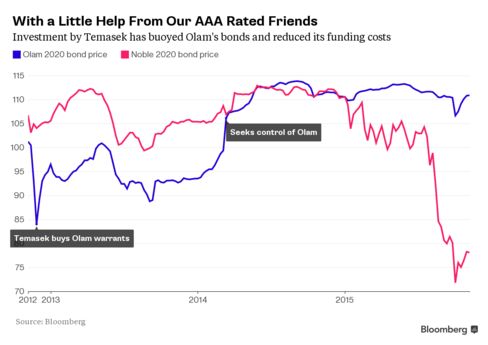 Olam plans to pursue deals of between $100 million and $200 million, a shift from its previous strategy of smaller acquisitions around the $10 million mark, Chief Executive Officer Sunny Verghese said in September. The food trader's latest deal is even bigger: a $1.2 billion purchase of Archer Daniels-Midland Co.'s cocoa business in October.
Singapore-listed peer Noble Group has also been a Muddy Waters target, as the short-seller this year joined Iceberg Research in questioning the firm's accounting methods. While that helped Noble Group's stock sink 56 percent in 2015, the company's fortunes are also turning after getting fresh funds from lenders. Its shares soared 28 percent in the last month.
Muddy Waters declined to comment on its trading position in Olam, according to Zach Kouwe, an outside spokesman for the short seller. Muddy Waters said Olam was "likely to fail" in 2012 and called the shares worthless in a September report the following year. Temasek declined to comment.
Thanks, Temasek
"The increase in Temasek's stake in Olam and the acquisition of a 20 percent shareholding by Mitsubishi at a premium have further strengthened our credit profile," said Jayant Parande, the company's group treasurer. "Liquidity in the banking channel remains strong."
Olam agreed in August to sell a 12 percent stake to Mitsubishi, one of Japan's biggest trading houses, for S$915 million ($655 million). The Tokyo-based company also acquired 8 percent of the agriculture firm from an existing shareholder.
Other commodity firms are having success with banks. Vitol SA, the Swiss unit of the world's biggest independent oil trader, borrowed a record $8 billion in October from a group of 57 banks. Trafigura won improved terms on $2.2 billion of loans the same month. Swiss commodity traders Gunvor Group Ltd. and Mercuria Energy Group Ltd. are marketing $2 billion of credit facilities.
"Banks are far less price sensitive than bond markets," said Clifford Lee, the Singapore-based head of fixed income at DBS Bank Ltd. "A lot of the difficulties some of these companies have faced have nothing to do with credit stress, they are more sentiment-driven."
Asset Sales
Wild market swings and plunging prices have prompted some of the industry's largest players to sell assets and preserve cash. Mercuria is in talks to sell a minority stake to China's largest chemical company, people familiar with the matter said last month. Noble was reported as scaling back its metals business, while Glencore Plc is selling an Australian copper mine.
Weakness in emerging-market currencies and the potential for higher interest rates are a boon for Olam, depressing asset valuations as the company deploys its treasure-chest.
"The strategy has gone back to focusing on growth since Temasek came in," said Attavar at Jefferies.
Before it's here, it's on the Bloomberg Terminal.
LEARN MORE