Merkel Faces Down Coalition Critics With Refusal to Shut Border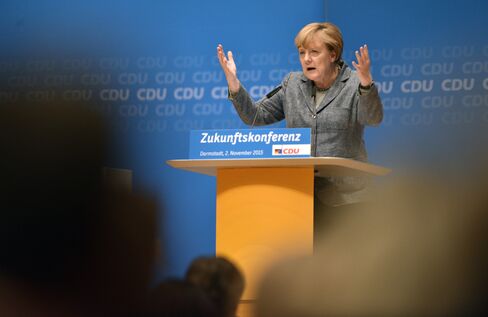 Chancellor to address party caucus Tuesday on refugee crisis

German industry group calls for more government unity
German Chancellor Angela Merkel refused to bow to pressure to close borders as she faced down dissenters within her governing coalition over how to tackle the country's biggest influx of migrants since World War II.
QuickTake Europe's Refugee Crisis
Merkel and Bavarian Prime Minister Horst Seehofer, who has unsuccessfully pressed her to limit the number of refugees entering Germany, will jointly address their party caucus later Tuesday on the crisis. She's likely to emphasize areas where the two have found common ground, such as creating so-called transit zones to weed out economic migrants.
"I'm working, just as you expect, to ensure that the number of refugees goes down," Merkel told members of her Christian Democratic Union on Monday evening in the western city of Darmstadt. "But to all those who say we should shut the German border to Austria, I don't think that will solve the problem."
With public concern mounting and party support on the slide, the political veteran is navigating yet another stormy week as lawmakers return to Berlin for a parliamentary session that will again be dominated by the crisis. The Tuesday gathering will provide a baromoter of anti-Merkel sentiment even if she's in no immediate political danger.
After meeting over the weekend with Seehofer, her biggest internal critic and head of the CDU's Bavarian sister party, Merkel offered qualified support for the transit zones to more quickly send back migrants from safe-origin countries. Sigmar Gabriel, head of junior coalition partner the Social Democrats, opposes such a move.
"This situation is going to last and is an enormous strain for our political system, economy and society," Ulrich Grillo, head of the BDI German industry group, said in a statement, calling on the country to integrate as many refugees as possible into the workforce. "Therefore, more unity within the coalition is indispensable."
As Germany braces for as many as a million people seeking shelter from war and poverty this year, Merkel said Monday that the country can't afford to turn inward, but has to instead embrace geopolitical challenges "much more actively." The refugee crisis shows that Germany can't resist the globalizing forces around it, she said.
"We're experiencing something we've never experienced before, that conflicts that appear to be far away suddenly are here on our doorstep," Merkel said.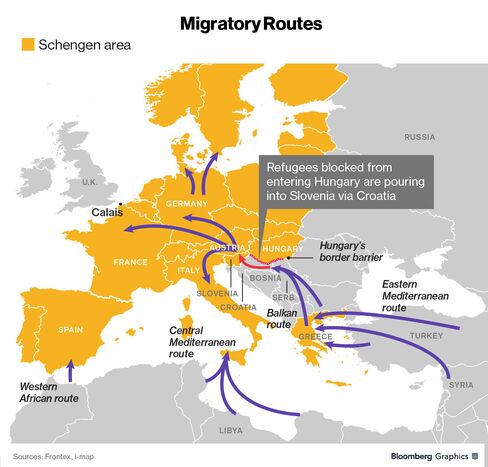 With Bavaria the main gateway to Germany for those pouring over the border from Austria, Seehofer has said the state government would take unspecified action if Merkel didn't meet his demands. In the last two months, 344,000 refugees entered Bavaria, according to the state's interior ministry.
"The number of refugees has to be urgently limited or reduced," Seehofer said.
Illustrating the knot the chancellor must untie, Gabriel rejects the transit zones, saying they are unworkable and would result in interment camps. Gabriel, Seehofer and Merkel will meet again on Thursday to try and hammer out an agreement.
"I hope that the SPD chief doesn't reject every instrument to limit the flow," CDU Parliamentary Whip Michael Grosse-Broemer told reporters in Berlin. "If the SPD speaks about it like prisons and Guantanamo, then the discussion is already over."
Even with the coalition tone on refugees hardening, Merkel held to her core principles that there can be neither caps on asylum seekers nor the closing of the German border to migrants. A record 218,394 refugees fled across the Mediterranean Sea in October, more than in all of last year, the United Nations refugee agency said.
Her open-door refugee policy comes at a price. Backing for her CDU-led bloc slipped two percentage points to 36 percent last week, down from an August peak of 43 percent, according to a weekly poll carried out by Forsa.
Before it's here, it's on the Bloomberg Terminal.
LEARN MORE