Fog Grounds Planes Across U.K. With Delays Extending to Tuesday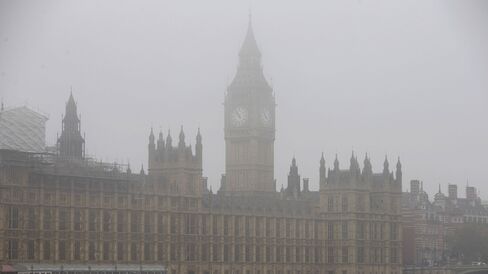 London Heathrow operating at 50 percent capacity this morning

Legacy of Sunday disruption worsens impact of poor visibility
Restrictions on flights arriving and departing from U.K. airports continued for a second day and are likely to extend into Tuesday as a carpet of fog sits across much of Britain.
London's Heathrow and Gatwick hubs and Manchester in the north of England restricted the number of aircraft movements amid poor visibility, spokespeople for the airports said Monday. London City, on the banks of the River Thames, halted take-offs until noon.
IAG SA's British Airways, the largest carrier at Heathrow, said the airport was operating at 50 percent capacity this morning, while EasyJet Plc said grounded 59 flights. Delays are expected to run through the afternoon and into Tuesday.
"We are doing all we can to care for customers whose flights have been affected by two days of heavy fog," British Airways said in a statement.
Heathrow, Europe's busiest hub, operates at about 99 percent of capacity, with an aircraft scheduled to take off every 45 seconds. The knock-on effect of delays yesterday has exacerbated the disruption, BA said, with some planes, pilots and crew not in the correct positions to meet its schedule.
European regulations require airlines to pay for food, and where necessary accommodation, for passengers left stranded. Carriers have asked people to check the status of flights online.
Before it's here, it's on the Bloomberg Terminal.
LEARN MORE